News
A farewell to 41, and a round to remember
The day George H.W. Bush and Bill Clinton became friends forever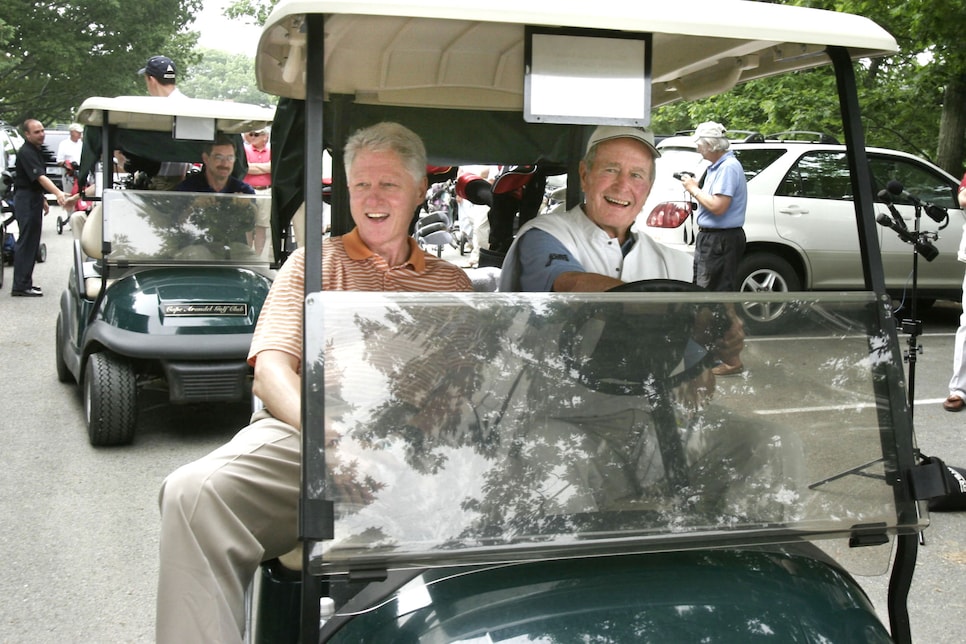 Photo By: Portland Press Herald
For more than a quarter century, I was fortunate to visit and play golf with President George H.W. Bush dozens of times, usually while paying a visit to the Bush compound in Kennebunkport, Maine. With the passing of this great man and mentor, I feel at least one story can be told that pretty much encapsulates the man who carried the virtues of life—and golf—with every breath.
In 2005, President Bush served as co-chair with President Bill Clinton for tsunami- relief efforts in Southeast Asia. It was a partnership that raised $1.5 billion in aid. During this time a friendship developed between the former political rivals, and together they decided to secretly get together on a social basis that summer. Somehow, they chose me to be their "intermediary"—as they called it—for their two-day, two-night mini-vacation in Maine. Usually when I visited 41 it entailed not just golf but playing horseshoes, going out on his boat, cruising over to the little seaport of Ogunquit for lobster rolls and ice cream at Barnacle Billy's, and long chats at the main house. Each stay was like going to summer camp. Every day was field day. But for this particular stay, President Bush explained that I'd make an easy companion for the two of them as they played their first round of golf together since the two of them, along with President Gerald Ford, teed it up at the Bob Hope Classic in 1995. Presidents Bush and Clinton played golf together three times after that, and I'm proud to say I was there for all of them.
The venue was Cape Arundel Golf Club, a storied Walter Travis course where President Bush had learned to play golf and where his father, Prescott Bush—a former USGA president—had won the club championship eight times. President Bush also was a Cape Arundel club champ, having beaten a postal worker named Chad Brown, 8 and 7, in the final in 1947.
The round between the two former leaders of the free world began nicely, both rooting each other on. President Clinton birdied two of the first three holes. On the par-4 fifth, which is only 315 yards, President Bush drove into trouble in a small hollow left of the fairway. He had just 125 yards to the green, but it was a tough shot. As he was contemplating how to play it, President Clinton rushed over to offer help. "No need to go at the green," he said. "Just look at your lie. It's too risky." With that, President Clinton walked up the slope to the safe part of the fairway and waved his arms like a football official calling a timeout. "Aim right at me, George!" he hollered.
President Bush murmured to me, "What do you think I should do?" He clearly wanted to go for the green. I said, "Sir, how old were you the first time you played here?" President Bush said, "I was 10." I said, "How many times do you figure you've played this hole? Fifty times a year on average? Maybe thousands all told? I'm just saying, President Clinton has never played here."
President Bush reached for the iron that would get him home, but then hesitated. "Jimmy, he's making such an effort," he said. "Look at him up there, waving his arms. He's my guest. I want him to be happy." And with that, he pitched back into the fairway. He played his next shot—still 120 out—onto the green and faced a 20-footer for par.
Now, President Bush was a terrible putter. He'd battled the yips for a long time and eventually found some solace in an extra-long putter known as the Pole-Kat. I don't think he ever saw a putt he liked. But this time he knocked it right into the center of the cup for his par. Everyone whooped. President Clinton came over, high-fived President Bush and said, "See, George? That was the right way to play it!" Forty-one agreed, and the two of them walked to the sixth tee arm in arm. Truly bonded like never before. American patriots, now friends forever. It was a beautiful moment.
George H.W. Bush had perhaps the greatest résumé in American history. Director of the CIA, ambassador to the U.N., envoy to China, vice president of the United States and then, of course, president. It's staggering to contemplate one person achieving so much. But to me and many others, our lives were highlighted by having George H.W. Bush as a great and loyal friend. What I saw in President Bush's behavior was respect, civility, deference and decency. These traits were central to who he was. And they melded perfectly with the game that he loved.