News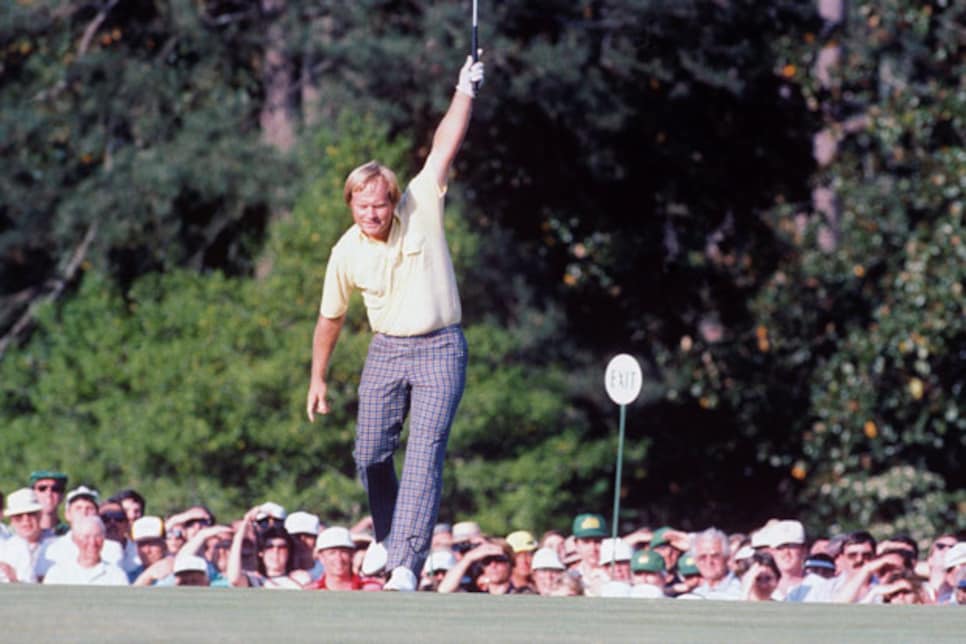 Raised hopes: 71st-hole birdie by Nicklaus in '86, at 46, brought Masters history closer.
On the other hand, at Augusta you always think you are playing well. The fairways are so wide it is hard to miss them, you seldom get out of play and you always feel that somehow you can get the ball around and into the hole. When you finish, it is almost always with the thought that your score should have been quite a bit lower.
[Sports Illustrated, 1964]
One reason the fourth hole [at Baltusrol during the 1967 U.S. Open] was so important to me was that I have always considered the par 3s as the key to any tournament. At Augusta in 1965, when I broke the Masters scoring record, there was much talk about overpowering the course and its short par 5s, but it was playing the much more difficult par 3s in five under that made the record possible. At Baltusrol, I missed only one of 16 par 3s off the tee during my four rounds, and I played them in three under par. Of the tournaments I have won, I would say that 75 percent of the time I have been under regulation figures for the par 3s. And I can think of only one or two tournaments where I was sub-par on them and did not win.
[Sports Illustrated, 1967]
I look forward to being an annual starter in the Masters for many years to come. Indeed, I hope I'll be able to be on hand long after my best golf is behind me and when the teenagers of that future generation, watching me paunchily puffing up the eighth fairway, will wonder what that old geezer's doing out on the same course with the current champions. Every golfer wants to remain a part of the game, and at Augusta, regardless of your vintage, you are in the midst of things, a member of the clan. I find it as hard to picture a year away from the Masters as a year away from my family at Christmas.
[Jack Nicklaus with Herbert Warren Wind. The Greatest Game of All: My Life In Golf. New York: Simon & Schuster, 1969]
During those early years I was winning [majors] fairly easily. Now that I think back on it I have to believe that I expected to win one or two each year. That is a ridiculous assumption, utterly false and idiotic. I'm almost ashamed to admit it. I never felt the full impact of what it meant not to win until I stopped winning. 'Gee, this is tougher than I thought,' I said to myself. That's why it was such a psychological lift to win the British Open.
Nicklaus: Well, I've got more than that, beyond [1972], but what I've got is two really good chances [at the Grand Slam].
Q: And is that your dream?
Nicklaus: Let's put it this way. My ultimate goal, which I think would be -- if Arnold's goal would be any different, or Hogan's or Snead's or anybody else's goal, I'd question it -- if they didn't want to be remembered as the best golfer who ever played, or the best up until that time or something. And I think obviously the best way to separate yourself would be two ways. One would be obviously to win them all in one year, or to win more major championships than anybody else.
[Golf Digest interview transcript, 1971]
I finished [1977] stale and tired for the first time I can ever recall and found myself not having the interest I should have had, and right now I have no interest in playing... I did play too much... and found myself not being able to prepare for tournaments. I tried to mix it up a little bit. I had some people on my back to play in events I hadn't played previously and I tried to accommodate them and as a result, when I got to the major championships I wasn't ready.
It's kind of unusual to walk off the green in the [U.S.] Open kind of disappointed because you shot 63 and it should have been 62. What do you do for an encore after 63?
[PGA Tour interview sheet after his two-putt par at the 18th in the first round at Baltusrol in 1980]
Where shall I start, 1959?
[Golf World, 1986 Masters game story, on his opening comment to writers Sunday night in the interview area]
If it is possible to set criteria for major championship status, it seems to me that the vital ingredients are these: all of the world's best players always in the field; mature and well-established golf courses that rigorously test the players' mental and emotional capabilities as well as their physical skills; and a strong sense of occasion created by superb presentation.
[Jack Nicklaus with Ken Bowden. My Story. New York: Simon & Schuster, 1997]
British Open conditions are always something of a lottery, which is fine with me because of the endless variety of mental and shotmaking challenges thereby presented. As a kid, I used to think golf should be a fair game and properly reward proper shots. British golf gradually taught me differently (which, incidentally, has helped me better handle the unlucky breaks anywhere in the world) and also helped make me a better shotmaker. As the old Scotsman said when an American spectator registered dismay as a perfect-looking Arnie Palmer long iron bounced sideways off a knoll and buried in the face of a bunker: "Well, tha' mon's a professional, is he nae? So let's forget about luck, laddie and see wa' he can dae wi' this wee shottie."
Those are a few of the reasons why I felt that some of the comparisons made between [Bob] Jones and me following my Canterbury win [in the 1973 PGA for his 14th major title, passing Jones] reflected unfairly on Bob's achievements. The differences in the designation of the major championships, the differences in course and equipment quality, the differences in incentives and opportunities, and the differences in so many other areas of his time and mine are too vast to permit valid comparisons between us. I guess professional historians are the only people who can put these things in their proper perspective, but I wished then and I wish now that the writers and television pundits would be a little less fast and free with their "finests" and "mostests" and "greatests."
Even the hardest-nosed members of the media seemed to have gotten exceptionally wound up by the [final round of the 1975 Masters], and one of the topics they kept coming back to long into the evening was what such a shootout felt like to the participants. Some of them seemed to think of it as being agonizing, an ordeal, a trial by fire, four or more hours of nothing but dry mouth and churning gut. I still don't know if they really believed me or not, but here's what I told them: It was fun. To be out there in the middle of that is just the greatest fun. You're inspired, you're eager, you're excited. You almost want to break into a dead run when you hit a good shot. It's what you've prepared yourself for, what you've waited for, what keeps you ticking. To know you can look back someday and recall you were a part of something like that, well, that's just the greatest. I've never had more fun in my life." And, win or lose, I still feel that way whenever I am in that kind of situation.
Every time we go someplace we're building a new tee. I don't know the last time we went to the U.S. Open or Masters or British Open or PGA Championship that we didn't build a bunch of new tees, every time.
[ASAPSports, which prepares tournament interview transcripts, 1998 Doral-Ryder Open]
[Augusta National] doesn't change from Wednesday to Thursday. It's just a tournament day. The course doesn't change. All of a sudden it changes in your gut, that's where it changes.
[Tournament transcript, 1998 Doral-Ryder Open]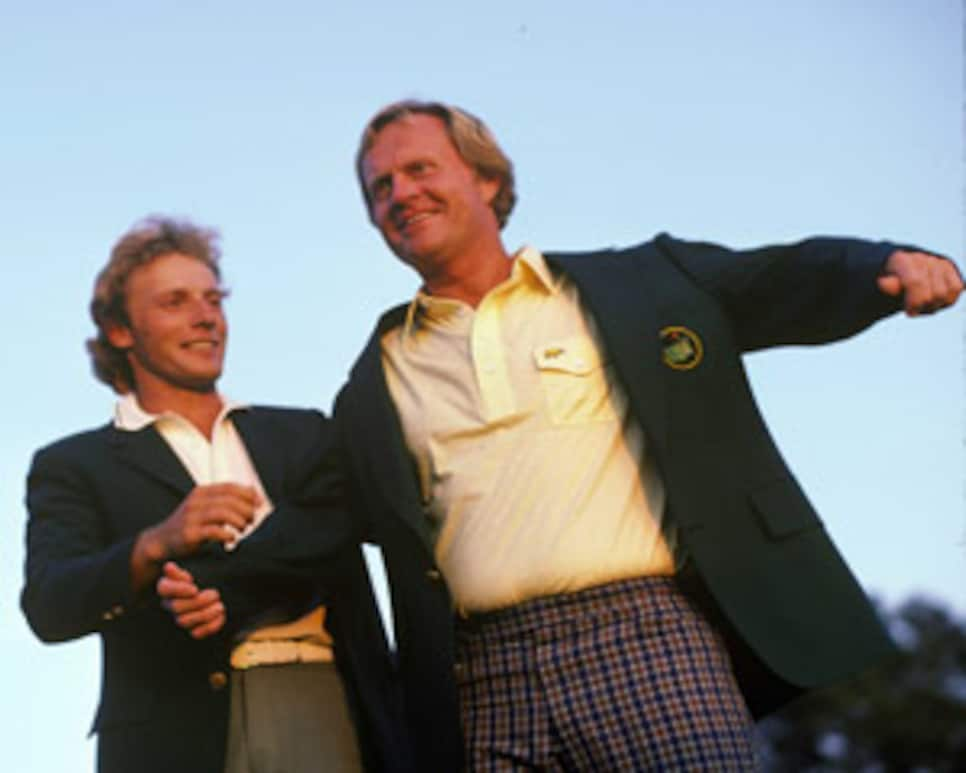 Q: 154 majors, I think you have said that '86 at Augusta probably gave you the most satisfaction. Does that still stand?
Q: Which one bothers you the most? Which one disappointed you the most?
Nicklaus: Not being able to play in the 155th.
Q: With how much difficulty was this decision made?
Nicklaus: Very difficult. How would you say how difficult? How can you measure it on a scale of 1 to 10? I don't know how you do that. Only thing I have left that I am doing that is of any significance in the world of golf right now... and I just ended it.
[Tournament transcript from the 1998 Ford Senior Players, his first press conference after informing Royal & Ancient GC officials that, due to his worsening left hip problem, he would not compete in the Open Championship, thereby ending his string of consecutive majors]
Q: Is it harder to win 18 majors now than when you did it or not?
Nicklaus: I don't know. I have no idea. It depends, I think, a lot on your competition, who you're playing against and what's happening. I think there's an awful lot of really good players today. But I think most of the guys that I won -- when I won my majors, were guys that had won majors themselves. And that's the reason I probably got beat several times by Watson or Trevino or somebody else, because they knew how to win majors, which made it harder to win. Today, right now, we don't have many guys that have won many majors that are playing. It's been all spread out. If Tiger is coming down to the end of that tournament, and he's got -- for him to win that, it's a lot easier for him to win that than somebody who hasn't won versus what I had in competition. Are there more, really, guys that can be at the top of their game? That, I can't answer. Either that, or he's so far above them that he's making everybody else not look very good. That can be, too. But I think only time is going to tell that answer.
[Tournament transcript, from the 2000 U.S. Open]
You look at the pin placements today versus the pin placements 30 years ago at Augusta, they'd have laughed at you 30 years ago if you had said, "You're going to put the pin there?"
[Transcript, 2001 Memorial]
I prefer that if someone's going to break my record (of 18 majors) that it be broken in my lifetime.