FIRE PIT COLLECTIVE
These are unsettled times for Jack Nicklaus, but his legacy is secure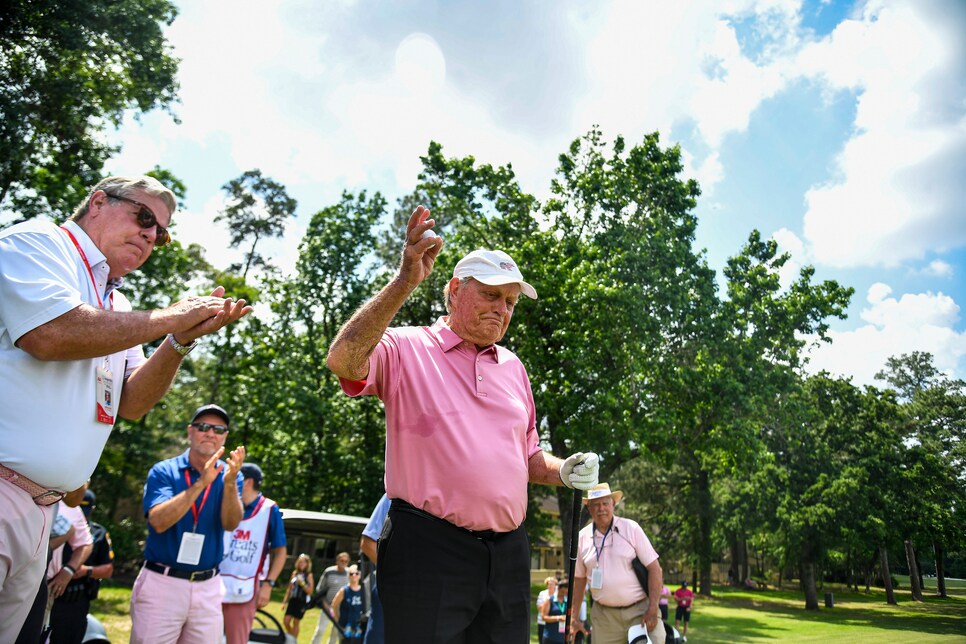 DUBLIN, Ohio — This is Jack's week. The Memorial. A tournament and course, Muirfield Village, in his image.
Bobby Jones had his (the Masters). Arnold Palmer had his (Bay Hill). Tiger has his, the Genesis Invitational. That is, L.A. The storied and great Los Angeles Open, at Riviera. Hard to imagine it will stay there forever. Tiger will want what Jack and Arnold and Bob wanted: a course he can call his own. Augusta National is for the .001 percent. Bay Hill is, among other things, a resort course. Muirfield Village is, among other things, a housing-development course. You could see Tiger building a public course. He came up on public golf, in Southern California, in the 1980s. We're all products of our time and place.
There is something appealing about Jack's time and place, even if we have turned it into myth. Mid-century, Middle America, middle class, the upper reaches of it. Born in 1940 in Columbus, Ohio. Public high school. Ohio State, like his father, a pharmacist. His father's father was a tradesman, a boilermaker. His father-in-law was a math teacher who tutored Jack. He got around town on a bike, until he got his first car. The country club. Senior prom. Met his wife of 61 years on the Ohio State campus. He could write a book about it: Brylcreem and the American Dream.
Now he's 82. The not-for-profit golf league he helped create – PGA Tour Inc. – is facing a serious challenge by a for-profit outfit, funded by immense Saudi wealth and fronted by a man, Greg Norman, who used Nicklaus's life as a blueprint for his own.
In a bizarre marriage of legalese and semantics, Nicklaus is being sued by the Nicklaus Companies in a court, the Supreme Court of the State of New York, that has a grand name but is just a district court with elected judges. Nicklaus is, of course, the namesake behind the Nicklaus Companies. But its executive chairman is Howard Milstein, an immense figure in New York real estate and philanthropy. Milstein is 71, a Harvard Law School graduate, a scion of vast, dynastic New York City wealth. Milstein's life and times could not be more different than Nicklaus's. But there came a time when each had something the other wanted, and they met in an office and on a dotted line in 2007.
My conflicts in writing about this subject go in every direction, but you should know about them before we move forward. Howard Milstein was my boss from early 2018 until about a month ago, when I left Golf Magazine and Golf.com and joined the Fire Pit Collective.
I didn't agree with the editorial direction Milstein was taking his publications, at least in certain areas. (I have always tried to operate on the oldest of old-school values of a free press: You must serve the reader first and publish without fear or favor. It's easier said than done, but I know of no other starting point.) I did, however, respect that the publications were his to do with as he pleased. He has invested millions to make the magazine and website look and read better. He has a great crew of young writers and editors. In my personal interactions, I have found him to be generous, intelligent — and stubborn. Well, that's his prerogative. The birthright of ownership.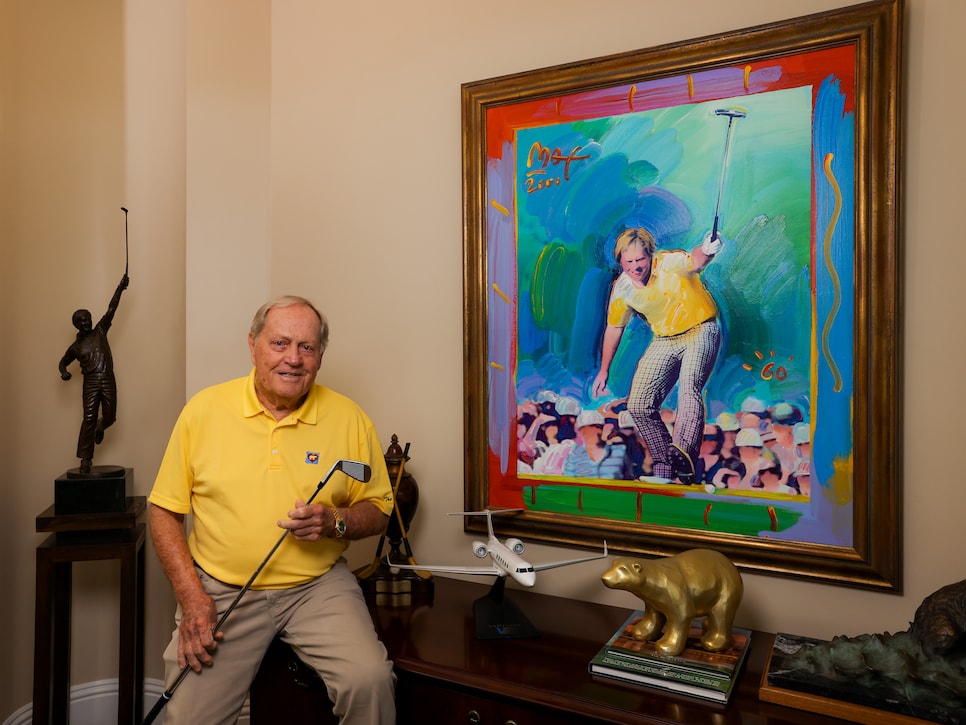 As for Nicklaus, he has been one of my sporting heroes since the mid-1970s. I have been writing about him for about 35 years. I have found him to be generous, intelligent — and stubborn. It comes with the territory. For most of his life, he was able to do something that is beyond difficult: control his emotions, his thinking, his body movements and his golf ball. I should probably say, and please pardon me for this, that I received the Memorial Tournament's journalism award on Wednesday and I sat next to Barbara Nicklaus at the ceremony. If you don't like and admire Barbara Nicklaus there is something wrong with you. I had dinner Wednesday night with some of my old writer friends, courtesy of the tournament, and we all enjoyed milkshakes for our dessert course (chocolate with peanut butter for this reporter). Barbara came by when we were wrapping up and gave me a handwritten note. Talk about good manners.
Point being, my conflicts here are significant and you should know about them.
This is all a preamble to the thing that matters here: Where is Jack? Not physically. (He's at his tournament.) In his mind. To the degree I can offer some insight, I'll try to do that here. There's a thing going around, almost like a fever: Poor Jack. He seems unsettled. Eighty-two, and getting sued by his own company.
Well, on the face of it, it is unsettling. But I would also say that Arnold, when he was in his 80s, was unsettled. Bob Jones's final years were filled with physical and psychic pain. He was feuding with his Augusta National co-founder, Clifford Roberts, who wouldn't make room at the table for Jones's namesake son.
As for Arnold, this is from a write-up I did some years ago, from my last visit to his office in Latrobe, in western Pennsylvania:
I asked Arnold if he was satisfied with his life. Arnold did not pause.
For one thing, he wasn't piloting his own airplane anymore. For another, he was playing tournament golf only in his dreams and in those tournaments he never made it to the 72nd hole. Age had crept into his body and robbed him of some of his moves. He didn't like it.
In the big picture, yes, he had led a rich life. He continued to lead a rich life. He had accomplished so much, in golf and in business. He had married twice and both times well. He had loving relationships with his two daughters. He had true friends and great wealth that did not trap him. He had a good appetite. His older grandson was trying to play his way to the tour and getting closer. But satisfied with his life, as a day-to-day proposition? The truthful answer was no.
We can't control it all. My impression of Tiger Woods is that a big part of his greatness comes from the fact that his need to control, and his ability to control, is off the charts. I imagine that Woods, Jones, Palmer and Nicklaus would all understand each other's mindset. It won't be easy for Tiger from here on out. But he's smart and he's aware, and you have to think he'll do the work to come to terms with his new life.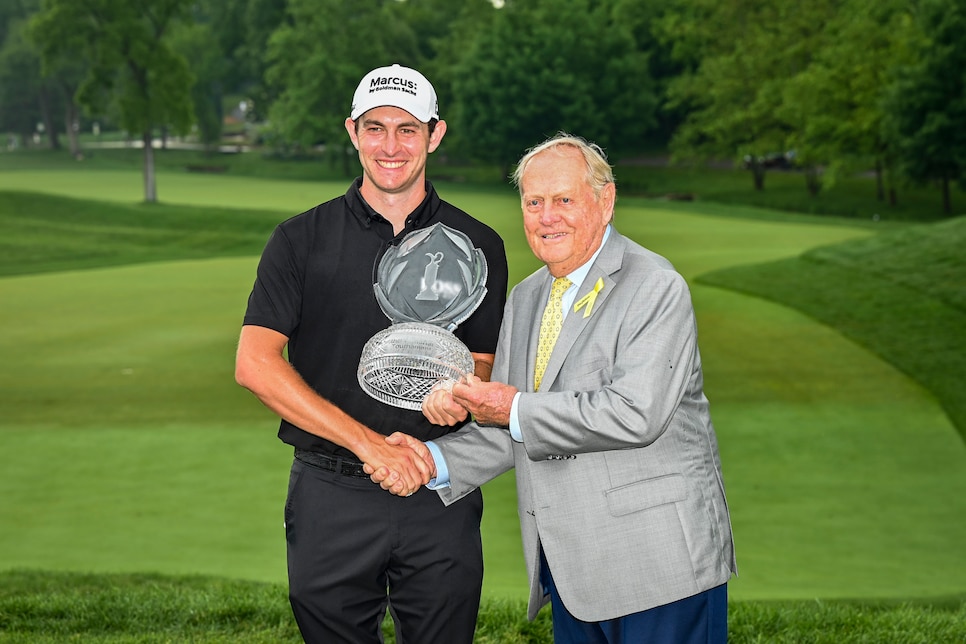 Jack would have loved to have a U.S. Open on one of his courses. It probably won't happen, not in his lifetime and maybe not ever. Well, he can't have it all. Jack and Howard fussed with each other almost from the start because neither really knew how to defer to the other. Two stubborn and accomplished people from totally dissimilar backgrounds. You could say it was inevitable. This is just me saying this, and it would be obvious to anybody who has read the 39-page suit that Milstein's lawyers filed on his behalf: Milstein wants Nicklaus to do what he asks him to do, and Big Jack isn't accustomed to having a boss. Jack wants his freedom back. Howard will tell you: Nobody forced you to sign back in 2007. As I understand it, Milstein loaned Nicklaus $145 million and took as collateral 51 percent of the company. The golf business went into a deep recession in 2008, and it persisted for years to come, really until the start of the pandemic. Nobody can predict the future. I bought Apple stock after the 1996 Olympics, when I saw so many reporters with Apple laptops. I sold the shares at a loss. What can you do?
Nobody in sports has accepted defeat with more grace than Jack Nicklaus. Some of my writing friends and heroes — Dave Anderson, Herb Wind, Jaime Diaz, John Garrity — have instilled that in me, and I have seen it myself. Ben Crenshaw talked about it in his remarks on Wednesday, as he accepted the Memorial Tournament's award as its 2022 honoree. Others who have been at the podium before Crenshaw would say the same: Arnold, Trevino, Watson.
At 82 and here on out, Nicklaus knows. He knows that is his ultimate legacy, as a sportsman. His legacy as a father and grandfather speaks for itself. His legacy as a businessman is more unsettled. That's OK. You can't have it all. Jack knows that. I am certain he accepts that, even as he fights it. Just as Arnold was fighting it, at that age. It's life. He'll always be Big Jack to me.