Amateurs
A golfer with a familiar (last) name just broke this USGA championship record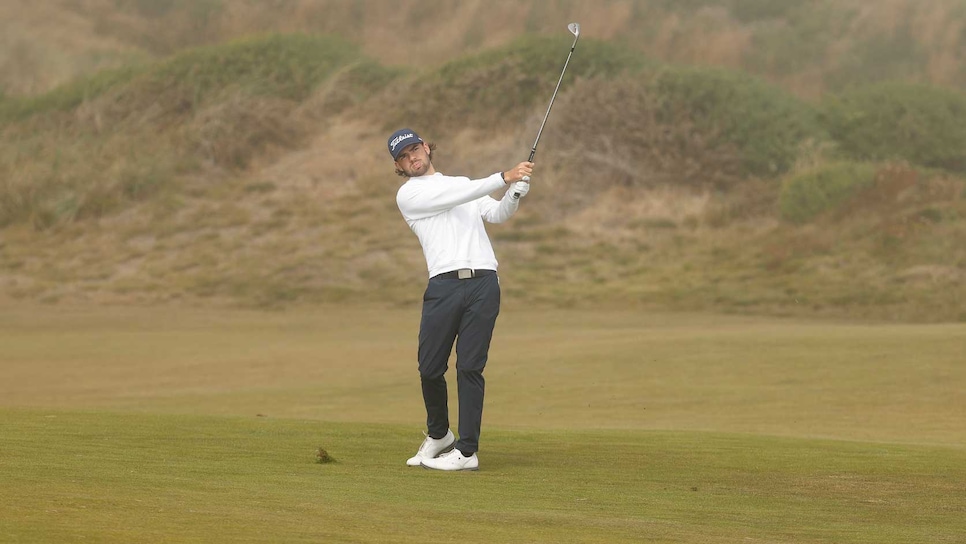 Jack Cantlay hits his second shot on the 16th hole at Bandon Dunes during the first round of stroke play at the 2022 U.S. Junior Amateur.
Chris Keane
Living in the shadow of a successful parent or sibling isn't easy for golfers, the expectation game an inevitable but often unfair consequence. Jack Cantlay, the 18-year-old younger brother of reigning PGA Tour player of the year Patrick Cantlay, is competing in his first USGA event this week, the U.S. Junior Amateur at Oregon's Bandon Dunes Resort. How he would do was the subject of some speculation, and after his opening round of stroke-play qualifying Monday, the expectation game will only simmer.
Cantlay shot a three-over 39 during his first nine holes at Bandon Dunes (the back nine of the David McLay Kidd course). He then went on an impressive run, making four birdies and two eagles en route to an inward 28—the lowest nine-hole score shot in the 74-year history of the championship.
"I passed through on No. 18 [his ninth hole] and birdied it," said the Los Alamitos, Calif., native, who will be a senior in high school this fall. "I saw my buddy Luke Powell on the putting green and he said, 'How are you playing?' and I said 'three over' and he said, 'Turn it around on the front nine.' So I birdied the first hole and made a lot more 3s on that side."
Try eight of them. Here's a look at his score card.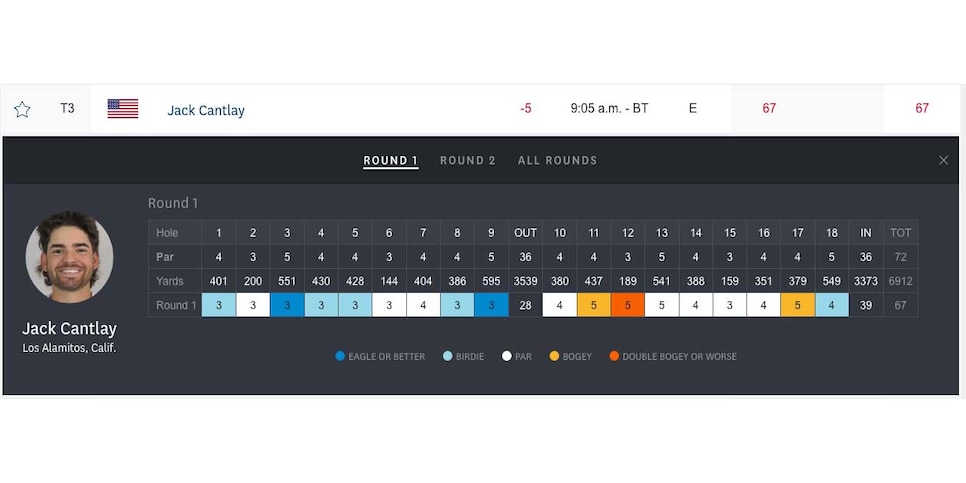 Cantlay says what truly kick-started things was a 45-foot eagle putt on the par-5 third hole, which got him back to even par for his round. "I was like alright I am back to even I can really do this now. And then the birdies just kept following up."
The final 3 was a chip-in eagle on the course's par-5 ninth hole. The previous U.S. Junior record was held by Eric Bae (2014) and Yuki Moriyama (2018).
"I think that's the first time I have broken 30. It's a first time for everything I guess," Cantlay said. "It's just another round of golf, sometimes you play good and sometimes you play bad. Today, I played good."
Cantlay's five-under 67 left him one shot off the lead shared by Erich Fortlage, Grant Lester and Harvey Young. He'll play his second round of stroke-play qualifying Tuesday on Bandon Trails.
"It's fun. It's a great venue," Cantlay said of playing in his first USGA championship. "The weather was a little funny today, but I think it helped out with my tee time. The fog rolled in and tampered down the wind which helped a lot."