The Loop
Jace "Jumbo" Chamberlain's walk-off dinger for Cal State Fullerton is your sports highlight of the weekend
With all the sports that are sports-ing right now, it's easy to forget that the men's College World Series, one of the more underrated sports events of the summer, is well underway. As we saw with that Ole Miss-Georgia SEC Championship elimination game, the college game can be wildly entertaining, and probably doesn't get the attention it deserves.
That's why we all missed what might be the sports highlight of the weekend late on Saturday night in Palo Alto, when Jace "Jumbo" Chamberlain came in to pinch hit in the bottom of the ninth for Cal State Fullerton. Tied at one against No. 2 overall-seeded Stanford with two outs, the 6'4, 240-pound freshman first baseman, who had not hit a homer 88 at-bats into his college career, stepped to the dish and answered the bell by cranking one to the moon and providing an all-time celebration afterwards:
Move over Jared Lorenzen, there's a new Hefty Lefty in town, and his name is JUMBO. If there's a more perfect nickname in sports history, we've yet to see it. Look at him staring this thing down: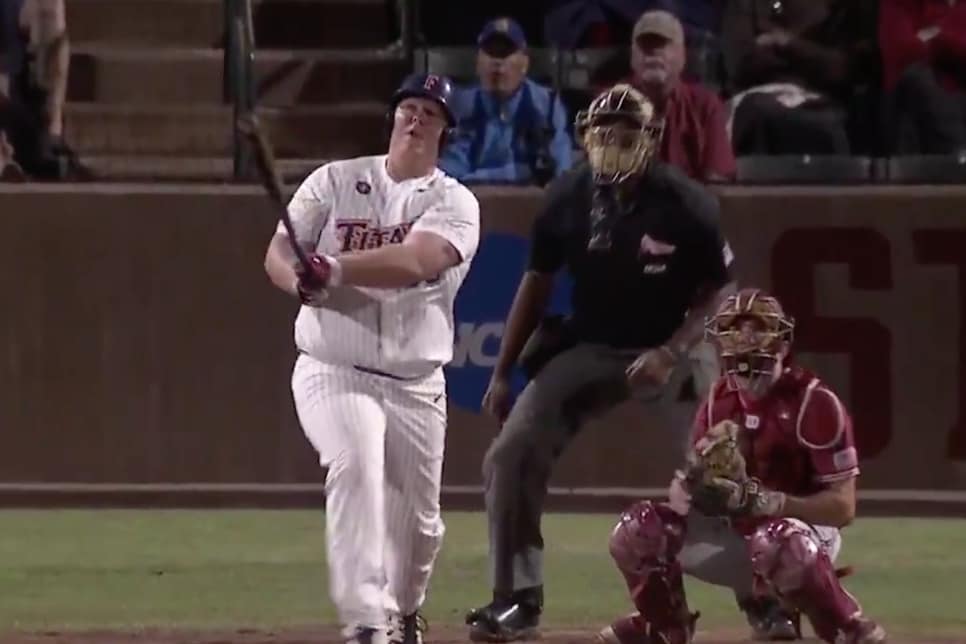 Clutch stuff from the big fella, whose Titans are now 2-0 in their Regional bracket after defeating Baylor and Stanford, two teams that face off Sunday afternoon for the right to get a rematch with Cal State Fullerton on Sunday night. And because it's double elimination, the winner of Baylor-Stanford will have to beat the Titans twice to advance to Super Regionals. One win for Cal State Fullerton and they'll be moving on. Let's hope so, because we want, no, we NEED more of Jace "Jumbo" Chamberlain.