News
It's a start: Tiger Woods neither dazzles nor disappoints in Hero World Challenge pro-am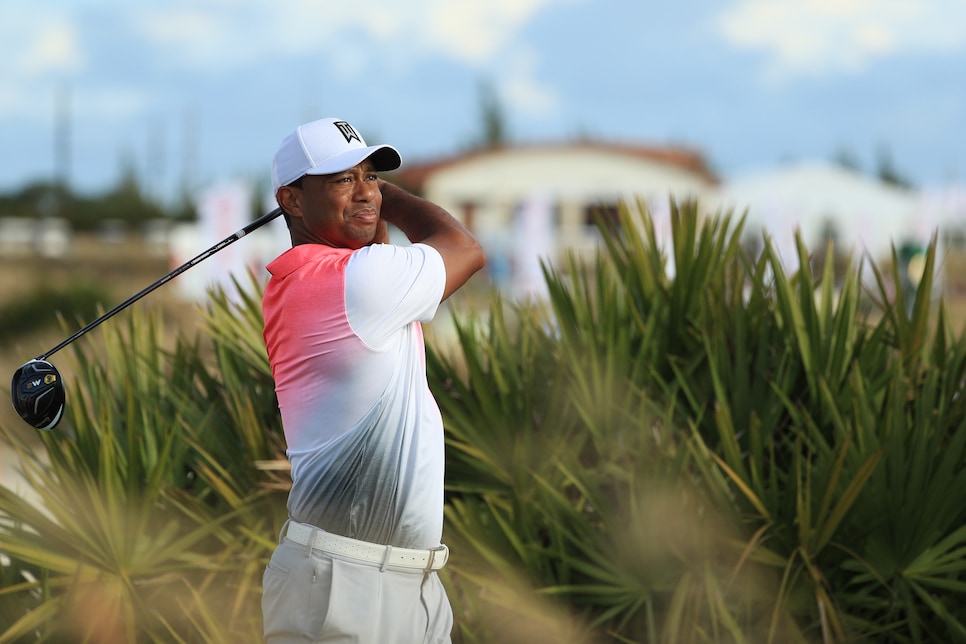 NEW PROVIDENCE, Bahamas — Tiger Woods played 18 holes on Wednesday, doing so in a few strokes under par and missing just one fairway in the pro-am for his Hero World Challenge.
Thursday (finally) the shots will count for real. As much as they can in an 18-man field with no cut on a course in Albany that serves as Woods' home away from home on an island paradise that has a vibe to match.
"It's been a very long time," said Woods, who, in case you've been living in a North Korean cave for the past month, will play his first tournament in nine months when he tees it up alongside Justin Thomas for the opening round.
Jordan Spieth, who has never even played in a tournament won by Woods (his last victory was in 2013, Spieth's rookie year), is much like Thomas and the rest of us, eager to see what Woods will do.
"He seems more confident this year the way he's walking and talking," Spieth said. "He seemed more excited at the Presidents Cup before he was even swinging, more anxious, and it seemed to really bother him that he was following doctor's orders, like he really wanted to get going. So once he was given the go, I think it was exciting for him. We're all very interested, as we should be, in how it goes for him this week, and obviously hoping that's the start.
"I think it's an easy week for Tiger as it is for anybody else versus other weeks; not as many people, the golf course doesn't beat you up, [not] as challenging. But you can start to see it's actually pretty important, these kinds of end-of-the-year tournaments to kind of set a precedent for next year."
Woods? He says he is pain-free and in a considerably different place than he was last year at this time when he attempted to come back after 15 months away from golf from what was his third back surgery. Of course he offered similar platitudes 12 months ago and six weeks and three rounds later he was finished, undergoing a fourth back surgery.
"My physio was certainly working overtime last year after every day and even in the morning trying to get me ready to go," Woods admitted when asked the difference between this week this year and this week last year.
So far, this one really does seem different. His game has looked better, too.
There was a dart to 10 feet on the par-3 second. Then he drove the green at the par-4 seventh, which was playing downwind, and knocked in a 15-footer for eagle.
On the par-5 ninth, another birdie. More good shots followed: A big drive on 11, birdie on 14, a dart inside five feet on 17.
Not everything was highlight worthy. Woods had his share of loose shots and a few putts that missed badly, the product of gross misreads.
The biggest area of concern for Woods going into Thursday?
"Hitting the ball the correct distances every time," he said. "That part's been a little bit more of a difficult thing to do."
So, too, will be managing expectations, for just about everyone but Woods.