News
Should there be controversy with Jon Rahm claiming the European Tour's rookie-of-the-year award?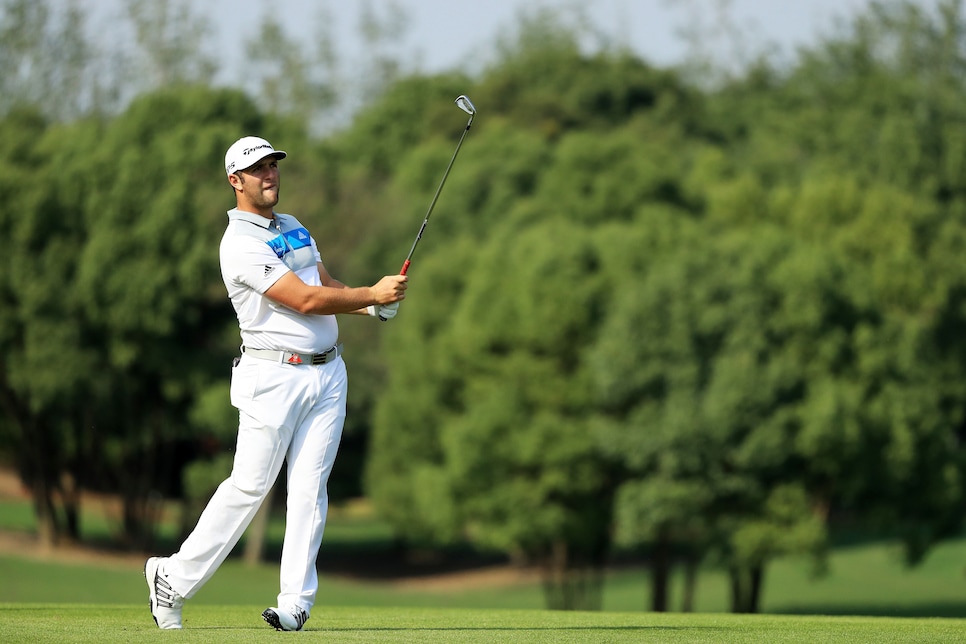 Andrew Redington/Getty Images
There appeared to be some karmic justice in Jon Rahm being named the winner this week of the Sir Henry Cotton Award, the prize given to the top rookie on the European Tour.
Despite a victory at the Farmers Insurance Open in February, 11 top-10s in 23 PGA Tour starts and $6.1 million earned in the 2016-'17 campaign, the 23-year-old Spaniard was ineligible for ROY in the U.S. when the award was handed out in early October (Xander Schauffele snatched it up). You see, technically Rahm's rookie season came in 2016—even though he played just nine events that year and wasn't a member of the PGA Tour until the last tournament of the regular season. (It's complicated, but the long story short is Rahm, No. 5 in the World Ranking, has spent his entire first 17 months as a professional playing too well for his own good.)
Yet while what happened on the PGA Tour felt like a raw deal, was the European Tour honor the equivalent of a college basketball make-up call? Yes, Rahm played in 12 officials European Tour events in 2017, claiming one win at the Irish Open and four top-10s while earning €2.8 million to put him fourth in the Race to Dubai entering this week's season finale. However, of the 12 events, eight were either major championships or WGC tournaments that also counted toward his PGA Tour numbers. Is playing only four regular-season events native to the European Tour enough to be deserving of the honor?
At first glance, the answer feels like a definite maybe. That is until you break down Rahm's results in comparison to the next most likely candidate for Europe's ROY, Dylan Frittelli.
A 27-year from South Africa, Frittelli competed in 28 tournaments on the European Tour (that feels more like it, doesn't it?!?), and only two were majors or WGC events—the Open Championship in July and the PGA Championship in August). Totaling everything from all 28 appearances, Frittelli has a victory (the Lyoness Open in June) and four top-10 finishes while earning €1,322,106.
Despite playing far fewer events, Rahm matched Frittelli's top-10s and earned more than twice as much in prize money. You could argue, however, that Rahm's participation in so many big-purse events skews the numbers. If that's the case, then separate Rahm's season to just the four Euro Tour-only starts.

In other words, Rahm earned almost the same amount as Frittelli playing in just four events to Frittelli's 28.
But what about their head-to-head record in those events? Might this help Frittelli's cause?

Yeah, well, OK. Maybe not. But what about the two majors?

Long story short (again): Rahm is playing too well for his own good.