News
Can Jon Rahm win the U.S. Open?
The 22-year-old Spaniard has a big game and Old World talent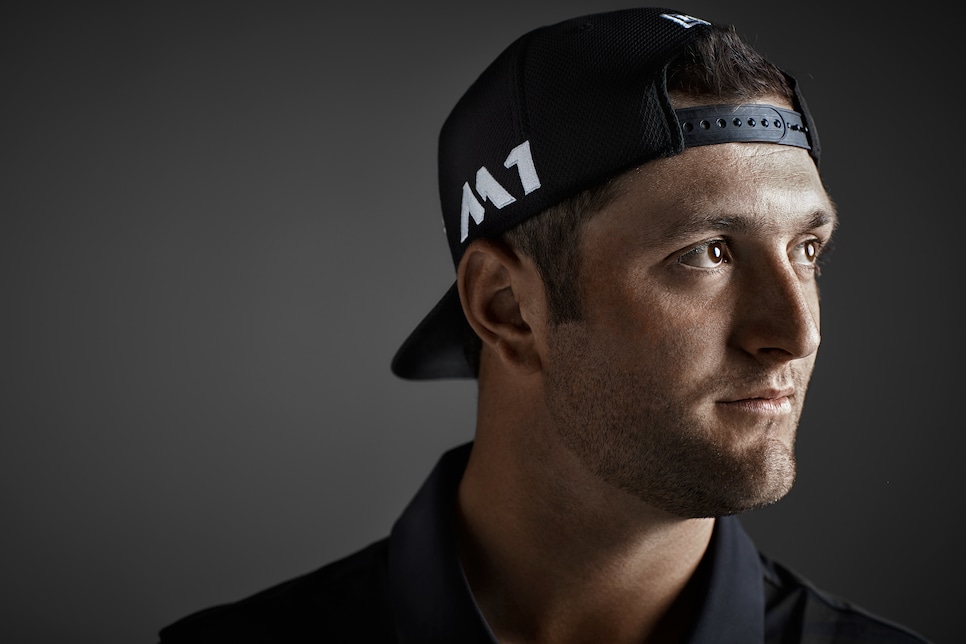 Photo By: Patrik Giardino
Jon Rahm's 225 or so pounds don't exactly taper along his 6-2 frame. Instead, they settle with an even thickness, leaving him with the natural ballast that has historically contributed to stick-and-ball genius. Not that there's anything plodding about Rahm. Watching the Spaniard swing a driver is to be reminded that large land mammals often move with startling speed.
Facially, Rahm (pronounced Rom) evokes a young Stallone, the strong bone structure softened by droopy lower eyelids, more reason the nickname Rahmbo will stick. Golfingly, the best comparisons might be the chunky, explosive, persimmon-driver-cracking Jack Nicklaus, circa 1962. Or a prime-time Roberto De Vicenzo, the brawny Argentine known for his wondrous action and pure striking.
These days in professional golf, power players aren't unusual. Many youngsters have been projected for success, but awesome ball speeds and majestic ball flights alone do not low scores make. Many who hit it can't really chip it and putt it. Dustin Johnson suffered from the syndrome until doing the hard work to escape it made him No. 1 in the world.
In contrast, Rahm's completeness is his differentiator. It's arguable that he has more game through the bag at 22 than all but one of the best young players to emerge since the 1990s. Among Phil Mickelson, Ernie Els, Tiger Woods, Sergio Garcia, Jason Day, Rory McIlroy and Jordan Spieth, only Woods at 22 was as well-rounded as Rahm.
A litany of numbers tell much of the story. Rahm began his professional career last June and secured his card with finishes of T-3 and T-2 in his first four events. In his first victory, the Farmers Insurance Open January, he closed the show on the par-5 18th at Torrey Pines South with a drive and 5-wood to the back of the green and a magical 60-foot eagle putt. Rahm followed with finishes of T-16, T-5 and T-3 before the WGC-Dell Match Play. On the final day in Austin, Rahm hit a 426-yard drive in his semifinal win over Bill Haas and a 438-yard drive in a 1-up loss to Johnson in the final.
Rahm's average launch-monitor numbers are eerily close to optimum—178 mile-per-hour ball speed, 118-mph clubhead speed, 12-degree launch angle, 2,200 revolutions per minute. "He can already command any shot—low, medium, high, right to left, straight, left to right—better than just about any player in the game," says Keith Sbarbaro of TaylorMade. "And as his body keeps getting fitter, his ball speed [which has produced a driving distance average of 302.7 yards, 22nd on the PGA Tour] will get faster."
Before his first Masters, Rahm was fourth on tour in overall strokes gained, second in strokes gained/tee to green, and third in strokes gained/driving. He also had risen to 12th on the World Golf Ranking in only 17 appearances as a pro, having earned more points this season than any player but Johnson. And when the European Tour begins tabulating qualifying points for the 2018 Ryder Cup matches outside Paris, the likely numbers will hold the promise of a transformational addition to the team.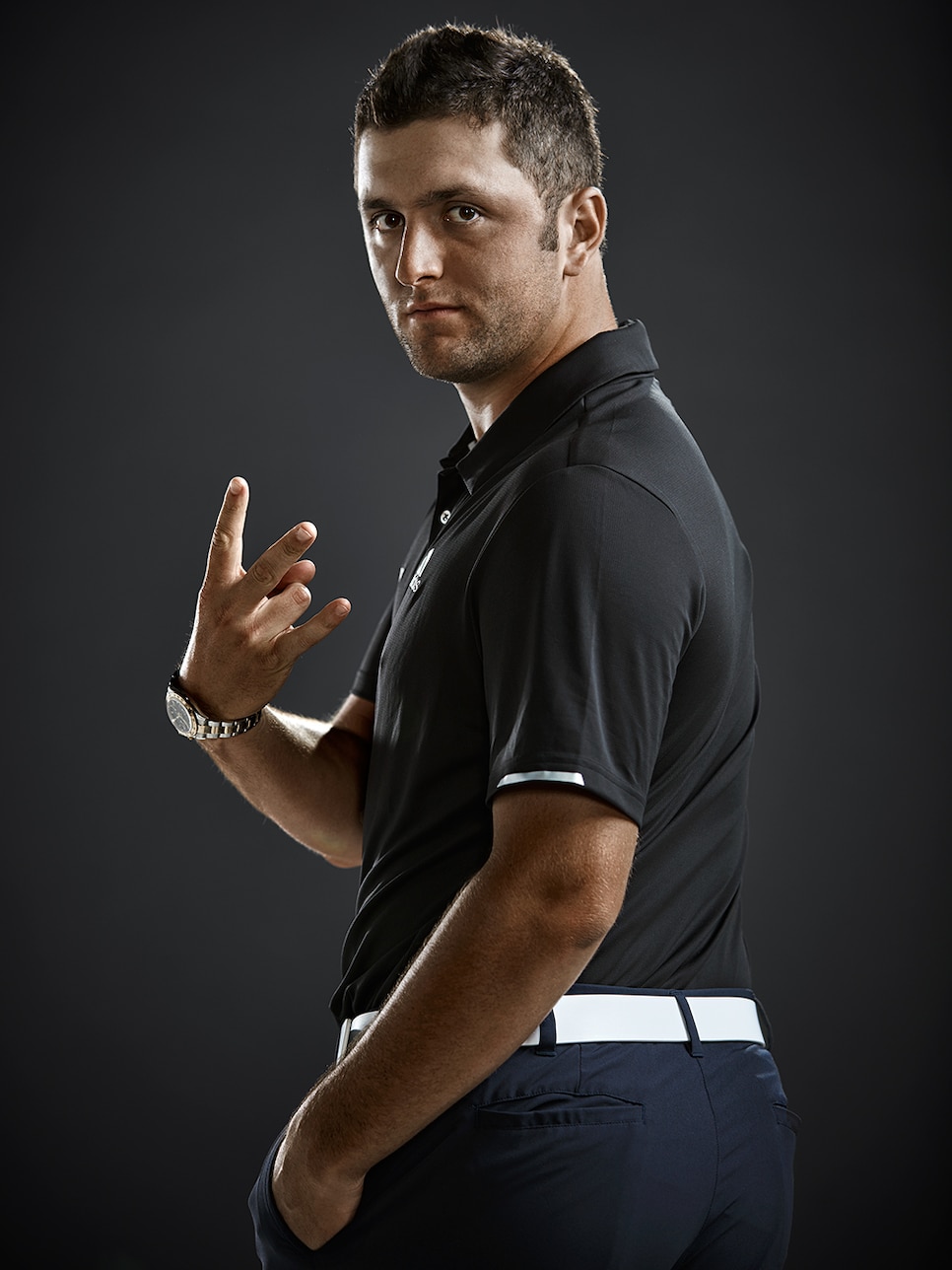 "Jon doesn't have weaknesses," Mickelson said in January. "Every part of his game is a strength. I think he's more than just a good young player—I think he's one of the top players in the world." The comment seemed like an example of Lefty overstatement with a nepotism booster, given that Rahm's coach at Arizona State, and now his agent, is Phil's younger brother, Tim. But after Rahm's spring run, Phil gloated, "He continues to validate."
"I don't think a single player out here would argue he's not one of the top-five, top-10 players in the world," Haas said of Rahm before their match in Austin. "He's hungry. He wants more. He wants a major. You can just see it in him. He's got that thing about him that's going to make him a big-time winner out here."
Johnny Miller senses an even brighter future, saying that Rahm has future No. 1 "written all over his forehead."
It's already a certainty that Rahm, who finished T-23 as low amateur in the U.S. Open last year at Oakmont, will be among the favorites at Erin Hills.
"I think my game is pretty suited to the U.S. Open," says Rahm, his Spanish accent discernible but mitigated by his impressive English vocabulary after five years of living in the United States. "It's a really big deal to be precise off the tee, which I am. I've got a good short game and good feel with the putter, too. It's one I could win."
Rahm's confidence is matter-of-fact. He admires Johnson, with whom he shares power and a similar bowed left-wrist position at the top of the swing. "I'm beginning to think it's an advantage," Sbarbaro says. "Both those guys have the least club rotation through impact of anybody we've seen." After losing to DJ at the WGC-Mexico Championship in March, where Rahm led with three holes to go, he good-naturedly tweeted, "I look forward to a Sunday rematch soon." He also said that his goal is to win 19 major championships, though he has tried to quell that talking point, now going with the standard, "I just want to be the best golfer I can be."
"I called the short game 'the hospital.' When my long game was sick, that's where I took it to make things better."
FREE SPIRIT ADAPTS
"From where I'm from, we're usually strong, confident people," says Rahm, who grew up in the coastal Basque town of Barrika (pop. 1,500). "It can get to a little bit of arrogance, which I don't think is one of my traits."
Intelligence is. He came to ASU in 2012 with almost no English skills, having been recruited sight unseen by Tim Mickelson, relying on an exchange of emails. "I'm kind of a free spirit, but it was hard," Rahm says of his first few weeks in Tempe. "I couldn't smile that much, just because I didn't know what was going on. There were probably a lot of jokes I missed the first month of school."
Mickelson admits that one month into that first semester, he didn't think Rahm would make it past Christmas. But with the help of a Spanish-speaking teammate, Alberto Sanchez, and an improvised crash course of memorizing verbally acrobatic rap songs, in particular Eminem's "Love the Way You Lie" and Kendrick Lamar's "Swimming Pools," Rahm recovered to pull a 3.6 grade-point average in his first semester and eventually graduate with a B average in communications. Along the way, he won 11 college events, tying Phil Mickelson's school record, became the No. 1-ranked amateur in the world, finished fifth in the 2015 Waste Management Phoenix Open and became the first to win college golf's Ben Hogan Award in back-to-back years.
"The best word for Jon is genuine," says Tim Mickelson. "There were a lot of rumors that he would be going pro early, but when he told me that he was committed to graduating, I never doubted him. I could tell what kind of kid he was by his parents, who never asked about golf. Their focus was on Jon as a student and a person."
It's quite a package, but the X factor in Rahm's success as a player might be his affinity for the short game. For all his size and strength, he is at heart a touch and feel player, matching the "Spanish hands" stereotype established by his home country's best golfers, Seve Ballesteros and Jose Maria Olazabal. Though Rahm reveres the late Ballesteros, it is for tales of his charisma and presence more than his game, which he was too young to appreciate. And though Rahm has great respect for Olazabal, a fellow Basque, the two have not had a lot of contact. Rahm's gift is a product of several other factors.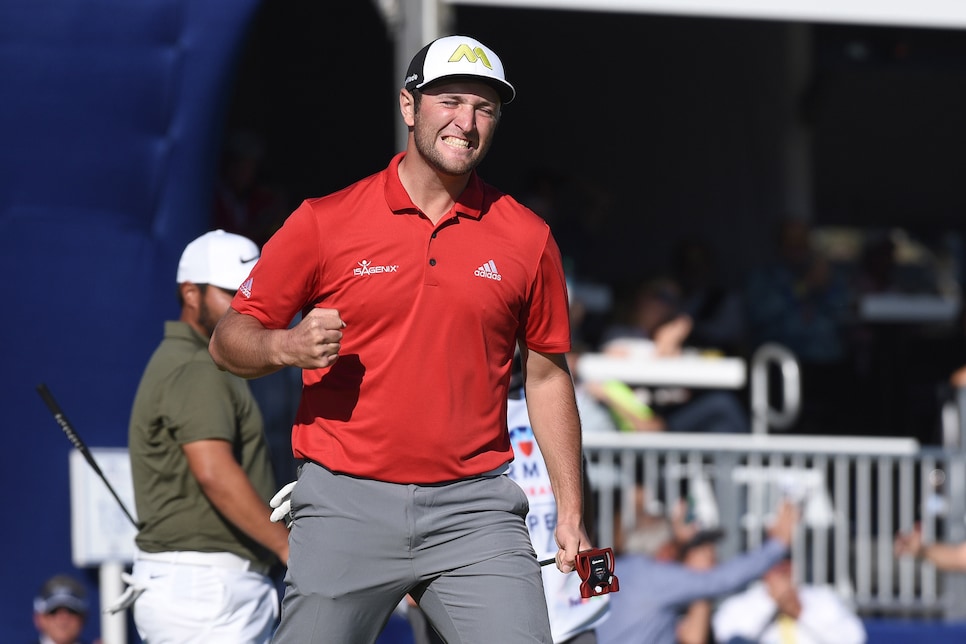 Rahm's parents took up golf after attending the 1997 Ryder Cup at Valderrama, where Ballesteros was the victorious captain. Edorta Rahm, a salesman in the petroleum industry, is a devotee of extreme sports, including rock and mountain climbing, parasailing, sky diving and free skiing. He has climbed Mont Blanc, the highest mountain in Europe, several times. "Basically anything but golf," Jon says. "The kind of sports where a mistake has serious consequences. He's really disciplined and a great competitor."
Rahm's mother, Angela, is a midwife, a gentle soul who practices tai chi. "She's the sensitive part of the family," Rahm says. "Always more interested in how I was feeling rather than how I was doing. She has always said that her goal for me is to be happy. She always taught me to care more about people, and just be nice in general. I think my personality is the best of both."
Adds Rahm's dad: "When he plays cards with his grandmother, he wants to win."
Rahm was 8 when he began going to a local golf club with his parents and older brother, Eriz. Meanwhile, Jon was getting handsy with other sports. He was a goalie in soccer and excelled at pelota, a Basque version of jai alai played with a skinny, flat-sided wood bat that demands exceptional eye-hand coordination.
After showing immediate aptitude in golf, Jon was enrolled in group junior lessons. The dozen or so boys—Jon was the youngest—began spending most of their time around the chipping green, which became Rahm's refuge.
"All I did was make up shots around the green, trying hard ones with different clubs," he says. "It was the opposite of putting down 50 balls and chipping the same shot over and over. That's not fun."
"Guys with zero [points] had to drop their pants, underwear and all. ... Trust me, that was a lot worse than having a putt to win a tournament."
NOW THAT WAS PRESSURE
One group game might have been inspired by Lord of the Flies. "We would go from one shot to another until someone got closest to the hole six times," Rahm says. "But if you were at zero when that happened, there were punishments, like going around the putting green twice on your knees, which is not easy. But the worst one was the guys with zero had to drop their pants, underwear and all, to their ankles, and couldn't pull them up until they won a hole. You did not want to be at zero when someone at five would chip it close. That was not just pressure, that was absolute fear. Trust me, that was a lot worse than having a putt to win a tournament.
"I never had to drop my pants, but I came close," Rahm says. "One thing I learned from watching was the amazing things a person can do under pressure. Because a lot of times, more often than you think, the kid with zero would somehow pull it off. And the other good thing was, it developed the killer instinct. Because if you won the first few holes, you were like, OK, if I win the next four, everybody has to pull their pants down. That happened a couple of times."
His short game had to be sharp to score. Although Rahm has evolved into a controlled shotmaker, that was not the case growing up.
"I hit the ball all over the place," he says. "As a junior, probably my short game was better than it is now, because I had to use it a lot more. If I played good, I'd hit nine greens a round and shoot five under. Just because on par 5s I would be close to the green and get up and down every time. I called the short game 'the hospital.' When my long game was sick, that's where I took it to make things better. I spent a lot of time in the hospital."
Broc Johnson, a former teammate at Arizona State who calls Rahm "a big teddy bear," has seen Rahm's skills. "Just messing around," Johnson says, "he could hit better flop shots with a 4-iron than the rest of us could with 60-degree wedges."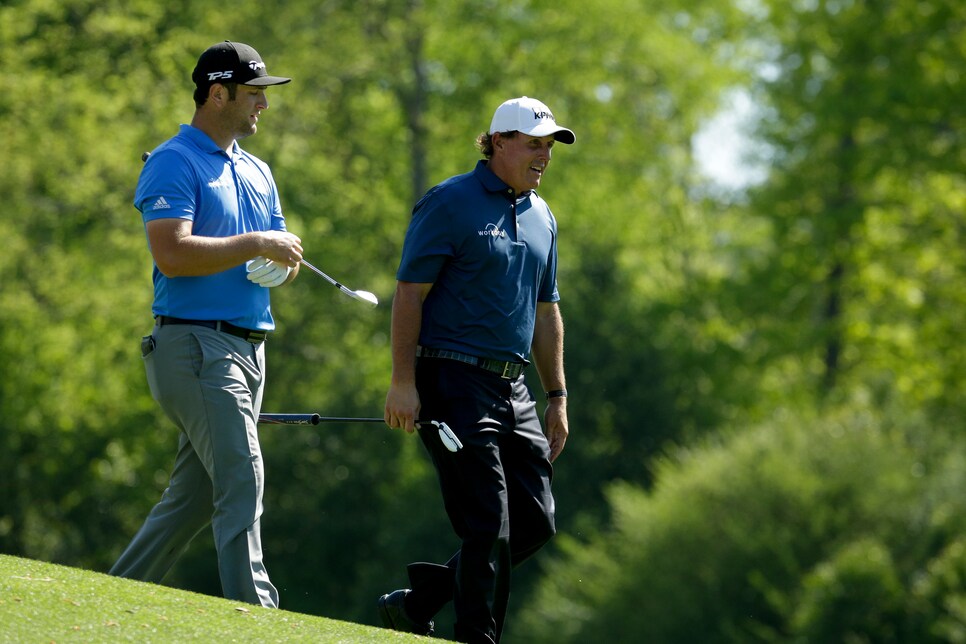 Rahm improved his ball-striking when he began working with a Basque teaching pro, Eduardo Celles, on a scruffy range with mats. "When I went to Eduardo at 13," Rahm says, "I was bigger than anybody else my age, and my obsession was just to hit hard draws with a real strong grip, just try to hit it miles. He said, 'What are you doing? What's the point? You have an amazing short game, and that's why you score well. But why not put it on the fairway and the green and make more birdies than you do now?' He weakened my grip and made my swing shorter. He told me I wouldn't lose any distance. I thought he was crazy, but I didn't. By the time I was 15, I was much better with everything and kept improving. It was a no-brainer."
Adds Celles: "When he was 14, he started to make big progress. One day we were practicing and he turned to me with a very serious look and calmly said, 'Eduardo, I'm going to be the champion of the world.' There was such self-belief in his voice, that it got my attention. He was just a kid, but I thought, Remember this moment. Because he just made me think that he can do what he said."
Celles has remained Rahm's only swing coach, but Jon tries not to over-rely on him. "Eduardo also did a great job of teaching me how my swing mechanics worked, and how to correct myself," Rahm says. "Most times I know the fix, but if don't, I text him, and he usually nails it. It happens probably four or five times a year, and then we work when I visit home in December. But I try to do it myself."
It's inaccurate to say that Rahm is without weakness. The most apparent, and one he admits to, is a young man's temper. At ASU, he broke a bag stand in anger in his first match, causing Tim Mickelson to sentence him to running steps in the football stadium. Rahm has made strides in keeping his composure, but in the final match against Johnson in Austin, he became flustered after missing a short putt on the front nine, leading to the loss of five of six holes. "I wish I would have been able to handle myself a little better," Rahm said a few days later. "Obviously, I'm an emotional player, and that can present challenges. But, hey, that's golf, that's life and something I need to learn from and make sure I don't do it again."
It's likely to be an ongoing process. Rahm began working on this area in earnest before his junior year at ASU, when he enlisted the help of a mental coach, Joseba del Carmen, from his hometown. A former pro basketball player and retired police officer, del Carmen spent part of his law-enforcement career specialized in deactivating terrorist bombs. "So if anybody knows the mind, he does," Rahm says. "Joseba works with my true emotions and how that affects my game and my personal life. Really, the main thing we worked on is just life in general. I had always put golf as the No. 1 thing in my life. But he's helped me learn that the happier I am outside the golf course, the better I play golf. That's why when I'm off the course, I try to be golf-free in my mind. And it's been a great thing."
"I just hope that we all don't push too many expectations on him, so that he loses the joy," says European Ryder Cup captain Thomas Bjorn. "Because that joy is helping him do the things he's doing now."
Rahm, who lives in Scottsdale, has a girlfriend, Kelley Cahill, a former javelin thrower for ASU whom he met as a freshman. Besides being an Instagram star, she's an exceptional cook who cleaned up the food-loving Rahm's diet and encouraged his work in the gym, helping to get him down from 255 pounds to 225.
"Because of Kelley, I feel better, and I consistently play golf better," Rahm says. "I'll never forget when I brought her to Spain for a week. It was her first time in the country, and I was going to devote all my time to her. But the first day she wakes up and says, 'Aren't you going to practice today?' And I said, 'No, not while you're here.' And she says, 'No, you need to practice.' She always supports my career. And, no matter what, believes in me."
Going into Erin Hills, more and more people are feeling that way about Jon Rahm.