TAKEAWAYS
Internationals dominating Shriners, Kevin Streelman never 'pursued' LIV email and Cam Davis won't go near the Vegas Strip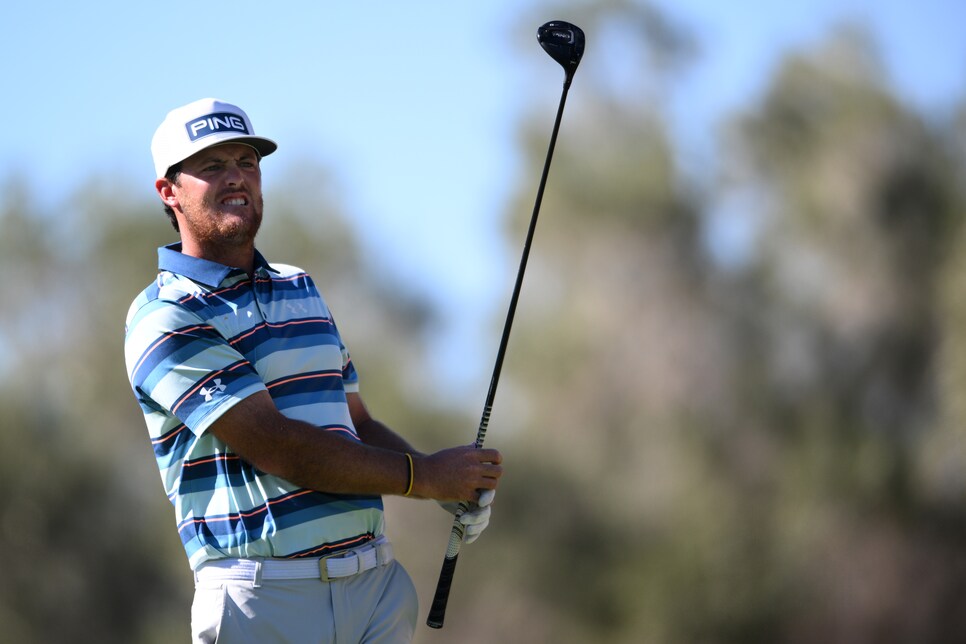 The Internationals can't seem to stop playing well two weeks after the Presidents Cup. Four of captain Trevor Immelman's men—Mito Pereira, Tom Kim, Si Woo Kim, and Cameron Davis—are all high on the leaderboard after two rounds at the Shriners Children's Open at TPC Summerlin in Las Vegas. It's shaping up to be good weekend with plenty of storylines to watch. Some PGA Tour players, like Kevin Streelman, will be soaking up all that the Las Vegas Strip has to offer, while others will do everything they can to avoid the bright lights entirely.
Here are more takeaways from Day 2 in Sin City.
The Internationals are still fired up
Pereira is back to being an individual PGA Tour player after a debut for the International team at the Presidents Cup at Quail Hollow two weeks ago. Pereira's skipper, Immelman, is back in the booth as a TV analyst.
Although Pereira can't hear Immelman's commentary, the South African's words from the International team room are still crystal clear in Pereira's head. The 27-year-old Chilean shot an eight-under 63 to climb to 12 under par, and he sits atop the leaderboard by one shot over Robby Shelton. Pereira was one of four International team members in the top six players, with South Korean duo Tom Kim (67) and Si Woo Kim (68) at 10 under and Australia's Davis (66) at nine under.
Pereira credited Immelman's memorable speeches during the Presidents Cup for refreshing his sense of confidence and he hopes to convert his 36-hole lead into a maiden PGA Tour victory.
"I think Trevor did a really good job with us, encouraging us, [telling us] how good we are," Pereira said. "I think we've carried that over here [to the Shriners]. Right now, we're just playing really good."
Pereira said he liked his chances of remaining in contention. "I had a really good round overall," he said. "I hit driver well and irons really good. I think I hit three or four shots inside three feet today. I was solid on my putting. Overall really good and happy how I played. I'm going to need a lot of birdies this weekend."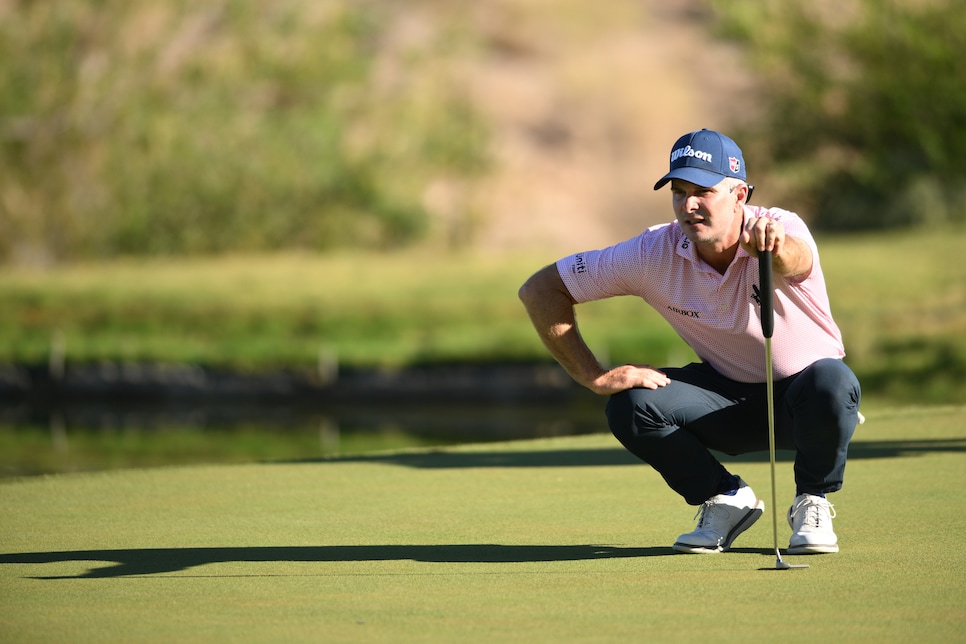 Kevin Streelman lines up a putt on the 17th green during the second round of the Shriners Children's Open at TPC Summerlin.
Orlando Ramirez
Streelman never 'pursued' LIV Golf email
Streelman has been playing solid golf—including a runner-up at the Barbasol Championship this summer—and is tied for sixth place after two rounds at TPC Summerlin. At 43, and without a PGA Tour win in more than eight years, he is in a similar situation to some of the veterans who signed with LIV Golf early on in the fledgling league's inaugural season.
But Streelman said Friday that couldn't be less interested in the rival tour. He revealed that he didn't just knock LIV back when they made an approach via email—he never even considered chasing the offer.
"I understand, from an individual basis, guys taking life changing amounts of money to make career changes [but] I felt fortunate at this stage of my career there wasn't a decision to be made," Streelman said after shooting 67 to sit at nine under. "I got an email, but I didn't even pursue it.
"The PGA Tour … I feel indebted to them. I look at what they've done for day care, what they've done for our retirement situation, and what they've done for the ability to travel the world and chase our dreams. I can't blame an individual for going for opportunities [but] I'm surprised some younger great players making that decision. Who knows, three, four years down the road, I don't think there's any guarantee of what's going to happen on that tour. If my odds were in Vegas, I'd put my bet on the PGA Tour for the long run for sure."
Streelman, who met his wife in Las Vegas in 2004, said he planned on spending Friday night soaking up the shows on the Las Vegas Strip.
"My kids came in on Wednesday," he said. "They've been watching YouTube Michael Jackson videos, because we're going to the Cirque du Soleil Michael Jackson show tonight. They're so fired up. It's kind of family time for me now. I'm excited for the weekend."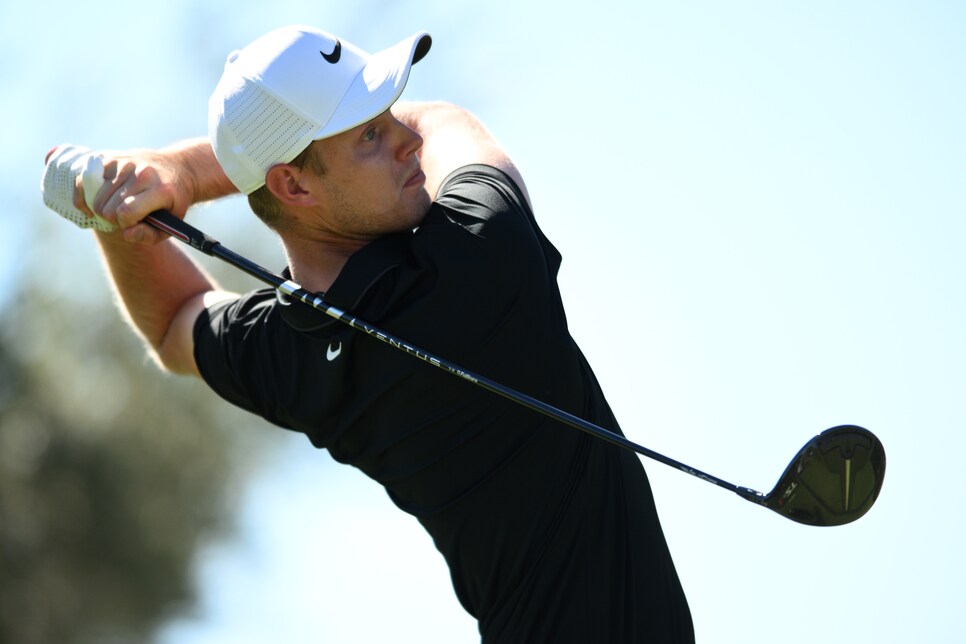 Cam Davis of Australia plays his shot from the ninth tee during the second round of the Shriners Children's Open at TPC Summerlin.
Orlando Ramirez
As for Davis and the Strip …
One player you won't find walking around the iconic Strip is Davis, even though he had a Friday morning tee time and won't play again until Saturday afternoon. Davis joined Streelman tied for sixth place at nine under after a Friday 66, and afterward revealed he has never taken the 20-minute trip from TPC Summerlin to the Strip despite this week being Davis' fourth career start at the Shriners.
"Every year this has been played that I've been here, I've never gone to the Strip," the 27-year-old Sydney native said Friday. "I enjoy my sleep too much. I'm not going down there. If I was back here outside of the tournament, I might explore, but this is a work week, and I've got to make sure I keep my head in the game. I've got a few things I might do here and there, but it won't be on the Strip."
Patrick Rodgers feels the same way
Rodgers, sitting at eight under after two rounds and tied for ninth place, is also avoiding the Strip because he's competitive and knows the house always wins.
"I'm not [a Strip guy], especially during a work week," he said. "I understand those casinos were built for a reason, and I don't like playing losing games. I'll trust myself on the golf course."