Equipment
Inside Brian Harman's Titleist equipment plus the bet he keeps with his caddie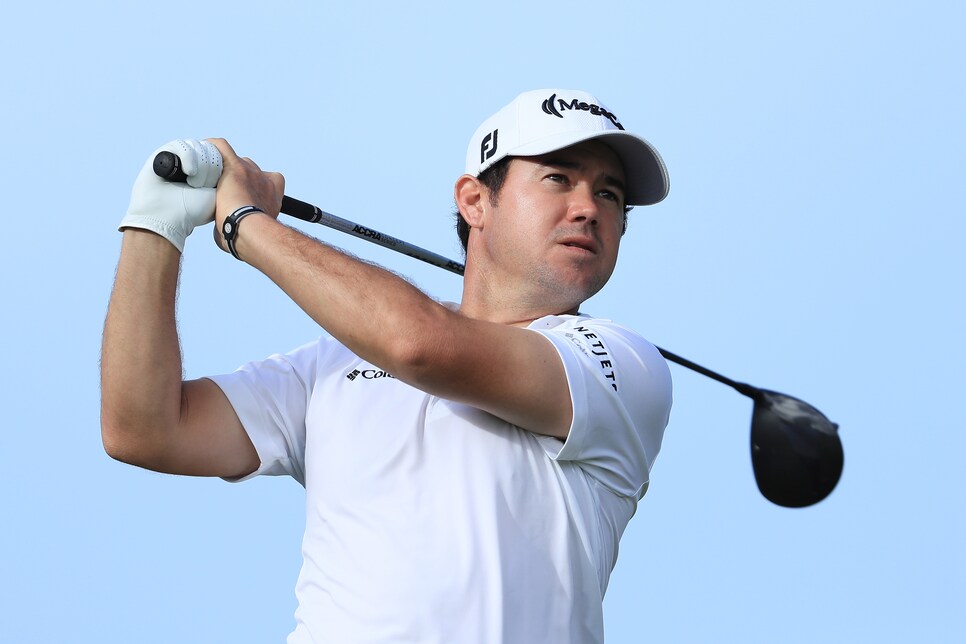 During yesterday's telecast of the Sentry Tournament of Champions, Golf Channel announcer Frank Nobilo mentioned more than once that Brian Harman was using some new equipment and they were the clubs he used back in his college days. Well, kind of.
According to Titleist tour rep Jim Curran, Harman told him in late 2016 he played Titleist irons in college and asked for a set of left-handed 716 CB' that he first put into play at the 2017 CareerBuilder Challenge. Last October, at the CJ Cup at Nine Bridges, Harman transitioned into the newer 718 CB model. He went on to finish T-5 at the CJ Cup, eighth in the WGC-HSBC Champions and T-4 at the RSM Classic. Of note in Harman's iron set is that the 3-iron is bent slightly weak. After saying he was encountering some trouble getting his 4-iron airborne so a tweak was made to weaken the loft on his 3-iron to achieve the height, but having the 3-iron length helped keep yardage gapping where he wanted.
Harman also changed to a Titleist ball last year after teaming with Johnson Wagner at the Zurich Classic of New Orleans. "[Wagner] was kind of curious as to what ball we wanted to play," said Harman. "I said, 'I played Titleist balls in college and everything. We'll just play your ball, no problem.' We had a nice tournament, especially the last day. It got really windy. I was hitting some shots with Johnson's ball, shots that I just couldn't hit with the ball I was playing. After that round, I decided to switch to the 2017 Pro V1. I won the next week [at the Wells Fargo Championship] with it, the very first week I played it."
This week in Maui Harman has 12 Titleist clubs in the bag. Harman is playing a 8.5-degree 917D2 driver, 917F2 fairways (15, 18 degrees); the 718 CB irons (3-iron; 5-iron through 9-iron) and three Vokey SM7 prototype wedges including a 47-degree he uses as his pitching wedge. His Pro V1 has dot marks that resemble deer tracks, as Harman loves to deer hunt. His putter remains the TaylorMade Spider OS CB he has used for several seasons.
The driver was a key part of the equation, however Harman said it only took him about 25 minutes to get dialed in to the right spec. Harman felt his previous gamer had a bit too much spin and Titleist reps suggested he shorten the shaft length by half an inch and use the SureFit adjustable weight cog to optimize spin and direction. "I've been hitting it at home for a long time, and I've just been itching to get it in play. So, I'm excited about this week." Harman started his year right with a first-round 68, one off the lead. But even if the week doesn't continue strong, he has another earnings option going forward.
"My caddy and I, we play a game during the Pro-Ams where we focus on greens in regulation, because that's probably my weakest stat over the last two or three years," said Harman, who does nothing left-handed other than play golf. "In the game, I'll have to hit 12 or 13 greens to break even. If I hit more than that, I make money. If I hit less than that, I lose a lot of money. So, it's a good incentive and it keeps the competitiveness going."