News
Brian Harman worked on his aim in the off-season and has a deer and five birds to show for it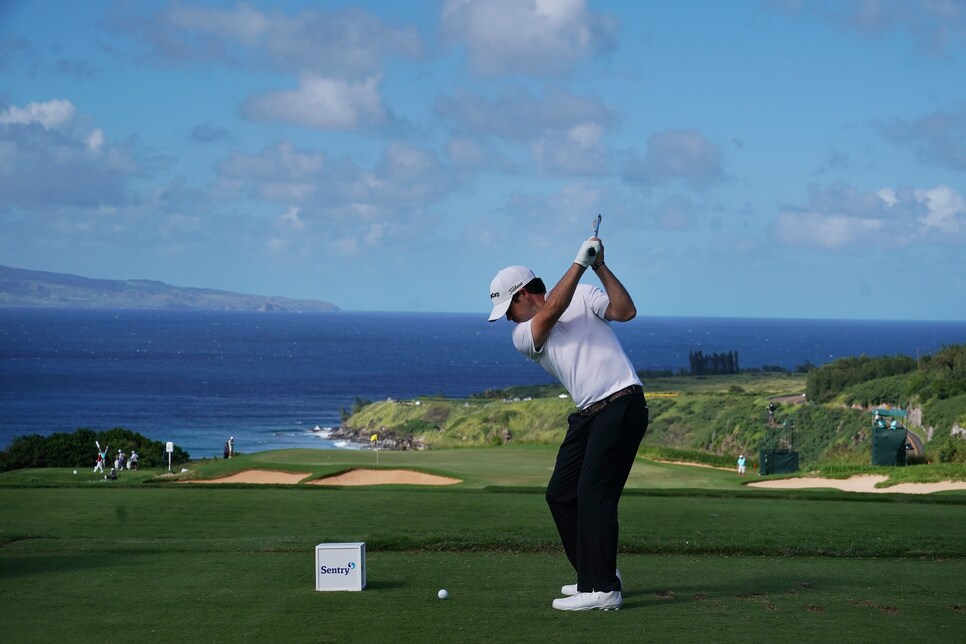 KAPALUA, Hawaii — Brian Harman built a new rifle during the offseason, and he displayed a picture on his mobile phone of the metal target measuring four inches in diameter that he nailed with the firearm from 400 yards away. He's been practicing.
"I'm going to be a bad man by the time my daughter starts dating," the diminutive left-hander said with a big grin.
Cooper Marie is 18 months old. Dad has plenty of time to improve his aim.
When it comes to his profession, which entails finding a target four-and-a-quarter inches in diameter, Harman's aim also is coming along swell.
Despite minimal preparation—the golf variety, we'll get to that—Harman shot a bogey-free five-under-par 68 Thursday amid gusting winds in the opening round of the Sentry Tournament of Champions. He trails Australian Marc Leishman by a stroke heading into the second round at the Plantation Course at Kapalua while sharing second place with Jhonattan Vegas of Venezuela.
"Yeah, obviously whenever you get to count on your birdies, you're doing something good, especially in tough conditions," said the 30-year-old Georgia native, who was playing with new sticks after switching to Titleist through the bag. "I'm very happy with it. Did I expect it? Most rounds I don't go bogey-free, so I did not expect it."
That's not to suggest he didn't expect to play well. It's just that he was preoccupied in the weeks before heading to Maui. When a reporter inquired about his preparation for the first tournament of the new year, Harman replied, "I killed a 162-inch deer with my bow, I got a new rifle built; I've been shooting some long range. I'm about to get into reloading, reloading the bullets, and then I practiced a little bit.
Chronological or order of importance?
Naturally, he also had a picture of the deer, a 13-point buck, on his phone. "I could talk about this stuff all day," he said, beaming.
Harman proceeded to describe the bow (Mathews Switchback, 31 inches, carbon fiber), how he field-dressed the deer, and his favorite venison dish (shoulder roast), including cooking instructions: "I wrap it up in tinfoil with a bunch of different stuff, and I stick it in the oven at 210 for 10 or 11 hours."
We'll save the rest for the Outdoor Channel or Food Channel.
Apparently, what golf work he did squeeze in was enough as he glided around the Plantation Course while only once being in danger of making a bogey, getting up and down from a tough bunker at the 13th.
Harman qualified for this winner's only event when he captured his second PGA Tour title last May at the Wells Fargo Championship thanks to another long-range strike. His 30-foot birdie putt on the 72nd hole prevented World No. 1 Dustin Johnson from winning his fourth straight start. Harman won with a Titleist ball, which he was playing for only the second time. The week prior at the Zurich Classic of New Orleans, he teamed with Johnson Wagner, and they used Wagner's Titleist ball during alternate shot.
Harman switched. Then won.
He nearly bagged a bigger prize a month later when he held the 54-hole lead in the U.S. Open at Erin Hills but tied for second behind Brooks Koepka. He had never seen Erin Hills previously, which is heartening looking ahead to this major season in which only Augusta National is familiar.
"I seemed to do OK not knowing too much," he noted.
Harman, who turns 31 in two weeks, finished T-17 in his initial appearance in this event in 2015. He was grateful to be back. "You don't realize how much you enjoy it the first time until you come back the second time," he said. "It's like, 'Wow, here I am again and this is, this is just as awesome as the first time I was here.' I think you actually appreciate it more. Because the first time you don't really know what to expect, but the second time you can really kind of take it in, I feel like."
Most everything seemed to be clicking Thursday, enough that Harman was almost itching to talk about something other than golf. So he did.
Someone noted that Titleist does not manufacture bows or rifles.
"I wish they did. They'd be awful accurate," Harman said.
Cooper Marie, your dad is a bad man.