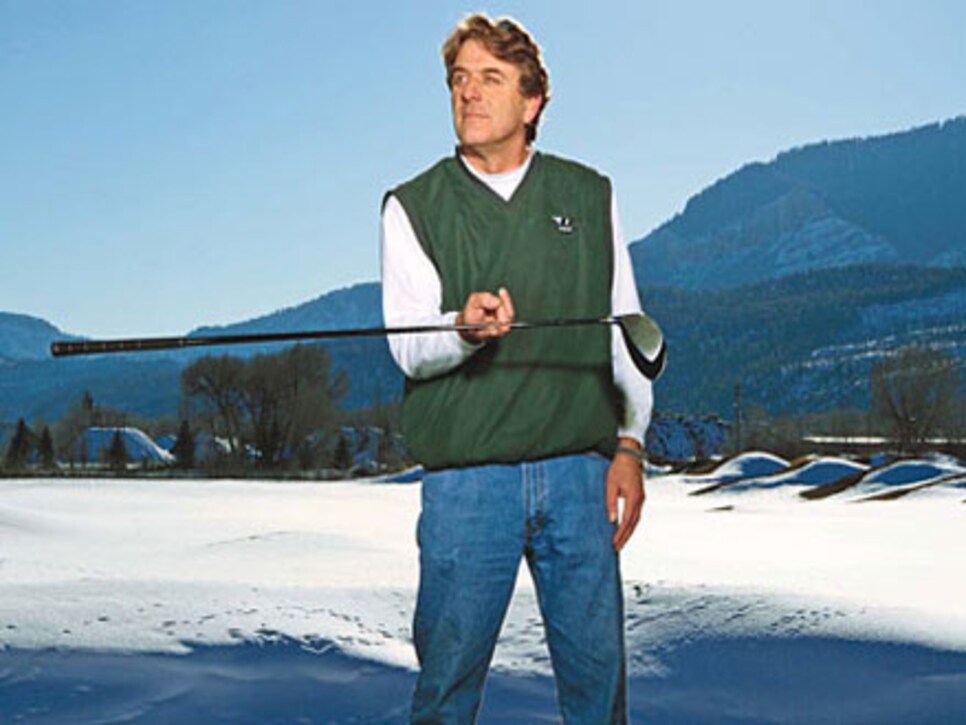 Tom Wishon: Once a drummer with the Steve Miller Band, Wishon now runs his high-tech club company in Durango, Colo.
Clubmaker Tom Wishon has lost 60 percent of his hearing, at least a portion of the damage attributable to the time he spent laying down the drum tracks on the Steve Miller Band's 1973 album "The Joker." At that time, Miller was living in a 3,200-square-foot, L-shape house/recording studio perched above the first hole of the Mill Valley Golf Course outside San Francisco. A quick nine constituted a set break. But for Wishon, a man who would go on to spend a career in the golf industry, it was the music that was the diversion.
Now 56, Wishon has trimmed his rocker hair and wears reading glasses fastened to a chain that hangs around his neck. As much as he looks the roguish academic these days (Wishon has written seven books and hundreds of articles on the technical performance of golf clubs), his background doesn't include a degree in engineering. He has learned mainly by doing, not studying, a choice that didn't prevent him from winning the Professional Clubmakers' Society's Elmore A. Just Award in 1996. One of his many design firsts is a fairway wood with a coefficient of restitution (COR), or spring-like effect, of .830, the U.S. Golf Association's limit usually quoted for drivers.
After earning a degree in physiology from the University of Nebraska in 1972, Wishon enrolled in the PGA of America's Apprentice Program, passed the Playing Ability Test, took the necessary business classes and found work as an assistant pro at the aforementioned Mill Valley (the idea of becoming a doctor didn't last long). For extra income, he started refinishing wooden clubs, and he soon developed a passion for craftsmanship. Through buying parts for his repair projects, Wishon befriended clubmaker extraordinaire Ralph Maltby, who in 1980 offered Wishon a job as vice president of sales at his new component company, GolfWorks.
Six years later, Wishon's reputation earned him a gig as president of Dynacraft Golf, and before he knew it, he was in Taiwan, learning every aspect of the equipment-manufacturing business. The ensuing long trips overseas contributed hugely to his intellectual growth. In 2001, he formed Tom Wishon Golf Technology, a custom-fit component company with just 14 employees, headquartered in Durango, Colo.—not the most traditional place for a golf company, but then again, little is traditional about its founder.
Central to Wishon's philosophy on equipment is the notion that the major leaps have already taken place, especially considering the stances of the USGA and the Royal and Ancient Golf Club of St. Andrews on rapid performance gains. In the past two decades, Wishon contends, clubmaking has evolved to accommodate the needs of large-scale manufacturing rather than those of individual players. He says that only through personal optimization -- custom-fitting with scientific rigor -- can golfers achieve their potential.
"You'd string a tennis racket to suit your strength and stroke mechanics, and custom-fitting is arguably more essential in golf," Wishon says. "But the standard fitting practices of the major manufacturers don't offer a wide enough array of specifications to fit every golfer properly."
So what's the latest from Tom Wishon Golf Technology? Answer: MOI (moment of inertia) matching of the entire club. The company has created hardware and software that enables a clubfitter to produce a set in which each iron requires exactly the same amount of force to be set in motion -- the same MOI for each club. The technology can make a 3-iron feel identical to a pitching wedge so that a golfer can more easily repeat a swing through the bag. Under this logic, the golfer could develop more consistent tempo that would in turn result in more on-center strikes.
Wishon's MOI matching aims to replace the swingweight system, the most antiquated measure left in clubfitting. The old system's arbitrary designations -- D-1, D-2, D-3, etc. -- pertain to the degree a club balances toward the clubhead. In every set matched by swingweight, MOI will decrease in irregular intervals as you move down through the shorter clubs. Because golfers possess unique tempo, strength and mechanics, Wishon says, there exists an optimal MOI to suit each swing. To find that number, the process starts with the player's favorite club.
Here's how it works. A player brings in the iron he or she feels most confident with, 7-iron or longer (short irons are excluded because their higher lofts make them universally preferred). The fitter then hooks the club up to an electronic scale that rocks it back and forth to determine MOI in one operation. The software then calculates the modifications necessary for each iron to produce identical MOI across the set (the data can be used to construct a new set as well). Woods can also be MOI-matched, but gathering fresh data with the player's favorite wood is required.
Wishon is excited about the prospects of his new system. MOI matching has the potential to help players of all abilities, and especially beginners or novice golfers struggling to repeatedly find the center of the clubface. Major manufacturers are showing interest in developing the idea.
As for his old friend, Wishon met up backstage with Steve Miller at a concert last year. Miller, a 16-handicapper, is eager to improve his game and plans to get MOI-fitted in Durango this spring. Wishon will find himself in the supporting role once again, this time without the drumsticks.
The Application: Your set can be modified so that every club feels like your favorite club.