FIRE PIT COLLECTIVE
An incredible 100-hole hike at 44 under par for the ages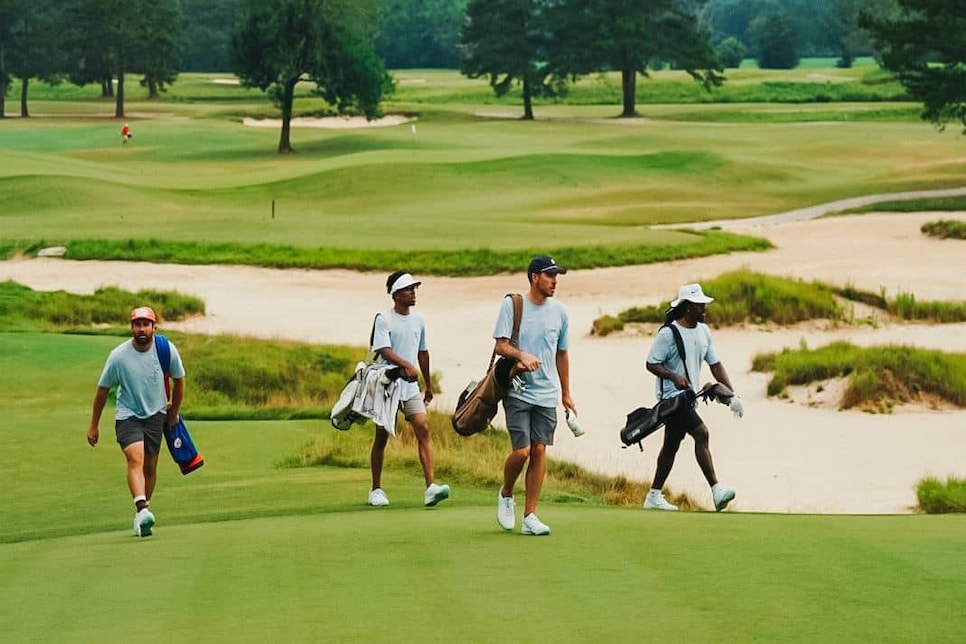 Joe Hooks had June 29, 2022, circled on his calendar for months. "My friend Roger Steele, who is a Youth on Course ambassador, asked me to play in his group for the 100 hole hike, so I wanted to make sure I'd be available."
Hooks is a 29-year-old mini-tour player from Detroit, Michigan. "I want help to make golf a reality for kids that look like me," said Hooks, who is African-American. "That's why I support Youth on Course. They are an immediate and concrete solution to take away the barrier of cost. And that's a big deal in communities of color. Through Youth on Course, kids can play golf for just $5 at over 1,800 courses around the country."
Youth on Course has raised over $650,000 to date this year in the 100 Hole Hike initiative thanks to golfers who commit to playing 100 holes of golf, on foot, at 11 sites across the United States. Hooks joined forces with Steele's Team HIPE, alongside Rory Blacklroy, Aaron Ross and Keith Lally, at Sweetens Cove in rural South Pittsburg, Tennessee. For the unfamiliar, Sweetens Cove is a nine-hole dreamscape of a golf course. Team HIPE would play the course 11 times (plus one extra hole) to get their quota of 100 holes. Hooks would play them in an unbelievable 44 under par.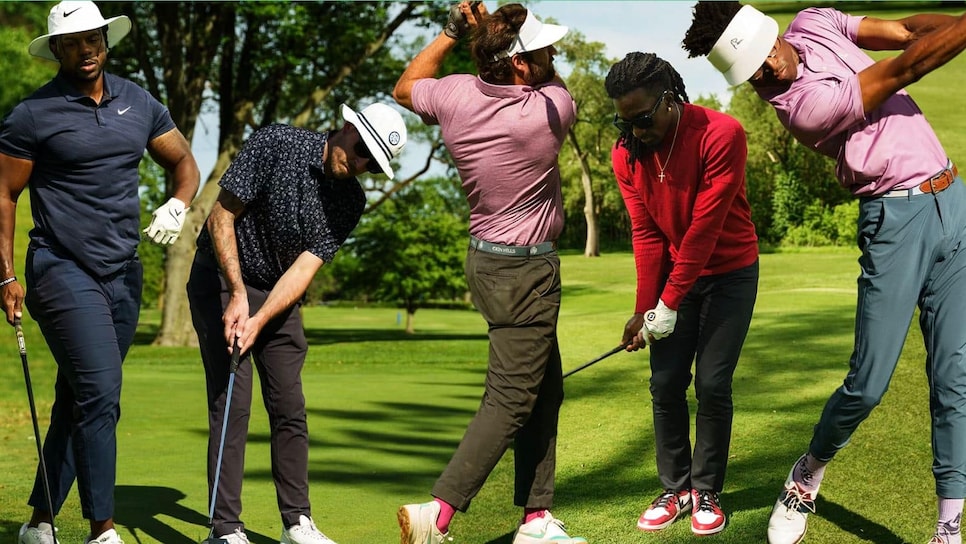 5 a.m.: The 100 Hole Hike Begins
"Roger's flight gets delayed so it's just four of us on the 9th tee at 5 a.m.," Hooks said. "We also had our sherpa Ryan Hardenbrook, who's a member at Sweetens, keeping score and taking care of us." Hooks opened with an easy par on the par-3 9th. He birdied his second hole, the par-5 1st hole. From there things become a little hazy. "The early part of the round, I'm not gonna lie, that's kind of all a blur," Hooks recalled. "Probably because of the significant events that happened four hours into the day."
At about 9 o'clock in the morning, the first significant event happened. Hooks came to the par-5 1st hole for the third time. He pulled out driver. "I beat that drive, bro. That drive went close to 350," Hooks claimed. "I was in the fairway, had a little 7-iron left and holed out. It was crazy, bro. Crazy."
Crazy is one way to put it. Roger Steele, who had just arrived at Sweetens Cove after travel delays, said, "The first thing I heard when I got out the car was them screaming." Hooks had never made an albatross before. He would've been happy had that been the highlight of the day. But there would be more. Many, many more.
Starting with the albatross, Hooks would go on a run like no other. "At that point in time, I just started to get locked in on going absolutely crazy," said Hooks, who is one of the players featured in the Fire Pit Collective's "The Grind" docuseries. "I felt like I could hole out every shot." He made an eagle two holes after the albatross. "As you can imagine, I was definitely feeling myself, for lack of a better word."
Feeling himself in the figurative sense, Hooks came to the 125-yard 4th hole at Sweetens Cove. He aced it. Of course he did, right? Why not. Within a 12-hole stretch, Hooks would make an albatross, an eagle and a hole-in-one. All in the name of charity. Team HIPE was, indeed, HYPE.
Over the course of a day that started at 5 o'clock in the morning and ended just past 7:30 in the evening, Joe Hooks played 100 holes. He walked all of them in temperatures that approached 90 degrees. He made a total of four bogeys. He never made a double bogey. He carded three eagles. The albatross and the ace you already know about. Amazingly, he never birdied the 7th hole in 11 tries. Teammate Rory Blacklroy, however, made eagle on 7. I asked Hooks if any of his teammates came close to matching his ridiculous score. "No," he said without hesitation. "Rory was making too many bogeys."
In the end, Hooks and Roger Steele's Team HIPE raised over $50,000 for Youth on Course. Thanks to their effort and the work of people from Pebble Beach to Palm Beach getting involved, kids are going to get to play golf for just $5. It's not too late to donate if you want to be part of breaking down barriers for kids who want to play golf.