News
In the Presidents Cup, Charley Hoffman joins the team he's waited his whole life to be a part of
Photo By: Stuart Franklin/Getty Images
Growing up in the San Diego suburb of Poway, Charley Hoffman always looked up to Phil Mickelson. That piece of the story didn't come out in last week's news conference announcing that the pair were captain's picks for the U.S. Presidents Cup team, but it hints at a direction Steve Stricker might go later this month at Liberty National Golf Club. It's not hard to envision Hoffman, seven years Mickelson's junior, at some point being partners with his one-time idol.
The story goes that Hoffman drove around during his college days at UNLV in a red convertible Oldsmobile Cutlass Supreme, the same car that broke down on the way to the opening round of a Buick Invitational one of the three times he qualified as a teenage amateur. While waiting for a taxi, Mickelson rolled by, recognized Charley and gave him a ride to Torrey Pines.
They've been friends ever since, with Hoffman getting the call to some of Mickelson's money games including a match they played late last week, after Stricker welcomed them to the team.
"I was with Charley all day today," Mickelson texted me on Friday. "I don't remember the story [of the Oldsmobile breaking down]. He did, though. He's a real asset to our team."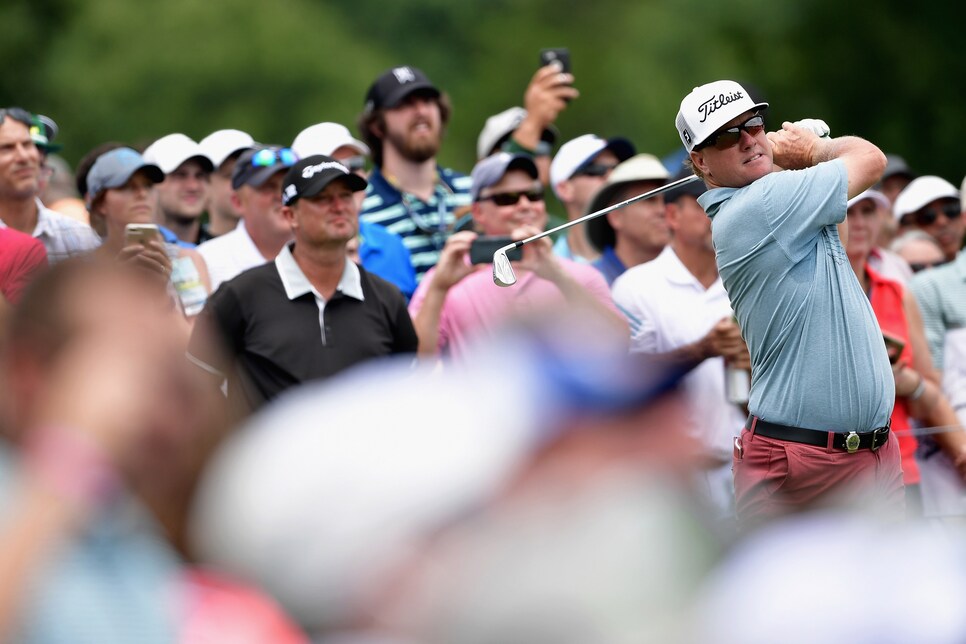 Stuart Franklin/Getty Images
By all accounts, Hoffman has been a real asset to any team he's ever been on, whether it was the UNLV national champions in 1998 or Poway Titans soccer squad that won the California Interscholastic Championship in 1994. In ways tangible or intangible, whether in the team room or on a team bus, the golf course or soccer pitch, Hoffman by all accounts is a guy you wanted on your side.
"Charley is just one of those guys who's a free spirit, a fun loving, laid back Southern California guy," says UNLV teammate Jeremy Anderson. "He's a guy you just want to be around. I think that will resonate with the guys on the Presidents Cup team. He's certainly been around long enough so he's got those relationships, but a lot of guys have not been around him in a team environment, so he will be great. He's a guy you want to be partners with because he's a gamer. Like we saw in Akron, he's fearless. He's not out there to finish second. That's what you need when you're playing for country, not somebody who will fold under pressure. He's certainly not that guy."
The reference to Akron was the televised conversation Hoffman had with caddie Brett Waldman about his decision to go from the green with a 3-wood on the 16th hole in the final round of the WGC-Bridgestone Invitational. Hoffman, a four-time winner on the PGA Tour, had spent a summer contending almost weekly, racking up top-five and top-10 finishes but no victories. "I'm tired of finishing second," Hoffman declared, before clearing the water from 282 yards out. It was the type of guts Stricker will be looking for in the Presidents Cup.
"He thrives in the team atmosphere 100 percent," says Scott Lander, who was a freshman on that '98 UNLV title team. Based on what he experienced, Lander could see Hoffman play an important role behind the scenes building chemistry by talking smack with the likes of Mickelson and Matt Kuchar around the ping-pong table. "That was part of the gel we had when we won nationals," Lander said. "He lightened the mood up. I never saw him intimated by any scenario."
Off the course, Hoffman was just as competitive, if not more so. It could have been as simple as throwing or sliding quarters against the wall of an airport, the one who got closest collecting $5. The poker games in college also got heated. "I could name 50 scenarios," Lander said, listing miniature golf with side bets on jumping over shrubs. From games they played in practice rounds, Anderson had to call home for his parents to send him cash to cover the bets he lost to Hoffman.
"In the middle of my sophomore year, I had to stop playing him for money," Anderson said. "I'd say, 'You know what? I'll kick your butt all day and every day until there's some money on it.' All of a sudden, with money on it, he turns into a world beater. I got smart. I told him, 'I'm done, man, unless you and I want to be partners.' "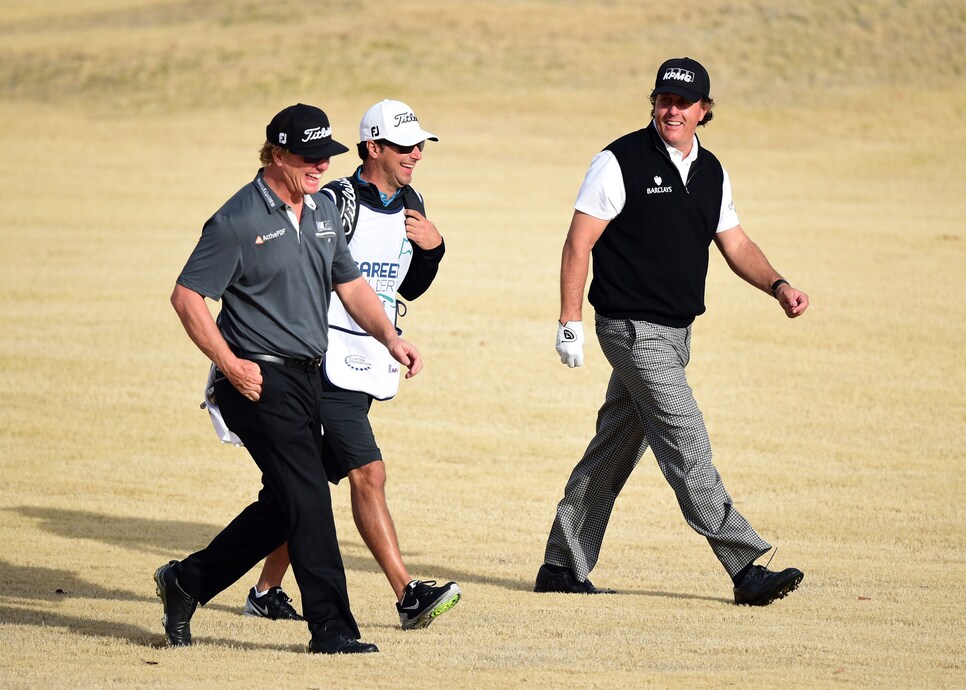 There's a story they all tell about the time in college when the Rebels were returning from a match in Austin, Texas, and Hoffman spotted a group of mule deer in the hill country off the highway. Driving the team bus, coach Dwaine Knight pulled over. "Charley being Charley, he's not going to back down from any dare or any challenge, and he got in his head he could outrace a deer," Anderson recalled. "An assistant coach said, 'I want to see this,' and Charley literally jumped out the sliding door of the van and took off running after the deer for a pretty good amount of time. He was intent on trying."
"There was just no way," Knight said. "Those things are so fast. Charley was a pretty big boy at that time. He'd get going in one direction and he could not stop."
"That's Charley though," Anderson said. "Always entertaining."
His buddies back home in Poway can relate. According to lifelong friend Jon Tutrow, the only sport that Hoffman couldn't do better than his friends was surf. And they'd never let him forget it.
In high school, Charley drove a pink Dodge Colt. On beach days, they'd load up the "pink panther" and head down to Marine St. in La Jolla with their body boards to catch waves. Or in Charley's case, attempt to catch waves.
"The running joke," Tutrow said, "was that Charley was president of the WWR. Also known as the White Wash Rider Club. We still remind him of it today."
Another game they'd play was standing on a driving range or in a park with Charley chipping balls in their direction, either to their hands or feet. "We'd go over to his house and watch Charley playing golf in his living room," said another hometown friend, Chris Gamache. "He'd take his pitching wedge and aim at different objects in the house. He'd chip balls off bar stools."
In his youthful prime Hoffman wasn't just an athlete but was a team leader, just like he was at UNLV. "He'd get on you," Gamache said. "Soccer, baseball, ping pong, whatever we could do, we did," Tutrow said. "He made us succeed in what we did."
"Whether it was horseshoes, video games or playing darts, Charley wanted to win," says Bob Remensperger. "No matter what you're doing, he always wants to win. He'd go at it with everything he had, every single time. And that translated to team sports."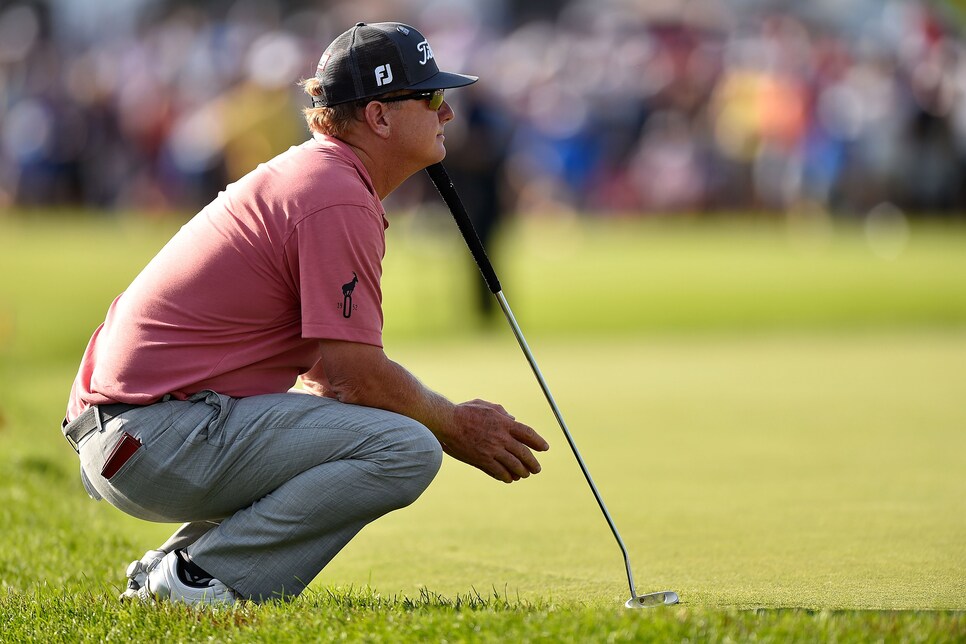 Minas Panagiotakis/Getty Images
Nowadays, when they get together at age 40, Tutrow, Gamache and Remensperger congregate on the shuffleboard court in Hoffman's new house in San Diego. They went to Chargers football games, take their daughters to Sockers soccer matches and went on the pub crawl for his wife Stacy's 40th birthday. Remensperger works for a construction-management firm. Tutrow has his own accounting business. Gamache is a boat mechanic. It was Gamache who invented the nickname "Mud Chuck" for Charley when they played for the Vaqueros travel team.
"Back when we were playing soccer, on rainy days when the field was completely muddy, he was the first one sliding," Gamache said. "This was in the early days, even before high school."
How will Hoffman's competitive edge factor for the four-time tour winner in the Presidents Cup? Stricker got a taste at the Masters, when Hoffman shared the lead after three rounds and said to the captain, "Are you ready for a 40-year-old on the team?"
Is Charley Hoffman ready?
"It's one of those things here, you sort of dream of, listening to all the guys talk about what a great experience it is," Hoffman said at the announcement of making his first American team despite being on the PGA Tour since 2006 and earning nearly $25 million. "I guess I don't know what I've been missing all these years, but after being a rookie at 40, I promise you I'm going to want to be on those teams for years to come. I know it's going to be a great experience."
It should be, for the ultimate team player finally getting his chance.