The Loop
In The Hunt Can Be The Prize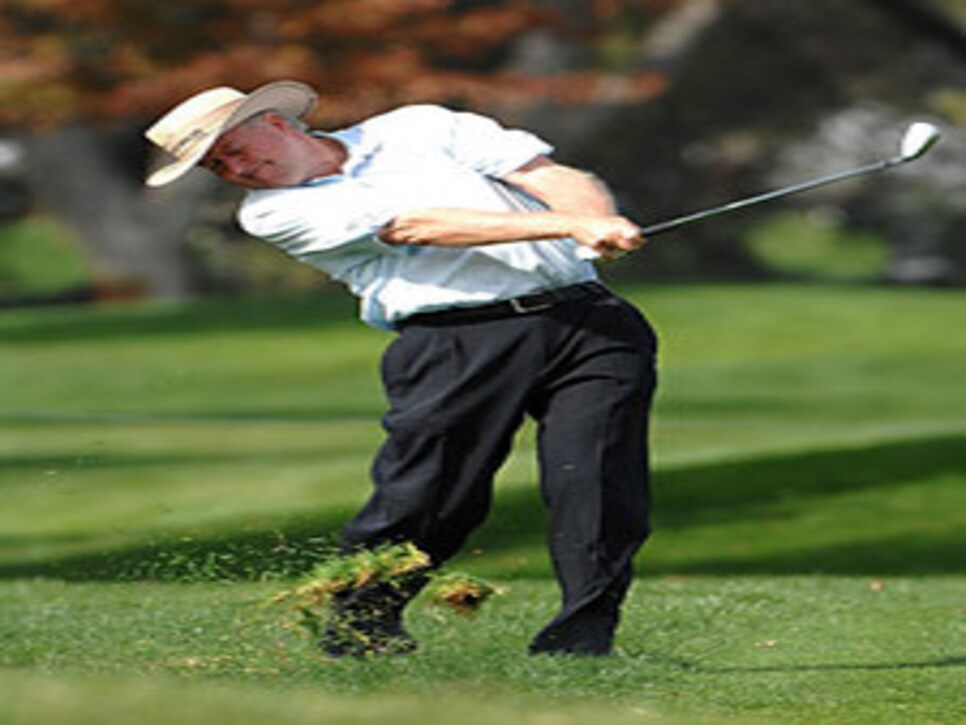 SONOMA, Calif. -- Dinner would taste good for Denis Watson (right) Friday night. All he did Friday in the second round of the Charles Schwab Cup Championship at Sonoma GC was birdie the last four holes to shoot a 64 and join Jim Thorpe within one stroke of Eduardo Romero's lead (at 12-under 132) after 36 holes.
It was another banner day in a sterling season for Watson, who won the Senior PGA Championship in May and the Boeing Classic in August, amazing stuff for a talented pro who was riddled with injuries for so much of his career. After so much frustration, so many valleys, to be in contention again is what it's all about for Watson.
"That's what you live for -- that's where you want to be," Watson said. "These guys like Jay [Haas] and Loren [Roberts], they're contending every week, they get familiar with it and that's fun. Playing in the middle of the field sucks. When you're in the heat and in the hunt, that's the test. You want to see if you can pass the test every time. Sometimes you screw up, sometimes you play well."
Watson wasn't the only golfer to light it up in the second round. Naomichi (Joe) Ozaki shot a 65 to move into a fourth-place tie with Tom Purtzer and Brad Bryant at 9 under. Among the tidbits revealed in his post-round interview, through his caddie/interpreter, was how he ended up with his plain, old nickname. After all, one of his golfing brothers is Masashi (Jumbo) Ozaki, and another is Tateo (Jet) Ozaki.
The prime aviation terms having been taken, it was out of his hands. "The fans were able to vote in on what they wanted to call me," he said, "and Joe is what won."
Whoever ends up winning the seniors' season-ending event could use some putts over the weekend such as the one James Haugh, Ben Crenshaw's caddie, struck late Friday afternoon on the practice putting green in a contest with his boss. From 40 feet, downhill with a subtle break, on his first attempt, using Crenshaw's driver, Haugh was golden.
Then it was Crenshaw's turn. Using the simple blade putter that is the antithesis of high-tech but in his hands is the epitome of high style, Crenshaw took a couple of looks, made the stroke that has broken hearts for four decades and sank his first effort. Nothing to it.
(Photo: Marc Feldman/Getty Images)