LPGA Tour
The key equipment change In Gee Chun made that's helping her dominate Congressional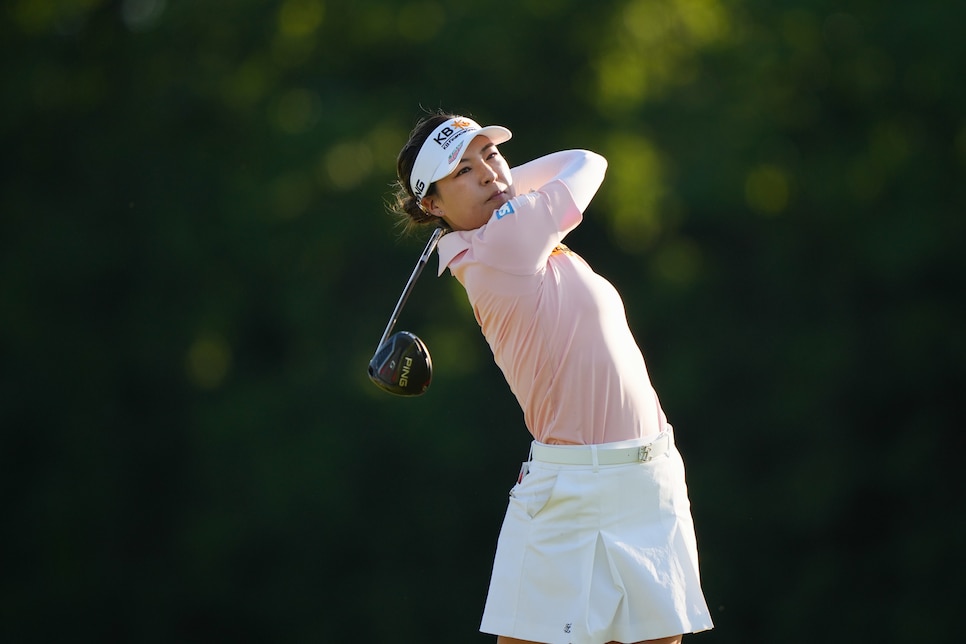 In Gee Chun plays her shot from the second tee during the second round of the KPMG Women's PGA Championship.
Darren Carroll/PGA of America
In Gee Chun followed her record-setting first-round 64 at the KPMG Women's PGA Championship with a three-under 69. Her lead is six shots over major champions Lydia Ko and Jennifer Kupcho.
Congressional Country Club is long at more than 6,800 yards for the women, and it was made even longer for the week due to heavy rains on Wednesday night. Extreme setups can cause players to reconsider clubs in their sets, but Paul Boehmer, who runs the LPGA Tour's equipment truck, said he didn't see many club changes at Congressional.
One player who did make a couple key changes, however, was Chun. She took out her 3- and 4-hybrids and put in a 7-wood and 9-wood. Generally, for players with swing speeds like Chun's, high-lofted fairway woods launch higher and go farther than hybrids. The higher launch helps the ball hold the green when it lands and the distance speaks for itself.
Clearly, the change is paying off. Chun ranks in the bottom half on the tour in driving distance, but she's only missed three greens over 36 holes at Congressional.
"I think I used the 9-wood three holes straight," Chun said. "I think I made two birdies with the 9-wood."
Chun said the last time she used a 7-wood, she was a junior learning how to play golf. This is the first time she's ever used a 9-wood.
Though Chun hasn't won on tour since 2018, she's a three-time champion. Two of those wins are majors: the 2015 U.S. Women's Open and the 2016 Evian Championship. It's been more than half a decade, but she knows how to win major championships. And heading into the weekend with a six-shot lead is an enviable position to be in.
"I just want to keep trying what I did last two days," Chun said. "I think that's the key to make win this week. Just go with the flow, do what I can do."
Ko tied for the day's best score with a 67, while Kupcho shot 68.