LIV Golf
Ian Poulter has a semi-legitimate reason he's commuting to this week's LIV Golf event via helicopter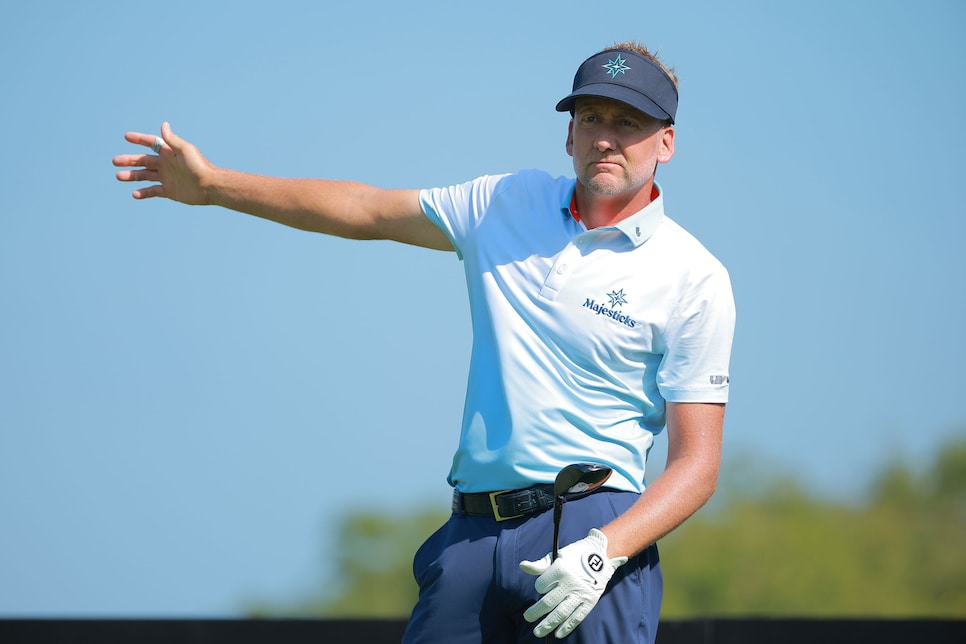 WINTER GARDEN, Fla. — Ian Poulter had a solution to navigate Orlando's nasty traffic Thursday en route to his pro-am at the LIV Golf Invitational - Orlando. The 47-year-old Englishman took to the skies to avoid the 40-plus-minute car ride from his residence within Lake Nona to Orange County National on the other side of town.
Poulter, who is known for being a collector of luxury cars, was asked which of his prized vehicles he'd driven over to Orange County National, site of this week's LIV event. But the English Ryder Cup hero said he'd used a helicopter provided by a luxury air travel company SpeedBird, which mainly specializes in private jet travel.
"I've left them all at home today," Poulter said of the cars. "I know we live very close, but we decided to SpeedBird, who help us fly around. Had an option to pop in on a helicopter this morning."
But Poutler also said the helicopter was being used to visit several sites where he and his Majesticks G.C. teammates— Henrik Stenson, Lee Westwood and Sam Horsfield—are looking to either build a golf course or buy an existing layout. Stenson, Westwood and Horsfield are all co-captains, and Westwood is the only team member not based in Orlando.
"So we're just kind of doing a site visit around Orlando to see if there's any cool areas where we may be able to build a Stix [Majesticks] stadium golf course," Poulter said. "It took about six minutes door-to-door and made it very easy."
Asked would he take a helicopter each tournament day at LIV Golf's third event of the year, Poutler said yes, tongue-in-cheek: "It's looking like it, yes. Orlando traffic gets pretty busy at home. More time at home will be great."
The Orlando-based SpeedBird company has one helicopter in its fleet, the EC130B4. The helicopter is perhaps one of the indicators that the Majesticks are further along in the process of setting up the franchise concept—now the focus of LIV Golf's business model—than other teams. The all-European team already has an Orlando-based charity, Little Sticks, which introduces disable children to golf. The team held a clinic for the charity on Thursday.
"I would say we probably are [further along]," Poulter said. "We've kind of been ahead of the curve on a number of aspects in getting the franchise set up. We have a great team of people behind us that we leave to do the day-to-day running of the business, which is their speciality, and our job is really to have as much time as we can focusing on our golf game so we don't finish 12th."