News
Another tour pro puts his buddy on the bag, Bradley motivated again and heartbreak in the Sonoma Valley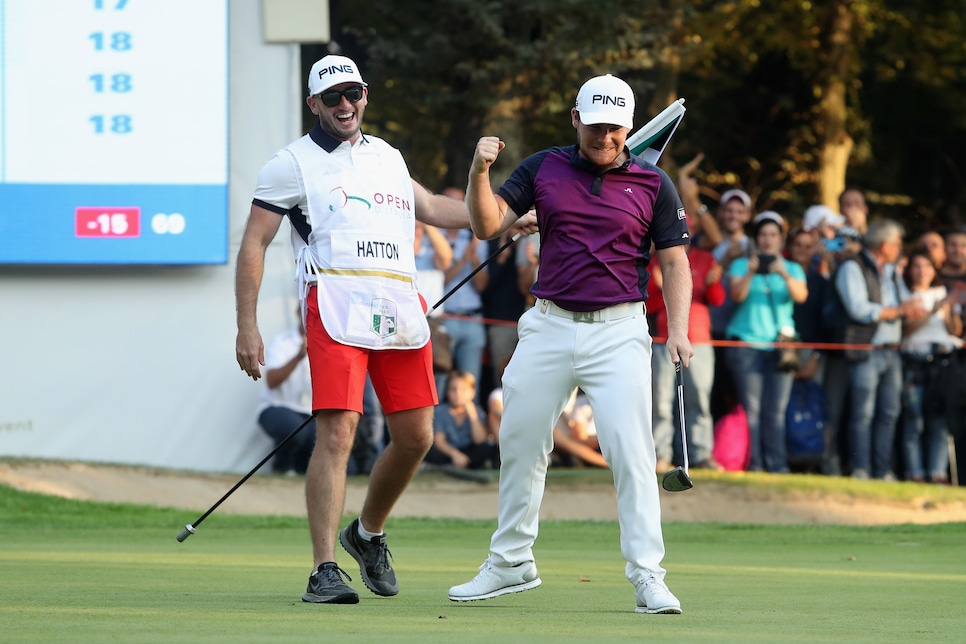 Christopher Lee/Getty Images
It's more of a trend than a coincidence that three top-20 players, all in their 20s, parted ways with their caddies this year and put one of their BFFs on the bag. Rory McIlroy was the first, trading out J.P. Fitzgerald for childhood mate Harry Diamond at the WGC-Bridgestone in August, saying "sometimes to preserve a personal relationship you have to sacrifice a professional one." Along the same lines, Jason Day sat down father-figure Col Swatton in September but retained him as swing coach. Day's replacement was Luke Reardon, his roommate at a golf academy in Australia who was working roof construction near Day's home in Ohio before lifting Jason's tour bag at the BMW Championship. Day framed it as McIlroy did, not wanting on-course tension to turn his relationship with Swatton into a toxic one. "I love him too much not to have him in my life," Day said. In a lower profile but producing more immediate results is the chemistry between Tyrrell Hatton and Jonathan Bell. Since turning their friendship into a work relationship at the British Masters, the Hatton-Bell team has produced a third, an eighth and back-to-back wins, vaulting the 26-year-old Englishman to 17th in the world. This after a long season with Chris Rice caddieing that included missed cuts in four majors. "It was definitely a positive move. I was supportive of it," Hatton's father and swing coach, Jeff, told me after his son produced wins at the Dunhill Links and Italian Open. "I thought it would be a good thing. Jonathan has the benefit of knowing what worked with [Tyrrell's] previous caddies, what they did that worked well or didn't work well. … He's a fun guy, a likeable character and a good golfer, so it's worked pretty well." That's an understatement. As Hatton noted after winning the Dunhill, "It's good fun having Jonathan on the bag." Sometimes that's all it takes, having somebody the same age who you can relate to, somebody that listens to the same music and somebody who simply represents a change.
A familiar face on my TV screen in the middle of the night last week from Kuala Lampur, playing the type of golf he did when he was winning the 2011 PGA Championship in his major debut and backing it up with a WGC-Bridgestone victory in 2012. Five winless years later, Keegan Bradley is 31 years old and expecting his first child with wife Jillian next month. The kid from St. John's who partnered with Phil Mickelson in a high-energy Ryder Cup performance at Medinah is at different stage of his life and career than some of the younger guys who are his neighbors in the Jupiter corridor. But that doesn't mean his desire has waned.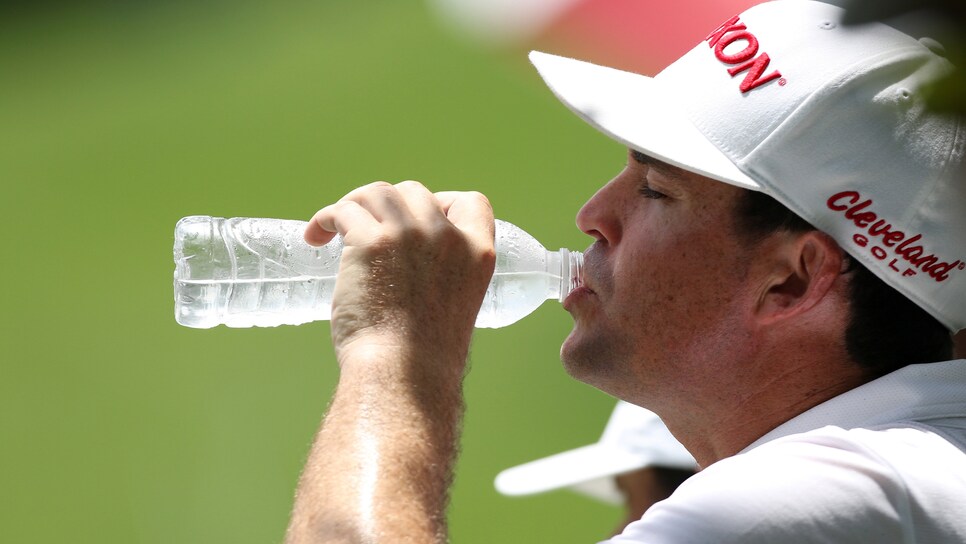 Stanley Chou/Getty Images
Besides the incoming baby, there are two other recent motivations that led to Bradley to shooting 20 under at the CIMB Classic for a second place showing behind runaway winner Pat Perez. Coming off his best finish since the 2014 Arnold Palmer Invitational, Bradley told me while boarding a charter to South Korea for this week's CJ Cup that he wants to start making Ryder Cup and Presidents Cup teams again. He and Mickelson chat about what it's like. He wants to feel some of that team energy, too. Moreover, there was the impressive win by best friend Brendan Steele in the Safeway Open, a performance that had Keegan glued to the television after a missed cut. "He played flawlessly," Bradley said. "I've never seen him play better. He brought a new level to his game and any time you see a friend you play with a lot playing like that, it only gives you motivation. You know you can do it as well."
From Ted Antonopoulos on Saturday night. Ted has been head professional at Mayacama Golf Club in the Sonoma Valley for 17 years. We go back 30-plus years to his days in South Florida as director of golf at the TPC Eagle Trace, PGA National, Fisher Island in Miami and Cypress Links (now Dye Preserve) in Jupiter, before this dream job came along in Northern California. That dream became a nightmare on Oct. 8 when Ted's house at 2130 Vintage Circle in Santa Rosa was destroyed in the wildfires and with it the memorabilia he collected over the years from books autographed by Bob Jones and Ben Hogan, hickory-shafted clubs that go back to Old Tom Morris, balls made by McEwen and Auchterlonie, and a replica of the Cleveland putter Ben Crenshaw used to win the 1995 Masters in the trunk of his car.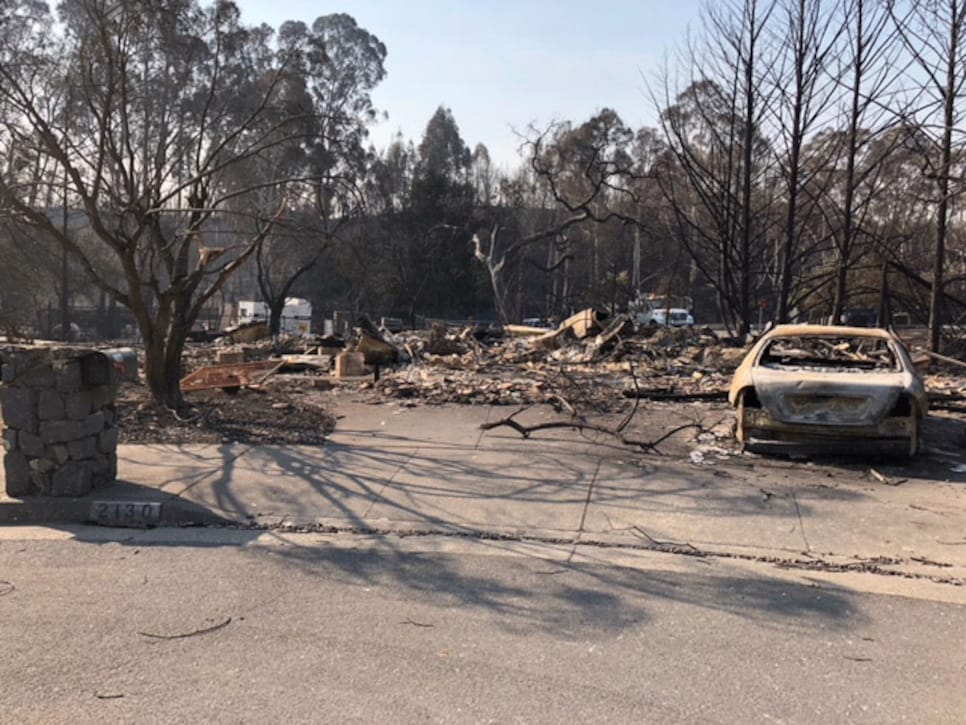 Courtesy of Ted Antonopoulos
At 63, Antonopoulos and his wife, Susie, were thinking about downsizing and donating the collector's items to his club. "But that's not how we wanted to do it," Ted told me on his way to dinner in San Francisco. Through a member, Antonopoulos has been staying at The Fairmont and is exploring places to live in Sonoma once the club re-opens. He was in the city celebrating Susie's birthday at a grass concert the night flames engulfed his neighborhood. The plan was to get up early and drive to Mayacama for a fundraiser for Ronnie Lott's charity on the pre-dawn hours of Oct. 9, but Mayacama had been evacuated. Knowing everything was lost, reps for Peter Millar and Straight Down have brought Antonopoulos clothing. Mayacama, which sustained relatively minor damage, is looking at a re-opening date as much for the club's employees as its members, the caddies especially since it's a walking club. Among those who have reached out were Paul Levy, PGA of America president, reminding Antonopoulos of the association's disaster fund. "I've seen pictures. I've even seen satellite photos," Ted told me. "We haven't actually seen it, but not in person. We kind of need to do that, to put closure to it. We've kind of come to grips that everything is gone."