The Loop
Traveling to golf by air, land and sea
I don't like to fly on the same plane with soccer teams, Cub Scout dens, Shriner lodges, or similar groups, because it's too easy to imagine the headline the following day: "Plane Carrying All Members of Small Order of Spanish Nuns Goes Down in North Atlantic." So I felt more than slightly anxious when, a few minutes before our scheduled departure, two dozen members of a Scottish cheerleading team, who had had to run to make their connection, boarded our plane. I learned later that the team was from the Blast Cheer & Dance Academy, in Glasgow, and that they had just won an international title of some kind at a big competition in Virginia Beach, Virginia.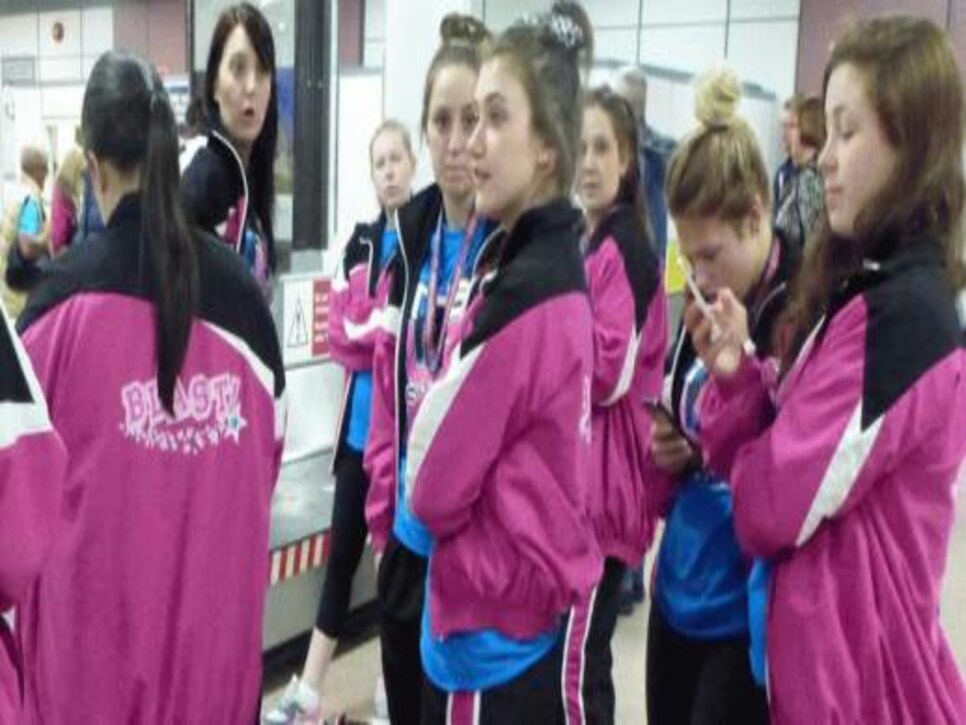 Miraculously, the flight went smoothly, and on Saturday morning at 7:30 eleven friends and I landed in Scotland, ready to play golf. We were met at the airport by a bus from Celtic Golf , which planned our trip.
Our bus driver's name was Dave, and that's also the name of a quarter of the people on our trip. The only kind of people we have more of is lawyers. When the lawyers reply-all to golf-trip emails, the boilerplate disclaimers at the bottom pile up like litter against a parking-lot fence.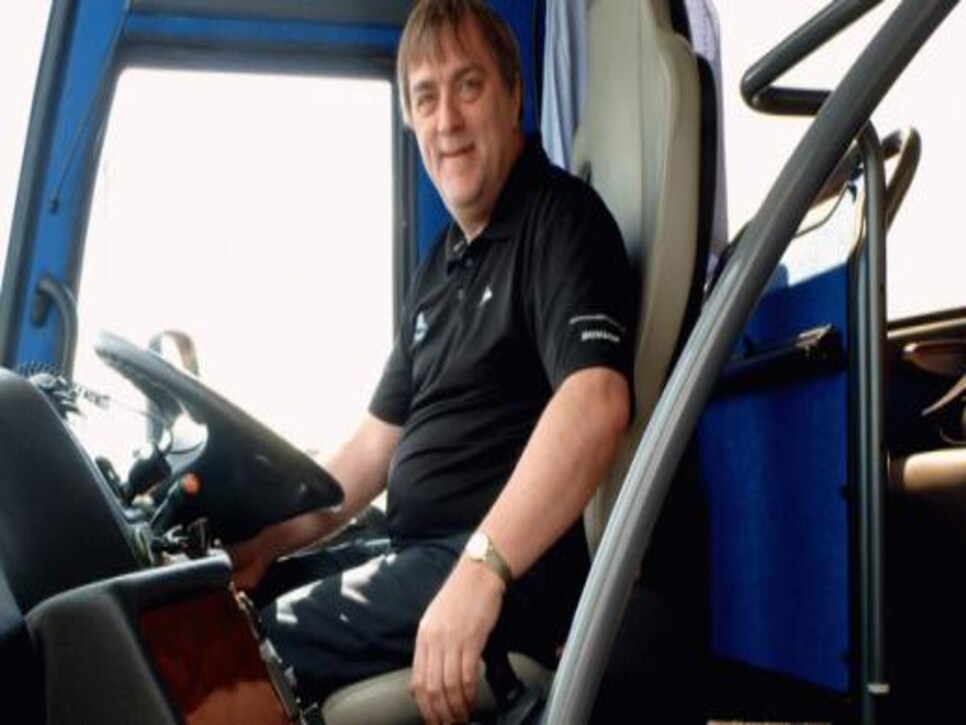 That first day, straight from the airport, we played two rounds, one at Western Gailes and one at Dundonald, which is next door. Everybody loved Western Gailes and was basically OK with Dundonald, which is owned by the people who own Loch Lomond. The picture below is from Western Gailes, and two of the people in it are named Dave.
Dave the driver had told us to be ready to roll at 10:30 the next morning. I didn't see Peter A. as we were loading our stuff onto the bus, so at 10:35 I called his room from the front desk of our hotel. He picked up after about twelve rings, and said, Yeah, yeah, I'm on my way—and five minutes later we left. That afternoon, he told me that he had actually been asleep when the phone rang, and that he had set a personal record for getting dressed, packing a suitcase, and vacating a hotel room.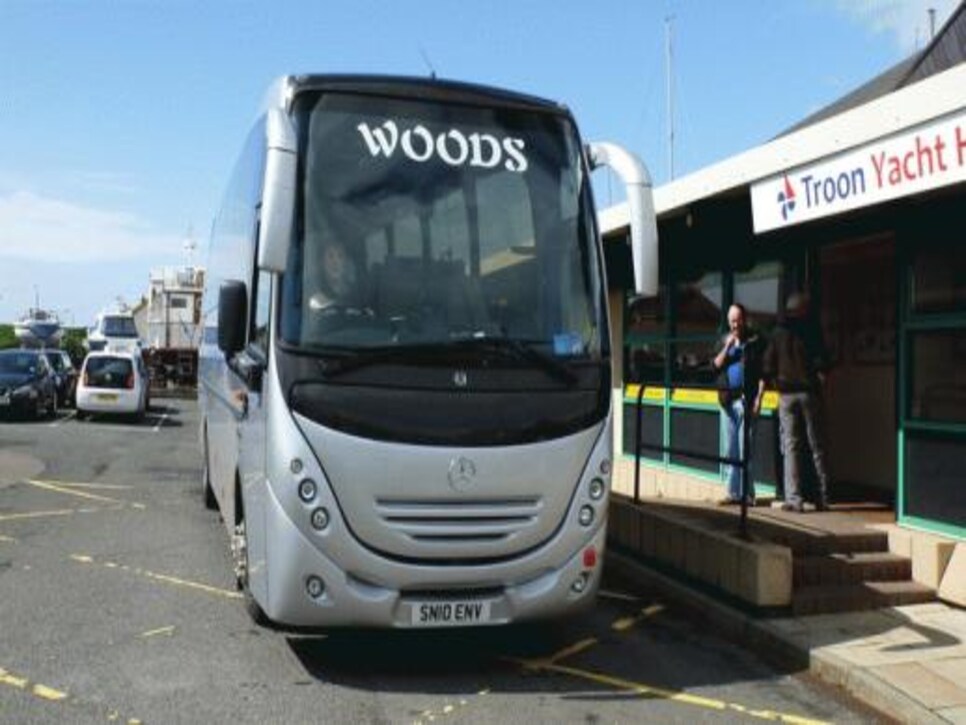 That morning, the bus took us not to a golf course but to Troon Harbor, where we boarded a chartered twelve-passenger motorboat, owned by a company called Kintyre Express. The boat took us to Campbeltown, the home of Machrihanish Golf Club, on the Kintyre Peninsula.
Machrihanish is hard to get to by car; going by boat knocks a couple of hours off the trip. Nice scenery, too.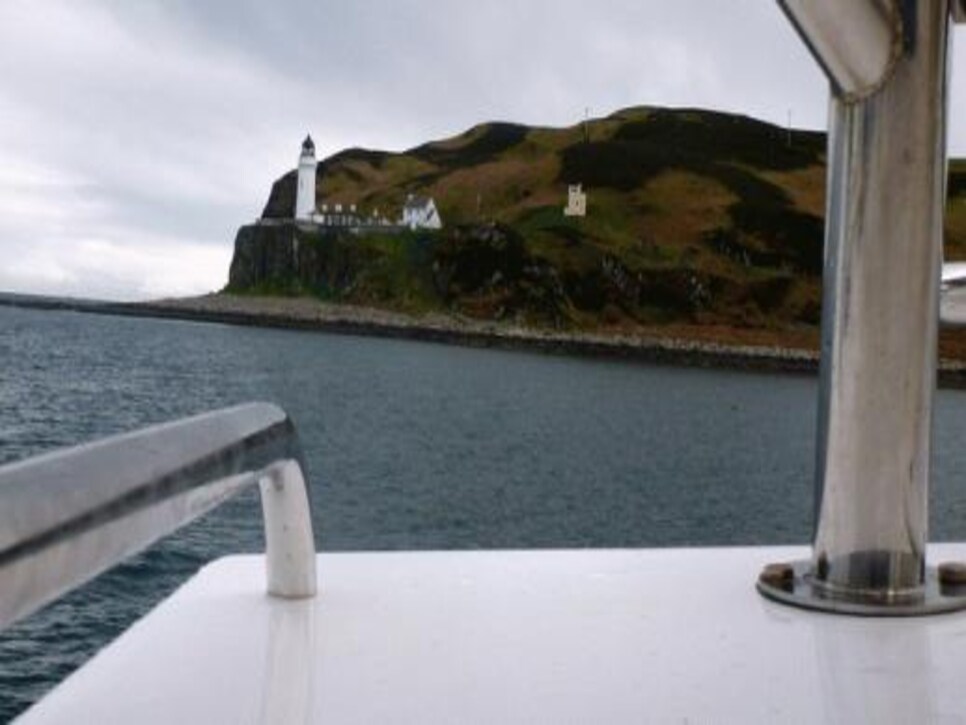 Machrihanish has been on my golf dream list for a long time. I'll have more to say about it later. After three days there, we had to get back on our boat, and move on to our next destination, so that we could play more golf, but somewhere else. I'll have more to say about that soon, too. In the meantime, here's what Tony and David M. had for dinner our first night in Campbeltown: