News
Hugs, tears and relief: Charles Howell III enjoys a little of them all as he becomes a PGA Tour winner once more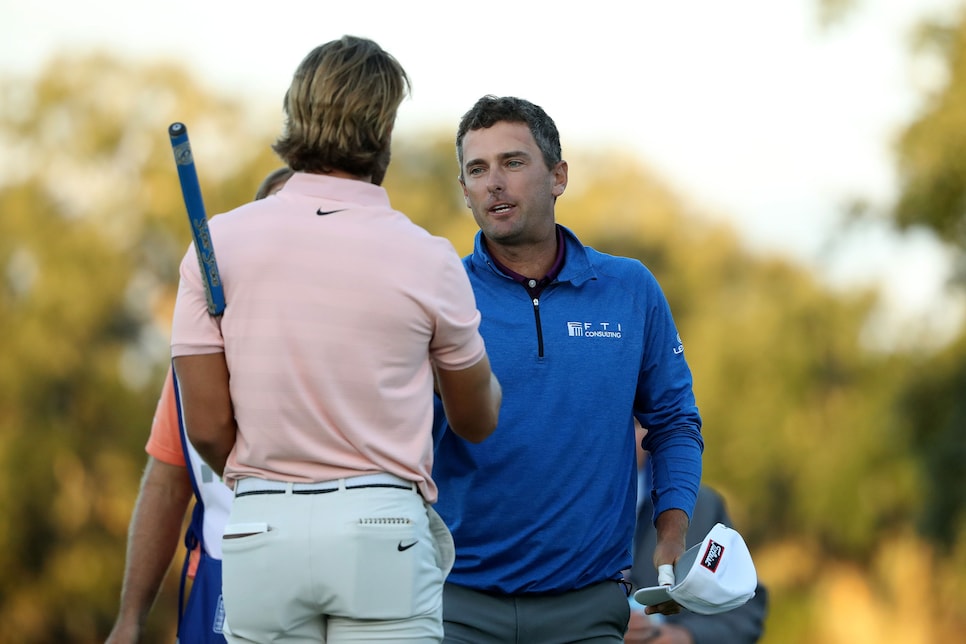 Photo By: Streeter Lecka/Getty Images
As he crouched behind his ball sizing up a 14-foot birdie putt from just off the green on the first playoff hole in the RSM Classic, Charles Howell III could be seen mumbling to himself. Granted, that's not all that unusual. Golfers mumble to themselves all the time. But Howell's lips kept moving, almost as if he were trying to talk himself into victory. Heck, he'd tried practically everything else. Why not self-hypnosis or incantations?
In the end, simply playing better proved to be enough. Finally.
Howell overcame a horrid start and his own history of disappointment, becoming a winner on the PGA Tour for the first time in more than 11 years by defeating Patrick Rodgers on the second extra hole in St. Simons Island, Ga. Howell didn't sink that putt on the first playoff hole, but he did convert from 15 feet on the second, and the native of Augusta, Ga., earned his first berth in the Masters since 2012.
"That was the first thing that popped into my head," he admitted afterward.
When the ball disappeared in the hole, Howell crouched down, put his head in his hands and fought back tears. Then he hugged his wife and two children. It capped a feel-good ending to the final official PGA Tour event of 2018.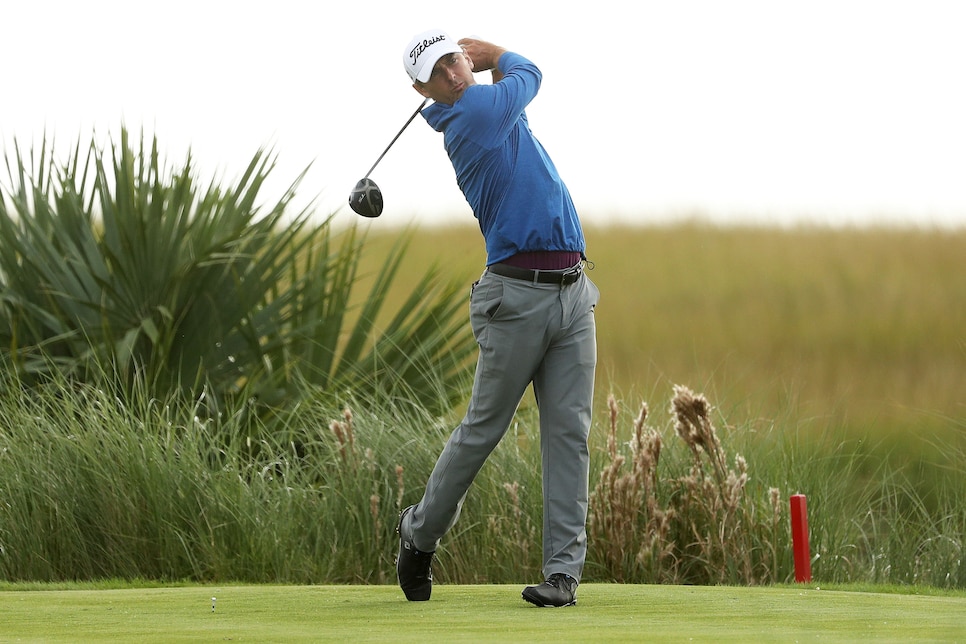 Streeter Lecka/Getty Images
If ever there was a player who could elucidate on the elusiveness of winning on tour, it's Howell, a one-time can't-miss kid with Iron Byron swing precision who certainly hasn't missed out on tour riches, even as he lacked the satisfaction of filling his trophy case.
The victory not only ended a drought of 11 years and nine months covering 333 starts and 4,291 days, but it also eradicated a number of other frustrating trends. For starters, the wire-to-wire win meant that for the first in six tries he successfully converted a 54-hole lead. He also improved his record to 2-4 in playoffs. And in his opening eight-under 64 on the Plantation Course, Howell for the first time in his career hit every fairway and every green.
It wasn't supposed to be this difficult for the former Oklahoma State All-American, an NCAA champion in 2000 who needed only 66 starts as a pro before he won his first title in the 2002 Michelob Championship at Kingsmill.
Naturally, Sunday at the Seaside Course at Sea Island Resort it couldn't have started worse. Howell began with a bogey and double bogey to lose the lead, and all the way around, from a plugged bunker lie at No. 9 to finding a sand-filled divot in the fairway on the following hole, it was a grind for the 39-year-old veteran.
"The way I started today, I just honestly thought I shot myself in the foot again," Howell said. "I thought that was pretty much over. I had seen this movie before."
This time, it ended differently.
Howell birdied the 10th hole from that divot, sinking a 24-footer. Then he reeled off three in a row starting at the 15th to pull even with Rodgers at 19-under 263. Another former college All-American out of Stanford, Rodgers nearly pulled off an incredible comeback, shooting 61-62 on the weekend after making the cut on the number at two under par. His 123 effort broke the tour record for lowest closing 36 holes. Only Troy Matteson, who shot 122 at the 2009 Frys.com Open, has posted a lower score in consecutive rounds.
Players champion Webb Simpson had a chance to join the playoff, but missed a 12-foot birdie try at the last and settled for a 65 and third place.
"To hang in there, to turn it around, the way the guys were playing around me … I needed some good fortune on my side and fortunately had it," said Howell, who could have ended the affair in regulation but watched a 22-foot birdie attempt slide right on the last few turns.
"I thought I had it in me, but I had never seen me do it to prove it to myself," Howell added. "It's kind of like the guy who thinks he can dunk, but if you can't dunk, you just can't do it."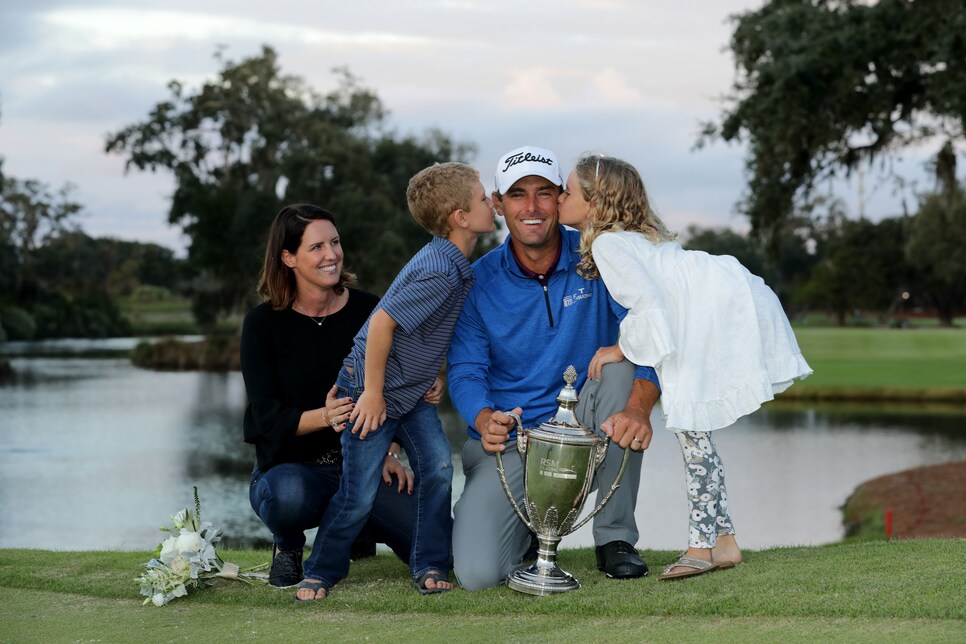 Streeter Lecka/Getty Images
Rodgers, who had to accept his third runner-up finish, missed birdie tries from 21 feet on the first playoff hole and 23 feet on the second. "I fought as hard as I could," the sunglasses-wearing Rodgers said. "I didn't really back down. I stayed aggressive and I made birdies all the way to the finish. It's a testament to how well Charles played."
In addition to the things he had to prove to himself, Howell admitted he had other motivators. "I didn't want to hear about it from my son," he explained. "My kids are now at an age where they're into it. They're into sports, they're into golf and all that. They get what's going on, that I've failed a lot of times, so fortunately, it's different today."
As Howell hugged his young son, the boy had tears in his eyes, too. The boy goes by the name of Chase.