The Loop
How'd Your Team Do, Twitter Edition: Lions get their doors blown off by the Ravens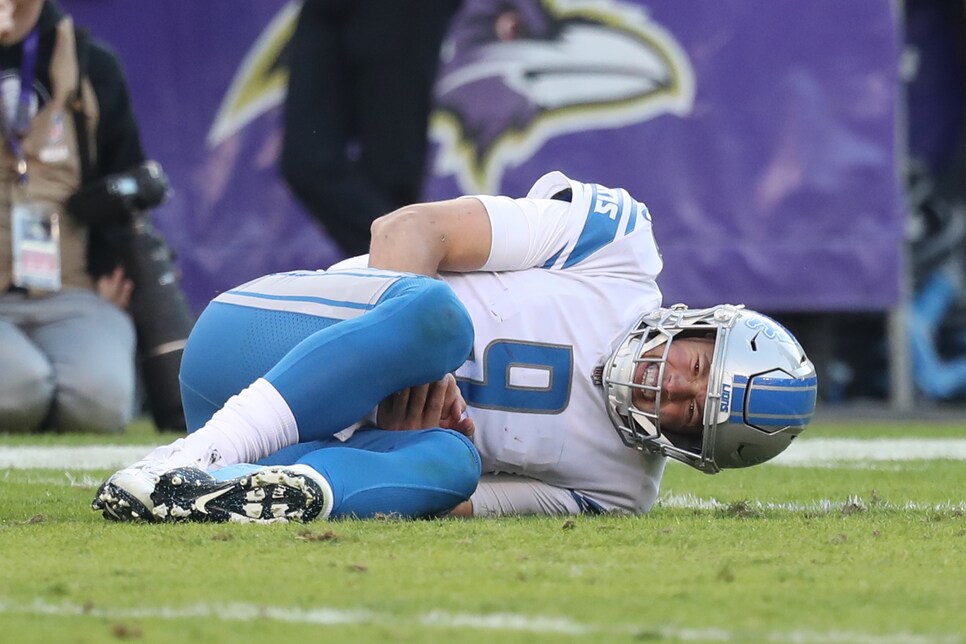 The Detroit Lions couldn't have asked for a much better start to 2017, having won three of their first four games, including a 14-7 slugfest on the road against the division-rival Minnesota Vikings. The Vikings, already down to backup QB Case Keenum, knocked out Green Bay Packers QB Aaron Rodgers two weeks later, putting Matt Stafford and the Lions in prime position to take control of the NFC North.
Instead, it's been Keenum and the Vikings that have seized the opportunity, winning their next eight games, including a Thanksgiving rematch with the Lions last week. After winning again Sunday, Minnesota has distanced itself atop the NFC North at 10-2, while the Lions entered a big bounce back game with the Baltimore Ravens at 6-5. Every game is a "must win" in the NFL, but this one was bigger than most for Detroit, a team that desperately needed a victory to stay in the NFC Wild Card picture.
That my friends is the Pontiac Silverdome, former home of the Detroit Lions until 2002 when they moved to Ford Field. If you're old stadium failing to implode isn't a bad sign the morning of a game, I'm not sure what is:
If you were a superstitious Lions fan, all your nightmares came true in the first half. Detroit was embarrassed, punting four times, missing a field goal and fumbling on one of their first decent possessions of the game. When the teams went to the locker room, it was 20-0 Ravens, a team that ranks 18th in the NFL in points per game with just 21.5. They nearly eclipsed that in 30 minutes at M&T Bank Stadium. Even the own Lions Twitter account was speechless:
Surprisingly, Lions fans were not amused:
Tell us how you really feel Ben!
The Lions have proved to be a second half team this season though, often going down early and staging furious comebacks in the fourth quarter. Patience was wearing thin this week though:
Those who were patient were rewarded, as the Lions scored 13 unanswered points to cut it to 20-13, thanks to a torrid start to the half from Matt Stafford, featuring 17 straight completions. But Detroit was gonna Detroit, and they immediately gave up a touchdown drive to the Ravens. The drive included a key third down conversion from Baltimore, which was aided by one of the biggest gaffes you'll see by an NFL team this year:
Playing defense in today's NFL is hard enough as it is. Doing it with just nine players? Bold:
But Stafford and the Lions offense responded, scoring again on the QB's 20th straight completion to make it a 27-20 game:
After giving up a field goal on the ensuing drive, Detroit still had a chance to get it back to a one possession game. In typical Lions fashion, Stafford was sacked on the opening play, and then threw a pick a play later:
To make matters much worse, Stafford was injured on the play as well:
Much like this Lions season, the game spiraled out of control, and the Ravens scored again to go up 37-20. Then they picked off backup QB Jake Rudock and took it to the house to make it 44-20. Things got quite sad in a hurry:
You're not going to believe it, but people made Silverdome jokes:
The immediate aftermath in the postgame was a combination of a few different feelings for Lions fans. First, mostly pro-Stafford arguments:
Speaking of firing Caldwell, that was a sentiment shared by all:
Good to see a bunch of people all on the same page, a rare occurrence in 2017. The Lions, a team very much not on the same page, have now fallen to 6-6, currently on the outside looking in for an NFC Wild Card spot. They could still turn it around, with road games against Tampa Bay and Cincinnati and home games against Chicago and Green Bay remaining on the schedule. But then again, they are the Lions, so fans aren't optimistic: