The Loop
How'd Your Team Do, Twitter Edition: Bills. Colts. SNOW BOWL 2K17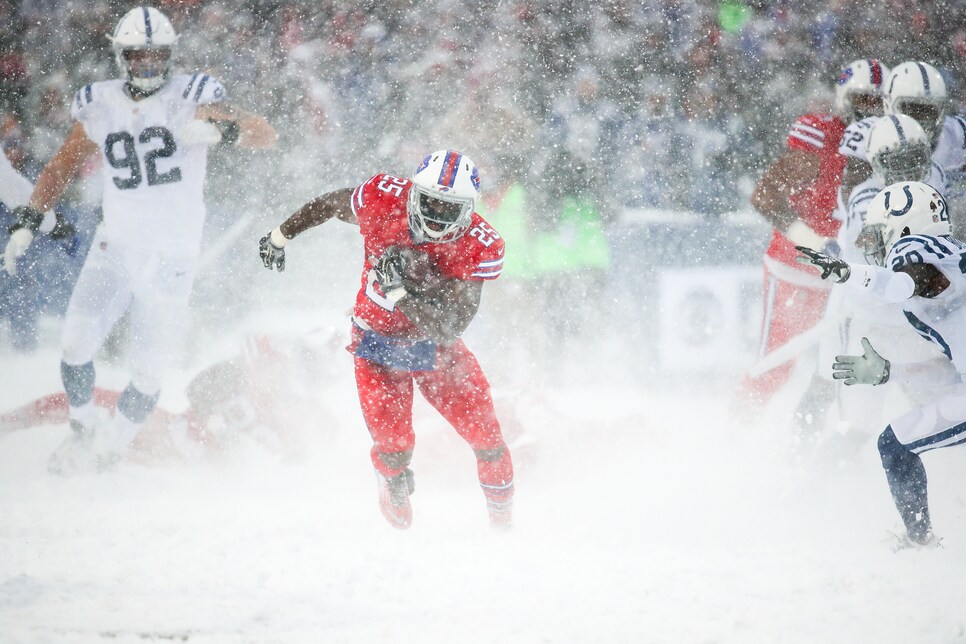 On Saturday, the 118th edition of the Army-Navy game took place in a snowstorm at at Lincoln Financial Field in Philadelphia. It was one of the better games in the rivalry's recent history, ending with a Navy missed field goal that gave Army their second straight victory after 14 consecutive losses in the series. It was EPIC. It was FOOTBALL. It was 'MERICA. It was just about the coolest thing ever ... for a little while.
Less than 24 hours later, the Buffalo Bills and Indianapolis Colts topped it with a blizzard game the likes of which we haven't seen since that hilarious week 14 mess in 2013 when it snowed at basically every NFL game. Exactly four years later (it's week 14, coincidence?), it was winter wonderland week in the NFL once again, but only in Orchard Park, N.Y., which is the best place on earth for SNOW BOWL 2K17. And the best place on earth to laugh about the chaos that was Bills-Colts is Twitter, which had plenty to offer on Sunday.
We begin with who else but #BillsMafia, who have never met a tailgate they didn't want to drunkenly break tables and burn shit at, no matter how inclement the weather:
10/10. Flawless form and execution. What will these crazy cats do next?! Oh my goodness no...
I would ask what could possibly make you want to jump onto a grill, but this guy is tailgating in a blizzard at a Bills game. The grill dive is technically only his second worst decision of the day.
Nope. Definitely just the Bills.
So lit that even Colts fans couldn't resist:
Quite the scene. But somehow not as wild as a scene as it was inside the game, and the crazy part was how quick it happened:
The Bills got the ball first, and began with the most blizzard-game-looking drive ever, going a whopping 29 yards in 10 plays. Nathan Peterman, who got the nod after Tyrod Taylor was ruled out with injury, hooked up with Kelvin Benjamin for a nine-yard gain on the ninth play of the drive, setting up a fourth-and-two at the Indianapolis 38. The Bills would go for it, but first:
This is like when you start shoveling during a snowstorm only for all your work to be rendered irrelevant as the snow continues to pile up. Fun job! After the Bills didn't convert, the Colts took over and provided an equally hilarious drive, consisting of 47 yards on 12 plays and ending with the saddest missed field goal of all time from Adam Vinateri:
Hard to blame him in the conditions, but he does have plenty of experience in the snow, and it would pay off later in the game. They didn't need his services the rest of the first half though:

An under bettor's dream right there. Because of the lack of highlights, the tweets only got more creative:
Finally, a miracle happened. The Bills marched down the field, going 80 yards in seven plays, including this insane run from LeSean McCoy:
Then, a pass. Yes, a pass (!) to Kelvin Benjamin:
Then the TD... on another pass!
For awhile, seven points looked like it would be more than good enough for Buffalo to win:

It was a good old-fashioned punt fest, until a 19-play, 77-yard drive from the Colts that ended in a touchdown. That's when Vinateri was called upon again, this time for a game-tying extra point. The Colts made his life infinitely more difficult when they were penalized, making the point after a near impossible 43-yarder in the snow. Nothing new for the veteran though, and his teammates made sure to help him out:
As for the kick, well, it was the most incredible kick you'll ever watch:
Was there ever a doubt!? It's Adam Vinateri! He does this in his sleep:
The kick sent the game into overtime, because the football gods wouldn't dare allow snow bowl 2K17 to end. It also led to everyone making the exact same joke:
Get it? Snow, overtime .. snowvertime? Ugh.
After nearly eight minutes, neither team even sniffed the end zone, meaning the dreaded tie was imminent. But nobody circles the wagons like the Buffalo Bills, who came up with a clutch drive when they needed it most, capped off by a Shady McCoy TD run:
What a game. What a sport. What a great day to be a Bills fan. They left little doubt that they are the best fanbase in the NFL on Sunday:
And we'll leave you with this hilarious tweet from a fake Andrew Luck Twitter account that you didn't know about until just now. You're welcome: