News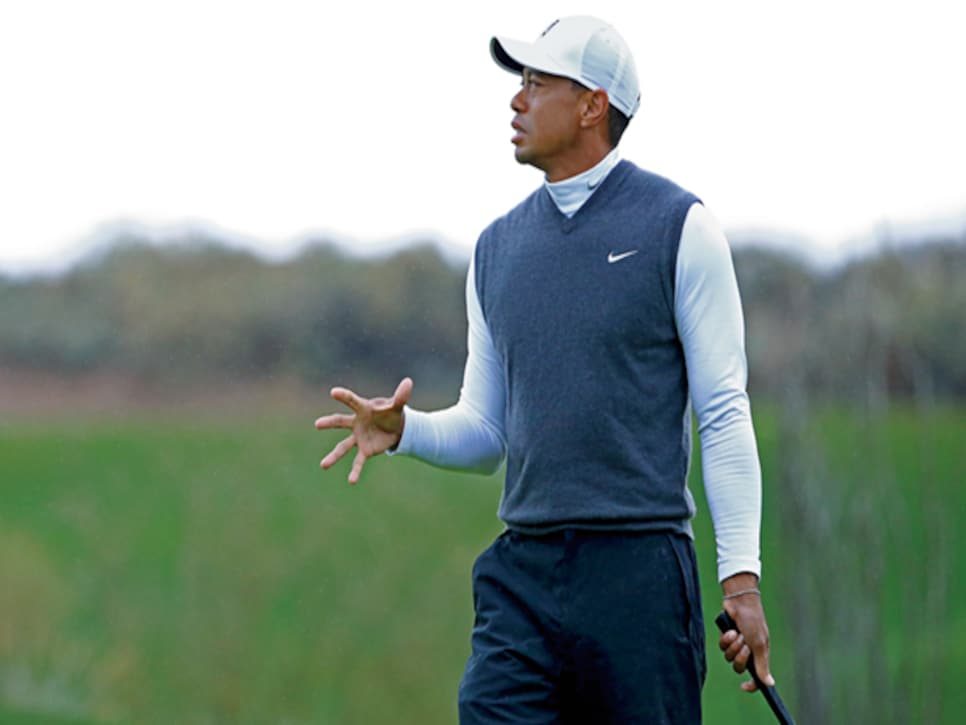 From the time Tiger Woods started showing serious short-game issues at the Hero World Challenge late last year, there's been a lot of talk about what the problem might be.
He's making a swing change. He's rusty after taking time off to recover from back surgery. He's stuck between an old short-game release pattern and a new one.
Everybody from Brandel Chamblee to Rocco Mediate to Paul Azinger to just about every teaching pro on Twitter and Facebook has a thought about what he should do to solve the problem.
Tiger has said it's just a question of getting in more reps. Chamblee and Mediate say he's getting too technical and needs to work with somebody "old school," who will get him away from that. Azinger says it's so simple he could fix it in 10 minutes.
Let's be serious. Tiger Woods has the yips.
It doesn't have anything to do with Tiger's new swing consultant, Chris Como, and what they're working on in his full swing. It isn't because the fixes in his long game are leaking into his chipping. It isn't a mechanical flaw. It isn't pressure.
Everybody is looking for the mechanical flaw that will let him somehow flip a switch and start hitting good shots again. They're saying it's just a matter of time before he's back to the old Tiger Woods.
Think about it. Chris Como is a smart guy. Tiger is a smart guy. They've seen a lot of things, and they're around plenty of other people who have a lot of experience and have seen a lot of things.
Don't you think by now somebody would have found the mechanical flaw that has apparently turned Tiger from one of the best short-game players of all time into a guy who's missing the green on basic pitch shots? Or is it more likely that they've told him those mechanical things, and he's aware of them—and the shots we've seen are still happening?
It can't be anything but the yips. The reality is that Tiger is having trouble advancing the ball on short shots out of perfect inch-and-a-half ryegrass rough where he could hit three or four inches behind the ball and have a decent result. In other words, where technique doesn't matter that much.
Yes, he's doing something wrong mechanically. But he doesn't have control of what's happening with the clubhead down through the ball. He knows what he wants to do, but there are times he can't do it.
If you've had the yips—and I have, for more than 20 years—you know what you're seeing when you watch Tiger hit those short shots. It's a mixture of hurry-and-get-this-shot-over-with panic and disbelief.
if it's that simple. He has had the chipping yips for more than 30 years. What has he been doing wrong all that time? Seve Ballesteros had more control over the clubface around the green than any person maybe ever. In his last full season on the European Tour, he was No. 1 in putting but made only three cuts. He had the driver yips, and he couldn't find the golf course off the tee. Johnny Miller was one of the greatest ball-strikers ever, until you put a putter in his hands and asked him to make a five-footer. Do you think there was something he didn't try?
The yips get grouped into a category with nervousness and choking, but they're a combination of neurological "fault" mixed with a secondary anxiety element. The top scientists I've consulted say the message between your brain and your muscles gets scrambled, and the muscles start running the wrong program, like when the needle on a turntable goes over a scratch on a record.
Over time, that scratch gets deeper and deeper—and the volume goes up when pressure is introduced. We've tested hundreds of people with the putting yips on a training system called the SAM PuttLab and found that many players have a very low level of yips they don't even feel when they're putting on a practice green. But when they get on the course and play for real, that scratch really starts to reveal itself. And the anxiety grows and grows as the player keeps hitting bad shots.
Tiger's short-game numbers during the past five years show some of those cracks. In 2012, he was fourth on tour in scrambling. In 2013, he was 46th. Last year, he would have been outside the top 150 if he'd played enough rounds to qualify.
His technique was the same all that time, so what changed?
To be honest, I could see some of it in his pitching as early as 2008, when he chunked one at Torrey Pines during the U.S. Open. In four or five years of practicing at Isleworth, I had never seen him hit that kind of obviously yippy shot. But in 2009, he probably did it another eight or nine times, which isn't a lot but is way more than zero. Then, during his first match at the 2010 Ryder Cup in Wales, he chunked one from a tough lie on the 18th hole and left one in a bunker on another hole.
I tried to keep it light and ask him what was up with those shots, but he wouldn't even address it. That's not any kind of knock on him. It's what tour players do. You pretend it didn't happen, or you blame it on the club. It's a form of protection for your self-confidence.
The issues at the Hero World Challenge late last year were so obvious and public that he couldn't just ignore them. When I was coaching him, I felt like my main short-game responsibilities were to watch and validate that everything looked just like it did when he was chipping well. That's probably what he did this time, too, with Chris Como. Before the Waste Management Phoenix Open, Tiger said he hit "thousands and thousands" of chips to get his reps in on this new, flatter release he says he's working on, and that it was working better.
OK, but in the practice area back home, you can hit a few chips that don't feel so good and then get into a kind of rhythm by hitting a lot of shots. You can come to the end of that practice session and tell yourself that you're working your way out of it.
But when you go back to the course to play, the stakes are so different—and so are the surroundings. You're Tiger Woods. You're the most famous athlete on the planet, and you're coming off a week when you really struggled with those chips.
So now everybody is watching to see what will happen the first time you have one of those little shots. The gallery is holding its breath. The photographers are all ready to take a picture from inside the ropes, right next to you. The television commentators are ready to give their armchair analyses.
If you're Tiger, honestly, how could you not be thinking about it at that point?
A shot that used to be second nature is one he's grinding over. And he's not in that rhythm of hitting practice shot after practice shot in shorts, in his back yard. In a tournament round, you might go 30 or 45 minutes between chips, and when it comes time to hit one, you get one chance.
In the middle of all that, you hit one bad, then another. A very real kind of panic sets in—especially if you're as talented as Tiger is—because you've literally lost control of your body. You saw the result.
It's a small sample size, but to this point, it has looked like a total collapse of a skill he used to be great at. It's something nobody can remember seeing any top-level tour player experience, at least in chipping. Does that sound like something that can be fixed in a few minutes, with a different stance, or with a change in the wrists on the backswing? It's like waking up in the morning and discovering that you forgot how to do basic math. The quick-fix crowd thinks the answer is to go back and do elementary school again. My first thought would be that there's something really wrong in my head, and I need to go get checked out.
Sure, there are some things Tiger can do differently in his chipping to try to reduce the yip. The position he gets into on his backswing, with his right wrist turned under and bent back, is common to a lot of yippers. I'd start by getting him to try to keep his right wrist flat, which would keep the club in front of him more and the clubface square, preventing the leading edge from digging.
He also can try to hit different shots to play around the issue. That doesn't mean playing the same shot with a different club, like he did a few times in Scottsdale. A yipped chip with a sand wedge is a catastrophe. With a 4-iron, it's still bad, but you can advance it. To change the shot, he might need to make a dramatically different swing, or intentionally play some higher shots with more speed.
But none of that addresses the underlying issue. Even if he makes a "perfect" stroke in the technical sense, the yip is still in there. That's why going down the mechanical road won't solve anything.
To me, it's as if you're a world-class runner, and you're getting ready to compete in a marathon. The night before the race, you fall and break your leg. Now, they could wheel you to the starting line and try to get you to stand up, and your coach could even give you pointers about how long your stride should be or how you should move your arms. But you aren't going to be able to run with a broken leg, even though you might have all the running talent in the world.
I'm a fan of Tiger's, and I really want him to play well. It's good for all of us if he does.
Tiger had a great short game. And he still does have a great short game—when he doesn't yip it. He chipped one in at Torrey Pines in the middle of all this, but even if he has days like that—where it looks to be improving—it doesn't mean the yips are gone. They might go into remission, but they're still in there.
It's just a matter of time before they come out again.
There's no reason for Tiger to play more events until his back is healthy and he has a manageable plan to play around this short-game issue. Confidence is such a big part of the game. If he goes to Augusta and chips the way he has, he's only going to produce more mental scar tissue. It's just not worth the risk.
Hank Haney taught Tiger Woods from March 2004 to May 2010. In that span, Woods won 39 tournaments worldwide, including six major championships.