Money
From informal to big business: How the relationship between tour pros and their swing coaches is evolving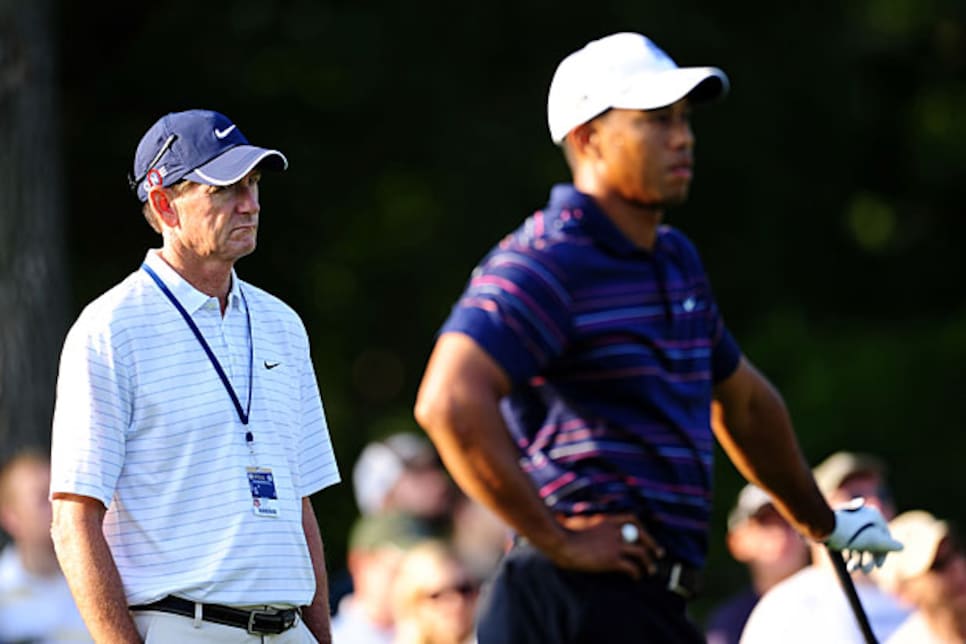 The high-profile breakup of Tiger Woods and Hank Haney is a common discussion point in today's player-coach deals.
Stuart Franklin/Getty Images
Professional sports teams pick off coaches and staff members from other organizations all the time, but they almost never sue each other over stealing proprietary information, like the New York Knicks have accused one of its former employees and the Toronto Raptors—where the employee left to take a new job earlier this year—of doing. The Knicks say one of its former video coordinators took thousands of scouting and "opposition research" documents on his way out the door for a similar job with the Raptors, revealing not just what the Knicks have to say about players in the league but their evaluation process. That crosses an important line between taking your expertise and talents somewhere else and theft of intellectual property, the Knicks say.
However, what about on the PGA Tour, where the boundaries of coaching relationships—and the sensitive biomechanical and psychological information that goes with them—are not so clearly delineated? The same coach might work with two or three players during an early week visit to a tour stop. We asked three coaches who have all worked with multiple PGA Tour winners at the same time how they navigate the procedures, politics and compartmentalized work for which they could be paid hundreds of thousands of dollars.
"That's really what it comes down to first—the professionalism of a relationship where you're being compensated to help a player reach his goals," says one coach who has worked with multiple major winners. "I might get a player here and there who comes in wanting to know what I've done with a certain other player from a mechanical perspective, and you have to draw the line between giving general information about technique—which is a part of teaching and is right out there for people to see—and sharing things that might provide a competitive advantage or is unique to the particular player. You don't go there if you want to stay out here."
Another coach calls the high-profile breakup between Tiger Woods and Hank Haney—and Haney writing a revealing book about their work together—a formative event and common discussion point when coaches and players get together and start a new relationship. "I've never had to sign a non-disclosure agreement like I'm sure anybody who comes near Tiger now has to do," says another prominent coach. "But it's definitely a conversation now, and it wouldn't surprise me if that becomes a standard part of the job. Everything like that gets laid out right at the front along with the plan for compensation so that there are no misunderstandings. It has to be that way because a top player is essentially a multimillion-dollar business and has a team of people who ideally all trust each other and work together."
All three coaches said that the younger generation of players (think age 35 and younger) who have come up through the golden Woods era of mega-purses have a much more businesslike approach to their coaching arrangements. "There was a time when you might have to chase a player to get paid. At the top, that's really over," says another top coach. "The best players are making so much money on and off the course now, and they're all committed to doing whatever they can to keep that going. They understand the value of good coaching and are willing to pay for it and won't hesitate to make a change if they need to. It's a business."
The changing carousel of coaching relationships also frames an important truth about talking out of school. "As a coach, you're on the inside, and you see lots of things—positive, negative, sensitive, you name it," he says. "As much as somebody might want to hear something private, if you go down that road, players will know that they'll be the subject of that kind of conversation the next time. It might benefit you to do it in the moment, but it'd only be once."