News
How Rory McIlroy turned a missed cut at Innisbrook into a statement victory at Bay Hill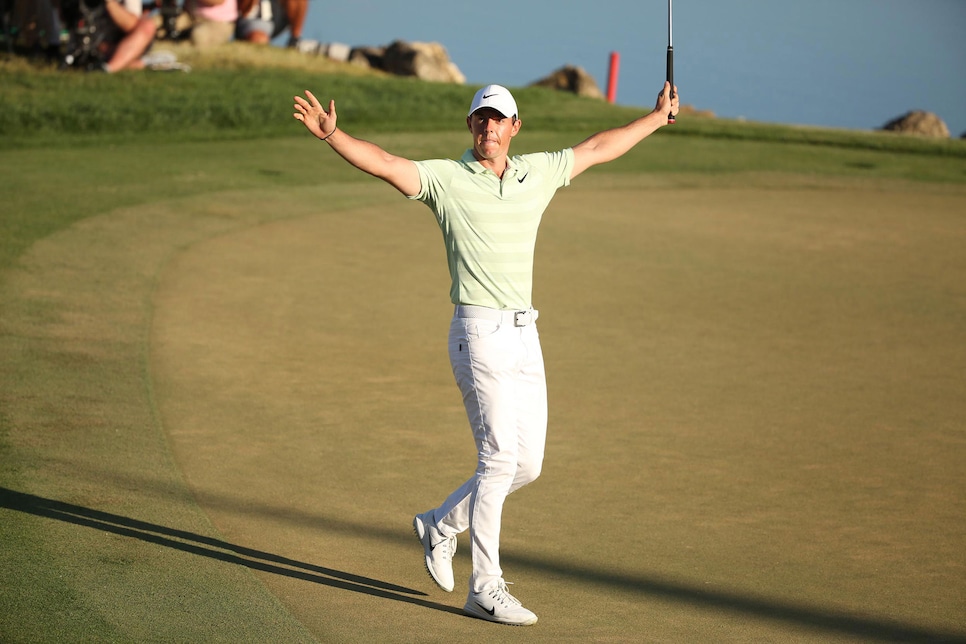 ORLANDO — Within an hour of winning the 2016 Tour Championship and the $10 million bonus for the FedEx Cup title, Rory McIlroy learned that Arnold Palmer, the man who had most contributed to making today's golf riches possible, had died.
"It was bittersweet," McIlroy said of that September day. "Obviously, I had a great win, and it was a great day for me, but in the overall picture of the big scheme of things that didn't matter. The game of golf had lost an icon, a legend, an inspiration to so many of us, and yeah, I probably wasn't as ecstatic as maybe I would have been if Arnie hadn't had passed away."
McIlroy hadn't won since then, inhibited by a nagging rib injury and a sudden inability to convert his breathtaking ball-striking into a commensurate scoring performance.
So perhaps it was not so much ironic as it was appropriate that McIlroy rediscovered his putting touch Sunday at Palmer's Bay Hill Club and summoned a charge Arnie would have admired to capture his first title since The King passed away. With eight birdies in his final 13 holes and five in his last six, McIlroy fired a tournament-low eight-under 64 for a three-stroke victory over Bryson DeChambeau at the Arnold Palmer Invitational.
"He always makes it look easy when he is playing well," said England's Justin Rose, who joined McIlroy in Sunday's penultimate group and watched his European Ryder Cup teammate pour nearly everything into the cup to outgun a star-studded leader board that featured Rose, Henrik Stenson, Rickie Fowler and the surging Tiger Woods.
With an 18-under 270 total, McIlroy, 28, won his 14th PGA Tour title after his previous four starts in the States this year were largely a bust with two missed cuts and two rounds under par. In the modern era, only Woods and Phil Mickelson had as many wins before the age of 30.
But his early dismissal from last week's Valspar Championship turned out to be a blessing. "Probably the best missed cut I ever had," he said with notable ebullience on Tuesday. The Ulsterman said he honed every part of his game, particularly his backswing, shortening it to get better control of his vaunted long game.
The leap in scoring execution, however, was mainly due to getting his noggin operating properly. For that he has Brad Faxon to thank. He met the former tour player, known for his excellence with the putter, for a few hours on Monday at The Bear's Club in Jupiter, Fla. "It was more of a psychology lesson," McIlroy admitted.
Whatever Faxon told him was pure gold, apparently, because McIlroy came into the week ranked 124th in putting. At Bay Hill, he was first on the greens in strokes gained at +10.027, a massive advantage on the field. McIlroy needed only 24 putts on Sunday and 100 for the week.
"Freed up my head more than my stroke," said McIlroy, who moved up to No. 7 in the world. "I sort of felt like maybe [I was] complicating things a bit and thinking a little bit too much about it and maybe a little bogged down by technical or mechanical thoughts. You look at so many guys out here, so many different ways to get the ball in the hole, even going back to the likes of Billy Mayfair or someone that is very unorthodox but still got it done. The objective is to get that ball in the hole, and that's it. I think I lost sight of that a little bit. That sounds silly, I guess, but just reminded myself that it doesn't matter how you do it as long as that thing goes in, and that's sort of the mindset I had this week."
Beginning the day two strokes behind DeChambeau and Henrik Stenson, McIlroy had nothing going until he birdied the par-5 sixth. And then, he seemingly couldn't miss, catching Stenson by the ninth hole at 13 under with a 10-footer for birdie.
McIlroy was just getting started. No one could keep up, though Woods tried, climbing within a shot before a crushing bogey at the defenseless par-5 16th after pumping a drive out of bounds.
McIlroy took control of the tournament with four birdies in a row starting at the 13th, the coup de grace coming when he chipped in from 42 feet after missing the green to the left on the par-4 15th, correcting his only error coming home. McIlroy jumped up and spun around when the ball dove in. He exploded into his next tee ball, delivering it 373 yards down the fairway to set up an easy two-putt to close out the run at 16.
"Best drive I probably hit all week," he summed up, noting that his approach was nothing more than "a flip wedge."
A flip wedge. Let that sink in.
DeChambeau, who closed with a 68, made it interesting when he cut the lead to a stroke with a must-have eagle at the 16th from 15 feet. But McIlroy ended any thoughts he had of catching him when his 24-footer at the last gave him an insurance birdie.
Rose finished third at 274 after a 67, while Stenson posted his fourth top-five finish in five years after a 71 left him fourth with a 275 total. Woods ended up T-5 with Ryan Moore.
"Yeah, it's been awhile," said McIlroy, whose winless 2017 was his first shutout worldwide since 2008. "Oh, what a day. Yeah, 64 in those conditions out there, with it being firm and fast, to get into the winner's circle again, it feels really good. So yeah, really proud of myself, how I hung in there over the past sort of year, with injuries and taking a little bit of time off at the end of last year to sort of get myself right coming into this year and all that work, hard work has finally paid off. I kept telling everyone, even when I was missing cuts and finishing 60th, it wasn't that far away, so just a couple little tweaks here and there, and it's nice to be in this position again."
The only disappointment to the day was not being able to shake Palmer's hand. McIlroy made his first appearance at Bay Hill in 2015, and he hasn't missed since. He quickly grew close to the legendary player and tournament host, and Sunday's performance turned out to be an homage to him.
"I've had quite a connection with Arnold Palmer over the past few years, and I've been very fortunate to spend some time with him here, and he was always so nice to me," McIlroy said. "I've got so many letters from him from wins and all sorts of stuff. I wish he would have been at the top of the hill to shake my hand when I came off the 18th green there, but hopefully he's proud of me with the way I played that back nine and tried to be as aggressive as I could and tried to take on shots when I needed to, just like he would have. So, yeah, it's sort of come full circle since that day in September in 2016 and just proud to be sitting up here and have my name on that trophy."