News
How Henrik Stenson Learned To Win Big After Conquering The Yips
Photo by Street Lecka/Getty Images
You can't see it from the tee, but Royal Troon's 18th hole has one particular place that is a certified dream killer.
The deep bunker framing the right side of the fairway, 308 yards out, caught Greg Norman in the playoff at the 1989 Open Championship, and he never finished the hole—wrecking a Sunday 64 that was supposed to give him his second major. Mark Calcavecchia stayed far away and made birdie there twice on Sunday, in regulation and the playoff, on his way to winning the claret jug.
Henrik Stenson and caddie Gareth Lord knew that history—and exactly where the trouble was—when Stenson came to 18 in the final round of this year's Open holding a two-shot lead over Phil Mickelson in their modern Duel in the Sun.
Stenson could have picked a long iron that would have taken the right bunker and the strand of traps on the left out of play. Instead, he immediately pulled out the most reliable club in his bag. Even though it hides under a headcover for one of the clubs from Callaway's current line, the circa-2010 Diablo Octane Tour 3-wood with the electric-blue shaft is what Stenson has been using to overpower courses for more than six years—an eternity in the world of tour equipment.
"It's shorter than standard, and it has about 12.8 degrees of loft," says Peter Cowen, Stenson's coach for the past 15 years. "He can hit it down a funnel, really. He can hit driver, too, but I don't know why you'd need anything else. When he's at his best, it's like watching a video game."
The man from Gothenburg, Sweden, didn't hesitate. Starting his swing with its idiosyncratic hitch away from the ball, he smashed the ancient 3-wood for the fifth time on the back nine. The ball came off high and straight and kicked slightly right when it landed. It bounded hard toward Norman's bunker, but Stenson had already picked up his tee and retreated to the back of the tee box to wait for Mickelson to play.
Stenson knew exactly where it was going—the same place it almost always does.
The shot would finish a step short of the sand, perched on a lovely, slightly uphill lie in the fairway. Stenson would flush another iron shot in a day full of them and make the putt to punctuate one of the greatest displays of ball-striking in major-championship history—a 10-birdie 63 so pure that even Jack Nicklaus said it was the best he'd ever seen.
Forget about holding the mythical title of tour golf's best ball-striker, or ringing up a record-breaking 20-under-par stripe show at Troon. That Stenson, now 40, would even be playing tournament golf in 2016 was unbelievable in 2001. "I was in a pretty dark place," he says. "But I've shown more than once that I'm not a quitter."
Photo by Stuart Franklin/Getty Images
'When it all fell to pieces... I couldn't hit three football fields with my driver.'
FULL-SWING YIPS
Loss of form—European doublespeak for playing badly—doesn't begin to describe where Stenson was by the middle of his rookie season in 2001. Tagged as one of the European Tour's most promising young players because of his skill with the long clubs, he won by three at The Belfry in his 11th start.
But by the next month, his game vanished in a way most tour players don't even like to acknowledge, much less talk about.
Stenson developed the full-swing yips—an issue that has sent an all-star cast of players into retirement (and often the broadcast booth) in the past two decades. Ian Baker-Finch went from winning the Open Championship in 1991 to missing one of the widest fairways in golf at St. Andrews in 1995. Seve Ballesteros led the European Tour in putting but made only three cuts in 2001, his last full season. David Duval went from No. 1 in the world in 1999 to making one cut in 20 tries in 2005.
Yip is a funny word, but it represents a tour player's most fundamental fear—the inability to control what is happening to the club during the swing. The physiological causes are complicated, but in basic terms, yips are a disruption in the "programming" that runs a certain fine motor skill.
In putting, a player makes what looks like a simple motion to strike the ball, but the movement requires a complicated medley of neurological impulses and muscle movements. Teacher and 20-year yip sufferer Hank Haney compares a yip to a scratch in the grooves of a record—but instead of producing a skip in the music, it causes an uncontrolled flinch near impact. On a putt, that might mean missing a three-footer in an embarrassing way, like Ernie Els did at the Masters. When the club is moving 120 miles per hour, flinching usually ends careers—because it's much harder to make wholesale changes in a golf swing than it is to modify a putting stroke.
For Stenson, the yips manifested worst in what had been his hallmark. "Driving the ball long and long irons were always the strong part of my game," he says. "When it all fell to pieces, that was the part I was struggling with the most. I couldn't hit three football fields with my driver."
A dry sense of humor and a willingness to poke fun at himself makes Stenson one of the most popular players with his peers on both major tours, but in this case, he isn't exaggerating. At the Smurfit European Open two months after his win, Stenson walked off the course in the second round because he had no idea where the ball was going to go, and he was afraid he was going to hurt a spectator.
By the end of the season, Stenson's confidence had cratered, and so had the earning prospects for his caddie at the time, Grant Barry. Barry was friendly with Cowen—who had renovated Lee Westwood and Darren Clarke—so he suggested Stenson meet with the teacher to try to solve the career-threatening problem.
Cowen had never studied Stenson's swing but had heard about the issues. "A lot of players had been saying he was having terrible struggles," Cowen says. "You'd think that with that win, the struggles wouldn't be so deep—that it might be mental or something. But when I saw it, he needed a complete rebuild. There was a lot of talent there, but the technique? It wasn't great."
FIXING A 'MANIPULATOR'
Stenson was an accomplished badminton and soccer player, and at 6-2 and 200 pounds he produced plenty of speed. But his athleticism and coordination had covered up what Cowen considers one of the prime flaws in a tour swing. Stenson was a "manipulator"—a player who relies on elite reflexes to instinctively adjust the clubface through impact to produce a quality shot. Manipulators can play great in streaks, but being so reliant on timing causes more valleys than peaks—and makes a player prone to collapsing under pressure.
The 26-year-old version of Stenson drove his legs hard at the target in the downswing and came down at the ball with a steep angle of attack. He relied on lots of hand action to save shots at the last second. And when he lost the feel of that fine motor control during his yip period, Stenson's misses were historically ugly. A typical tee shot wasn't just going into the trees. It was going off the property, 200 yards from the intended target.
"Shockingly bad," Stenson says. Adds Cowen: "He had no control of where the ball started, or the trajectory. He was hitting 5-irons and 7-irons off the world. We had to start over."
You can call Cowen the Butch Harmon of Europe, with an impressive teaching résumé that includes major-championship winners Graeme McDowell, Louis Oosthuizen, Clarke and Stenson in addition to associate Mike Walker's work with 2016 Masters winner Danny Willett. But it was Cowen's experiences as a player in the 1970s and early '80s that made the 65-year-old Englishman from Yorkshire especially sympathetic to Stenson's struggles—and willing to put in the hundreds of hours the rebuild would require. "The only reason I've been successful as a coach is because I went down all the blind alleys myself as a player," says Cowen, who had two top-10s in 101 starts during 10 seasons on the European Tour. "A lot of players get lost in those alleys. I did. I should have succeeded, and I didn't. But now I understand why I didn't."
Cowen and Stenson tore it all down to the foundation and began again, setting out to build the assembly-line efficient swing that would produce singular 7-irons that sound like gunshots—shots that even other tour players recognize as exceptionally pure. Stenson learned how to correctly use his powerful legs and a new piston-like right-shoulder movement back and through to produce what Cowen calls "pressure" on the ball—a heavy, precise strike that doesn't rely on lots of hand action or timing. "If you look at the mechanics of the golf swing, you have to understand what the control element is," he says. "How are you going to control the movement, without forcing the movement? It's repetition, repetition, repetition of the correct movement."
Stenson was always a worker, and he wore out practice ranges from Rotherham to Dubai, slowly building what Cowen calls the "pyramid of learning"—basic fundamentals followed by dynamic movements, finished with power, pressure and mental performance. "It's the only time I've ever done it with a player at that level, and it was very hard, because there are scars," says Cowen, who works with 20 mostly European players, joined by Walker out of their base an hour outside of Manchester, in the north of England. "When you're helping somebody, you have to leave them playable. It wasn't playable for him when we started. But it was either take it or leave it, and Henrik decided he wanted it."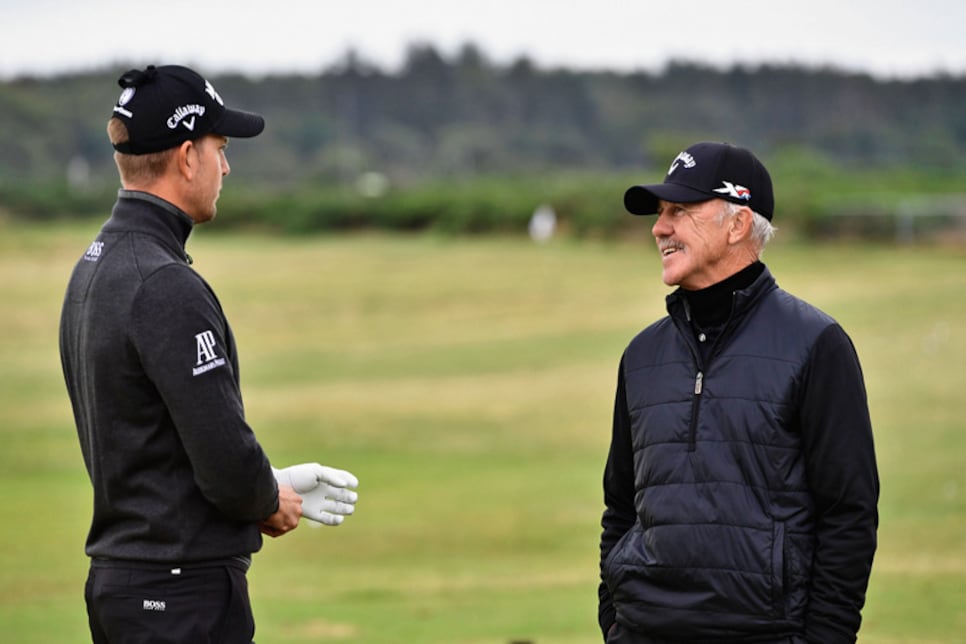 Photo by Stuart Franklin/Getty Images
'I went down all the blind alleys myself as a player. a lot of players get lost in those alleys.'—Pete Cowen
FLIPPING THE SWITCH
As advertised, it wasn't easy.
The 2002 season was a lost year, with almost as many rounds in the 80s (four) than the 60s (five). In 2003, Stenson was playing on the last year of the exemption he got for winning as a rookie, so he needed to show some progress. It finally came near the end of the season, at the German Masters. It wasn't a win, but it felt like collecting the final leg of the Grand Slam for a player who had finished over par for the week in 35 tournaments since his win. "I hit a great tee ball down the last and made par to finish 13th and keep my card. That was a big moment," Stenson says. "Without that exemption, you fall off tour and go to the Challenge Tour. From there, you don't know what happens. You have to keep on working. Once you can do something in practice, you work on doing it twice. And then practicing golf and playing golf isn't the same thing. You have to learn how to flip that switch."
Stenson finished 68th in money in 2003 and won his second European title, at The Heritage outside London in 2004. But it wasn't until 2005 that Cowen believed Stenson was in position to have the career forecast for him during that rookie season. "Psychologists are brilliant, but they can't do their job if I don't do mine first," Cowen says. "If a player is hitting it all over the place, and the psychologist tells him to be positive, that isn't going to work. There's nothing to be positive about. But in Germany, he drove the course to death. He went from being the worst driver in the world to, statistically, the best driver on the tour. To see how good he'd become, I could not have been happier for him."
Players and teachers who have been down the same rough road have an appreciation for the work that Stenson put in—and for the graciousness he retained even when he was at the bottom. "Henrik is one of the really good guys in the game," says Clarke, who will be captaining Stenson on the European Ryder Cup team this fall. "He's dedicated. He works so hard with his game, and he's spent so much time. He's got a very, very strong mental attitude. Nothing fazes him."
Haney, who contended with severe driver yips for the entire time he coached Tiger Woods, is effusive in his praise for what Stenson accomplished just by becoming competitive again. "It's an amazing story," says Haney, who has tested hundreds of putting, chipping and full-swing yippers at his academies outside Dallas. "He found a route around the yip, and he's actually better than he was before he had that problem. There aren't five players in the world that consistently hit it like he does."
Stenson won twice more in Europe in 2006, earned a place on his first Ryder Cup team and made the putt that won the trophy for Europe. The next season, he beat Geoff Ogilvy in the final of the WGC-Accenture Match Play—a victory that got him full status on the PGA Tour through 2010. Stenson parlayed that access to a win in the 2009 Players Championship—after learning in February that he had lost millions in the Allen Stanford Ponzi scheme—and set up one of the hottest stretches of golf to end a season in 2013.
'If a player is hitting it all over the place, and the psychologist tells him to be positive, that isn't going to work. There's nothing to be positive about.'—Pete Cowen
Entering the FedEx Cup playoffs in ninth place, Stenson shot four rounds of 67 or better to win the Deutsche Bank Championship. He bookended that performance by beating Jordan Spieth and Steve Stricker by three to win the Tour Championship and FedEx Cup and earn an $11.4 million payday—matching the biggest single-day prize-money haul in golf history. Two months later, Stenson crushed the field at the European Tour's DP World Tour Championship in Dubai, closing with a 64 to win by six shots—making him the first player to win the FedEx Cup and the Race to Dubai in the same year.
The $20-million season moved Stenson into the top three in the World Ranking and into the conversation as the best player without a major championship. He took care of that at Troon, and after contending late into Sunday at the PGA and earning the silver medal at the Olympics, Stenson seems to be in a Mickelsonian middle-age prime. "It's all about getting out of bed and keep working away and trying to be better," he says. "Sometimes you improve, but it doesn't necessarily mean your results are going to improve over a period of time. But at some stage you kind of catch up, and you can get the rewards for your hard work. Given the ups and downs I've had in the past, it's not like I'm going to get worried if I'm not producing the results I want. I've got patience."
It has been an especially satisfying season for Cowen, who has been threatening to retire with increasing insistence since he turned 60. Two other Cowen/Walker students, Matthew Fitzpatrick and Thomas Pieters, are establishing themselves as a pair of Europe's most promising future Ryder Cuppers. "I think it proves that what we're doing is sound," says Cowen, who will shift his responsibilities with players like Stenson, Westwood and Oosthuizen to Walker. "I bought a house by the coast three years ago, and I've stayed in it one night. My wife has allowed me to do this for 23 years, and it's engulfed our life. It's time to do something new."
When he finally gets to the shore, Cowen will find at least one new thing waiting for him. He doesn't charge a set fee for his work, relying on his players to be fair when they make a good check. Sometimes that means a nice bottle of wine.
In Stenson's case, the reward had a lot more horsepower. He promised Cowen an Aston Martin sports car when he won his first major and was only too happy to deliver. A nicely equipped DB9 runs about $185,000.
Cowen will take his in black.