The Loop
How He Hit That: Dustin Johnson's trajectory control
It doesn't take an expert swing analyst -- or a super slo-mo camera -- to see that Dustin Johnson does things in his swing most don't.
Aside from casually tossing off 375-yard tee shots with liquid athleticism no other tour players can match, Johnson gets his left wrist in an almost unique bent position at the top of his backswing.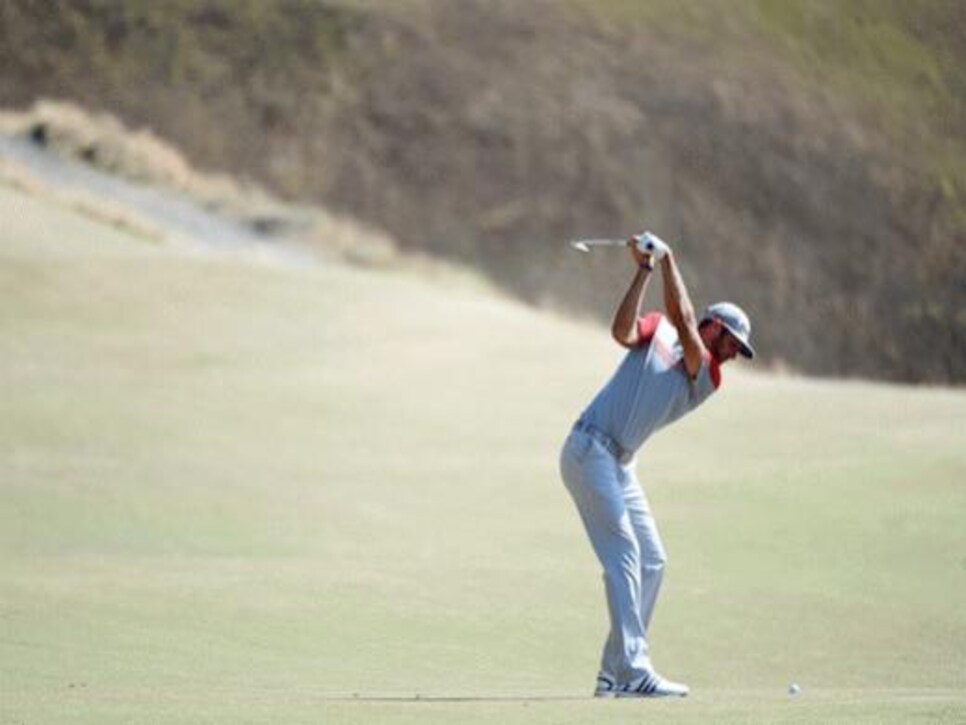 As idiosyncratic as that wrist position is, it serves a useful purpose -- and it's something you can copy. "At the top, he's not that different than a more 'orthodox' swing would be when the hands are halfway down in the downswing," says 50 Best Teacher Brian Manzella, who is based at English Turn Golf & Country Club in New Orleans. "Other players are rolling and turning their the left arm and wrist to get to that position, and he already has it there. It's a huge advantage for him at a place like Chambers Bay, when it's important to control trajectory, especially off the tee."
If Johnson wants to hit a lower shot, he simply keeps much of the wrist bend he created at the top. When he wants to hit it higher, he lets it go through the ball. Tuning his tee shots to suit the prevailing wind, Johnson hit every fairway in the third round on his way to an even-par 70 and a tie for the lead with Jason Day, Branden Grace and Jordan Spieth.
By stealing some of that wrist bend, you can erase your 20-yard slice. "If you can twist the shaft closed on the backswing and get a little more bend in your wrist instead of a cup, that by itself might be enough to get rid of that slice for good," says Manzella. "You don't even need to get near where DJ is -- just halfway between where you are now and where he is should be plenty."