The Loop
How does Sergio Garcia's Masters rally stack up to the Patriots' Super Bowl comeback?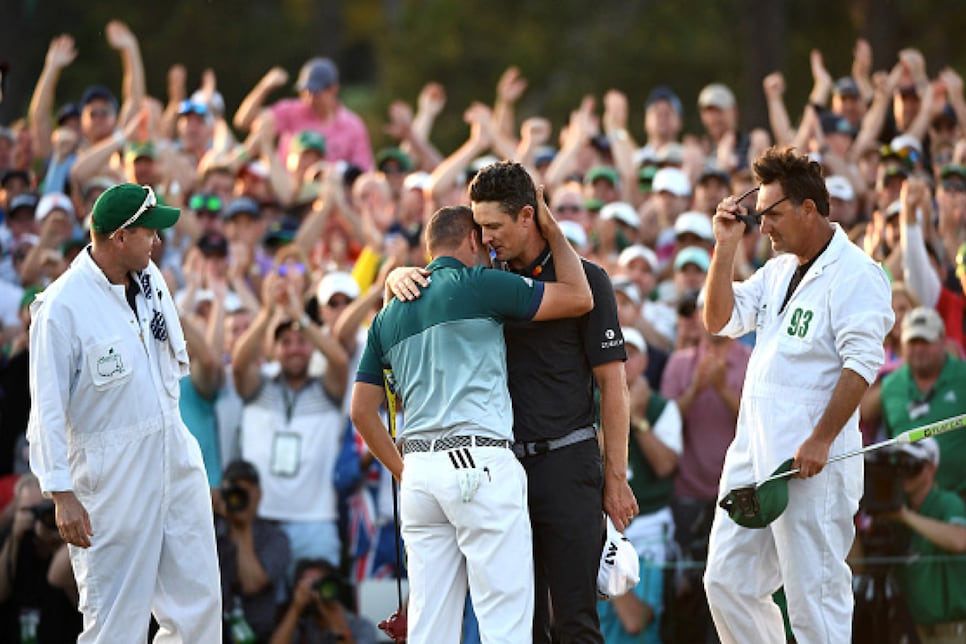 It wasn't quite the New England Patriots over the Atlanta Falcons in Super Bowl LI, but Sergio Garcia's back-nine rally to beat Justin Rose at the Masters was highly unlikely. Garcia trailed Rose by two shots as the final pair on Sunday headed to the par-5 13th hole at Augusta National -- and then his tee shot caught a tree and wound up under a bush. Meanwhile, Rose was in perfect shape and appeared on his way to extending his lead to at least three shots.
It probably won't make Rose feel any better, but the Falcons blew a 98.9 percent chance of winning in the fourth quarter, according to ESPN. OK, so that definitely won't make Rose feel any better, but for the purpose of this post, we had to mention it.
Of course, a couple hours earlier, the situation was flipped. Garcia had a three-shot lead heading to the sixth hole, which EAGLE translated to a 70 percent advantage in the Spaniard's favor. So had the Spaniard lost again, it would have been even more devastating than his loss at the 2007 Open Championship or the 2008 PGA Championship.
But as those events (and others) have shown, Garcia being in position to win a major doesn't mean he's going to win. How many majors he should have won is a different story, though, and it's something else that The Economist delved into. Using his Official World Golf Ranking as a starting point, EAGLE calculated that Garcia should have won 1.7 majors before his breakthrough at Augusta National.
The publication also came up with a "choke index," which calculates how often a player of a certain skill wins a tournament when they're in a certain position entering the final round. According to that metric, Garcia should have won 1.55 majors since 2001 (when every shot of every major can be tracked).
A third calculation based on the quality of play of opponents (Think: Phil Mickelson playing great at the 2016 Open, but getting topped by Henrik Stenson), brought Garcia's theoretical majors number down to 1.14. In that last category, Dai Rees (1.76) is actually the least lucky golfer. Of guys who have won one major, Tom Weiskopf (who the model says should have 3.41 majors) is the unluckiest.
But by the first two calculations, Garcia should have won the most majors of any non-major champ during the time he's been a pro -- backing up his long-time label of the best player without a major. Lee Westwood comes in second and Colin Montgomerie is third.
And unlike those two players, Garcia, who broke an 0-for-73 stretch in majors, doesn't have to worry about not having a big one on his resume anymore. Not only did he win at Augusta National, but he pulled a victory out from under a bush -- and from the jaws of defeat.