News
How Billy Horschel's out-of-nowhere victory changes not just his life but impacts the rest of the PGA Tour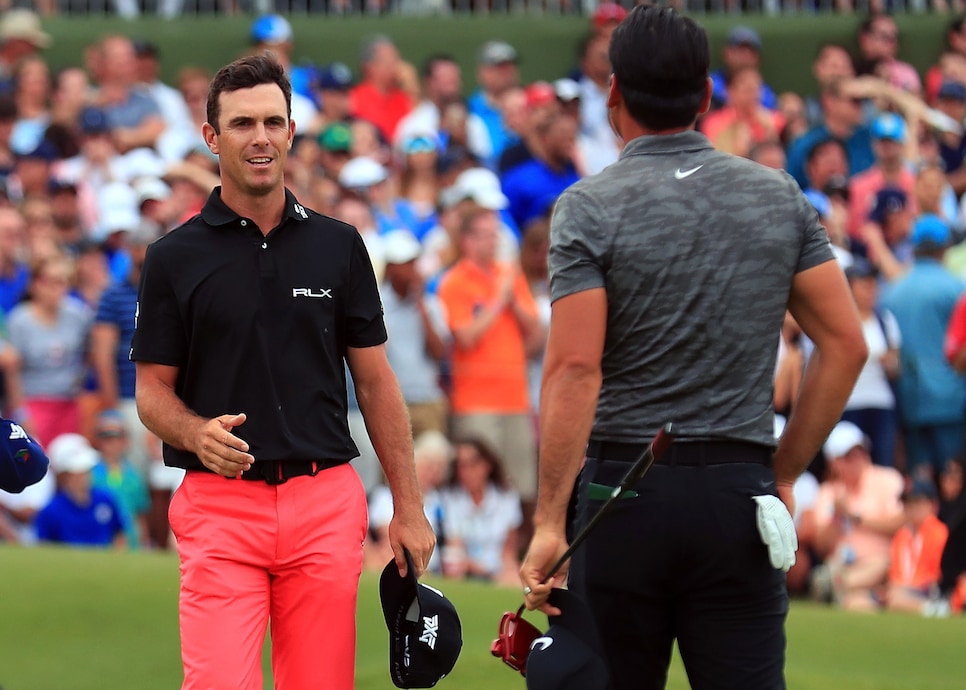 After Jason Day's par putt veered left for a bogey that handed the AT&T Byron Nelson to Billy Horschel on Sunday evening, the relieved champion told the former No. 1 player in the world that that wasn't the way he wanted to win.
Horschel, one of golf's streakiest players, is used to burning up scorecards, like he did in 2014 when he closed the FedEx Cup playoffs with a second and two victories to win the season title. That he hadn't won since that year's Tour Championship underscores the nature of tournament golf in the post-Tiger Woods, parity-driven era and Horschel's own penchant for either fire or ice. To wit, he hasn't been back to the Tour Championship since winning, and he had fallen far enough down the World Rankings, 76th, to miss this year's Masters.
And until his sudden-death playoff win over Day in the last go-around at TPC Las Colinas in Irving, Texas, Horschel had missed the cut in his previous four starts. But he found a little something on the way to an early dismissal last week at the Players. The development—slowing his swing tempo—was heartening enough, he said, that his caddie, Josh Cassel, told him, "we're going to go next week to Dallas, to the Byron Nelson and we're going to win."
The victory was the fourth of Horschel's career and elevated him from his current place in the Official World Golf Ranking to 44th, well inside the top-60 position he needs to be in two weeks to earn an exemption into the U.S. Open at Erin Hills Golf Course in Wisconsin.
"It's really surreal," said Horschel, 30, who was clearly fighting his emotions after Day's three-putt bogey (his first of the week) ended things on the first extra hole. "This is probably the most emotional, most ... I'm sort of speechless because the other three wins I've had in my career have come off of really good playing. Come in here with missing four straight cuts, not having of any type of momentum. … [But] come in here and felt at peace."
Odd because not only had Horschel been struggling, he hadn't played in the event for five years because he didn't like the golf course. At least he thought he didn't. "I came here and I was like, 'Wow, why did I not like this course?' " he said. "This course really fits my game to a tee, and really just embraced the golf course and played really well."
With birdies on two of his final five holes, including a 60-footer at the 14th, Horschel carded a one-under 69 and tied Day at 12-under 268. Winless since last year's Players, Day closed with a 68 and lost for the first time in three playoff tries. Third-round leader James Hahn nearly holed out for eagle on 18 to join the playoff, but his wedge approach lipped out. The ensuing birdie gave him a 71 and 269 total.
Day had a chance to end the tournament in regulation, but his 18-foot birdie attempt missed low after Horschel's birdie try from nearly on the same line came up short. The Australian native posted just his second top-10 of the season as he has contended with illness, injury and personal problems, including his mother's battle with cancer.
"Everything is coming along nicely," said Day, who next competes in the Memorial Tournament in his adopted hometown of Columbus, Ohio. "Got to work a little bit more on the overall game of things, and I think if that happens, then I should be in pretty good form coming into the majors."
While Day's personal travails are well known, Horschel has faced his own challenges, which triggered his emotional reaction to the victory. Right now, the Florida native chooses to remain silent on the specifics.
"Not at this time," he replied after alluding to some of those issues. "Just, life gets in the way sometimes and, you know, it's truly special to be winning on something on a day like this that I honestly … I'm not able to talk about it right now. But it's just lot of stuff happens in the last year and this is just—this is nice."
Not as nice as, say, winning the $10 million bonus for the FedEx Cup title, but nice nonetheless. Horschel had a plan to get back in the majors, and it involved getting on a run, like he's used to doing. This was the best start possible.
"There's a couple reasons I came here. I don't think I have to worry about now but fortunately I was outside the top 50 so I wasn't qualified for the U.S. or British Open," he explained. "It sucked this year. It honestly sucked to miss the Masters. I hated it. I planned on not watching any golf and Thursday comes around and I'm glued to the TV like every other golf fan.
"Yeah, I want to be in majors and having a chance to win big tournaments. I want to go down with the greats, if I can. But I came here because of that and I came here because I needed to get a run of tournaments. I needed to play more tournament golf. As a momentum guy I need to keep playing."
So, for now, Horschel will keep playing, right up to the U.S. Open. Ice is broken. Don't be surprised if he catches fire.