The Loop
How a plumber won $10K with a new golf app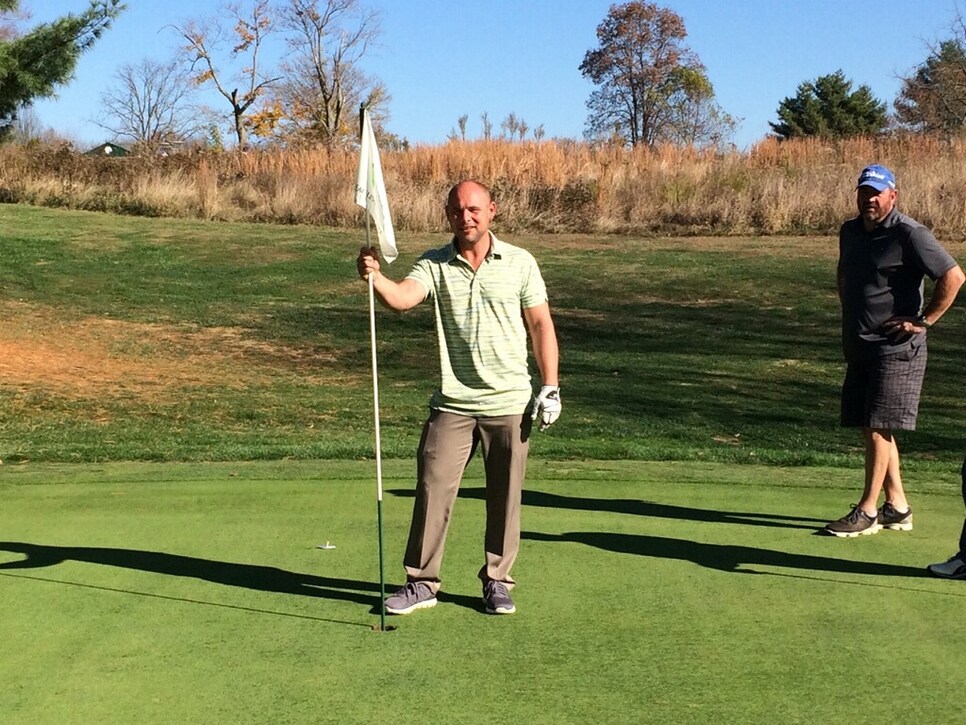 Justin Blaze always arrives at the par-3 15th hole at Eagle Creek Country in Club in Crittenden, Kentucky with great expectation. That's because the 38-year-old, who owns a plumbing business and describes his golf as "pretty much around scratch," is a devotee of an app on his phone called Eagle Watch Golf. At participating courses, the app allows him to place a bet on his tee shot at the designated par 3. Blaze always bets the maximum amount, $10, where hitting the green gets $6 back, within the length of the flagstick earns $140, within two feet of the hole is worth $250, while the payout for a hole-in-one is a growing figure dependent on the number of entrants, kind of like the jackpot in a state lottery. For Blaze, who feathered a 9-iron against the wind and into the jar on the 125-yard hole on November 6th, the pot was just a couple of Andrew Jacksons shy of $10,000, so Eagle Watch Golf decided what the heck, round it up.
On the company's website, you learn that aces more often earn unusual figures, like $6,108 or $5,513.
To prevent fraud, par 3 contests with high stakes commonly employ a worker to sit at a hole all day and bear witness. Tools of the trade usually involve a comfy cart, a cooler, and a paperback to peruse between duffs. Not so with Eagle Watch Golf. The company installs two cameras, one for the green and one for the tee, to verify all winning shots. If you hit a good one, you simply wave at the camera and then log on to your account after the round to claim the prize.
At present, Eagle Watch Golf is available at only 30 courses in fives states in the southeastern U.S. But founder Clint McKinley has plans for expansion. First, his legal team must fastidiously research the gaming law particular to each new state to ensure compliance. "Generally speaking, what we've created has two very important components," McKinley says. "It's a low risk proposition because you can only play once a day and bet a maximum of $10. Secondly, it has everything to do with your skill, not the skill of someone else or some other team."
Eagle Watch Golf services the cameras and reviews all video, so the revenue share is essentially found money for participating courses. "Basically, we really don't do anything," says John Brown, CEO of Brown Golf Management, which has cameras at several courses. "I'd totally recommend it. On an unrelated note, the cameras once helped us catch two perpetrators who vandalized one of our greens with their motorcycles."
"It's not the silver bullet for golf industry, but it's fun a way to generate a little more revenue, build customer loyalty, and attract more play," McKinley says.
Justin Blaze plans to take his wife on a trip, most likely to Nashville. He's now had two holes-in-one in his life. "The first one cost me an $80 bar tab, but not this one," he laughed.