Sex on the golf course isn't for everybody. But for many who've done it, it's a ball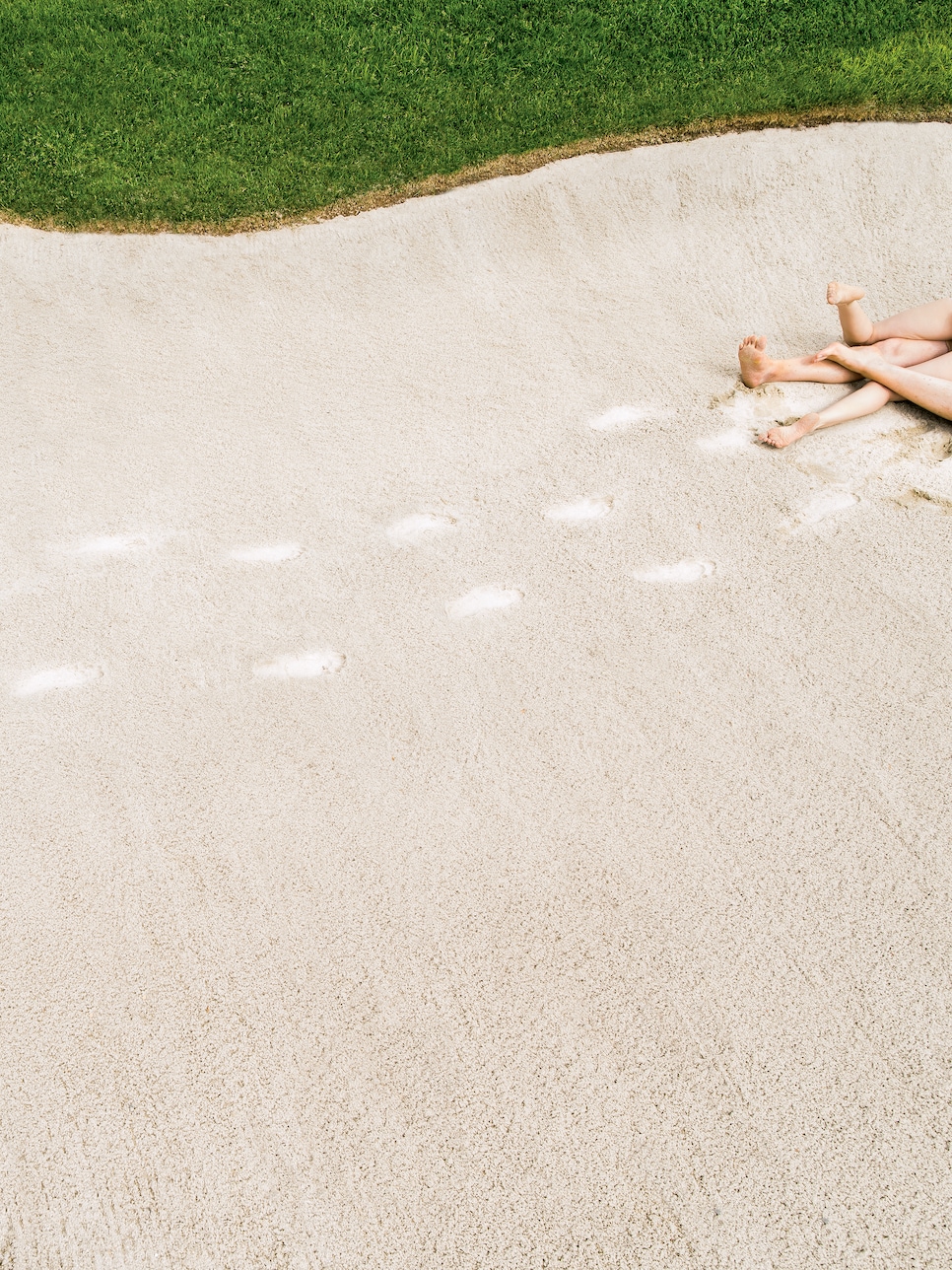 A golf course is a special place. It's a site of competition, friendship, tradition and memories. For some, though, it's more than that. They look at a golf course--usually in the wee hours, framed by moonlight, perhaps--and think, You know what? That would be a great place to have sex.
A middle-age Dartmouth graduate who asked for anonymity--we'll call him Matt--has fond memories of golf-course hookups in his college days. "We were young and in love," he says. Because Dartmouth dormitories didn't have a lot of single rooms, "we had sex in a number of places outdoors" during the summer and fall terms. "The golf course was best. It was secluded, and the greens were smooth and soft, and pretty flat. Thinking about all the chemicals in them, I guess that wasn't so smart. But I wasn't too concerned about it then."
Matt and his girlfriend were never caught in the act, but Steve Lyon, Dartmouth's golf-course superintendent from 1981-2009, says his staff encountered 50 to 100 other couples during his time there. The maintenance crew would often find them before dawn, wrapped in blankets or sleeping bags. Or they'd go scurrying from the course as its sprinklers came on.
Lyon didn't let it bother him much. "It's amusing," he says. "Nothing to get too worked up about." He once found a used condom at the bottom of a hole, and another time he found what looked like knee prints in his greens. He repaired them just like he would take care of an unfixed ball mark. Beer cans, wine bottles and champagne corks were pretty standard leave-behinds. "As long as they kept their cars off the greens, I was OK with it," he says. College golf courses naturally attract a lot of nighttime romantics, because, you know, kids. But they're by no means the only ones. We recently asked golfers to complete an online survey about their "after-hours" experiences. Almost a third of the 1,000-plus respondents said they've had sex on a golf course.
Think about that for a second. One in three! This means one of the golfers in your usual foursome has probably done it. (Apologies for the mental image that might have created.)
We're not claiming this was a scientific survey, representative of all golfers. The respondents were almost all male, and 60 percent were 24 to 44 years old. But their answers are interesting all the same.
THEY REALLY LIKE SEX ON THE GOLF COURSE!
Ninety percent of the people who've had golf-course sex enjoyed it enough to recommend it to others. "On a moonlit night, it's absolutely exquisite," says Jim Harrison, a 75-year-old Arizona investor and golf-equipment inventor. His first experience was more than 50 years ago, but he'll never forget it. "We looked up afterward at the stars and thought, This is heaven."
On a scale of 1-10, with 1 being the worst place to have sex and 10 being the best, our survey respondents gave the golf course a solid 7, on average.
"I'm a big golfer, so for me, it was exciting to have sex on the course," says one respondent who asked not to be named. "Sex at a hockey rink is not going to interest me. But golf, sure."
What's not to like? Minor stuff, mainly. Dew is a common complaint, along with grass stains, bugs and darkness. "Heed the cartpath if you have no blanket," warns a Pennsylvania golf professional. "You will end up with scraped knees."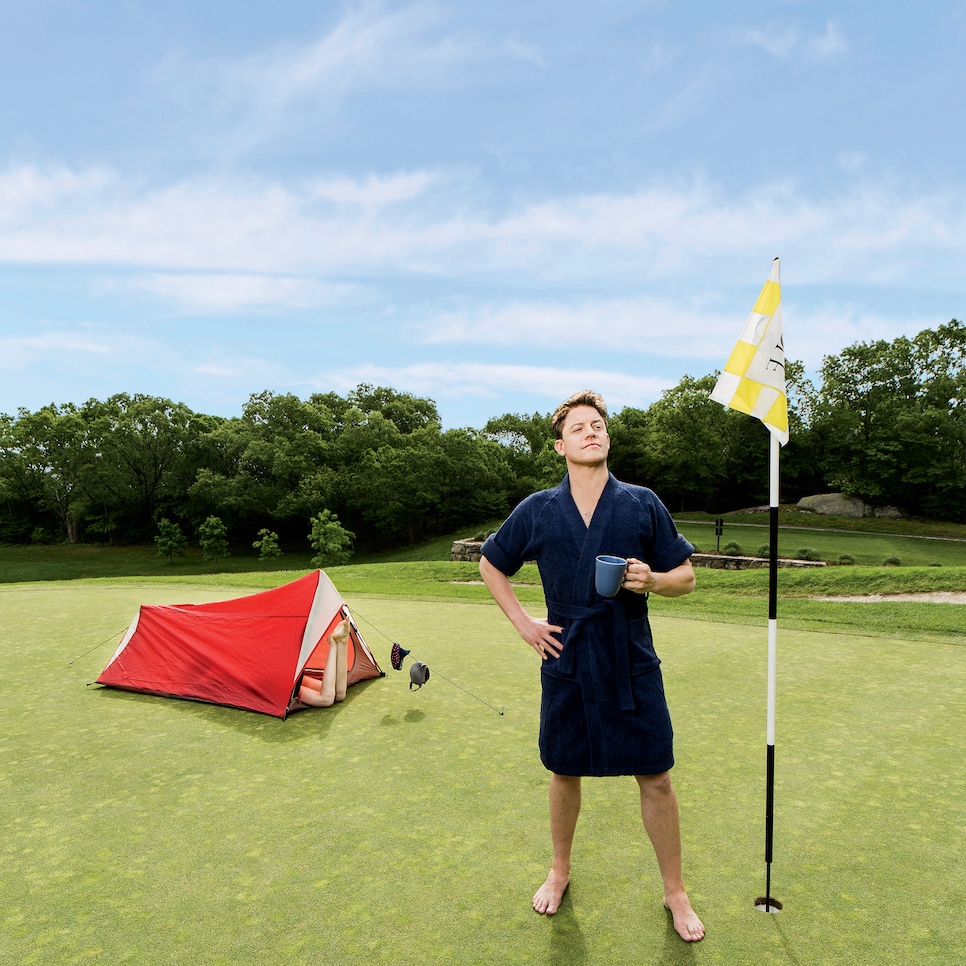 Almost three-quarters of our survey takers said they were worried about getting caught. But not too worried: Among that group, 72 percent said the fear of being discovered actually added to the appeal.
That's not surprising to Jennifer Bass, director of communications for the Kinsey Institute for Research in Sex, Gender, and Reproduction. "We know people are very different in how they feel about threats," she says. "For some people, it's very exciting.
"Competing factors in your being trigger excitement," she adds. "On one side is your level of attraction to another person. On the other, inhibition. Some people would be like, No way I'm going to have sex on a golf course. The grass is wet and cold, I'm too exposed, I'm not interested in this. Others say, Wow this is really different, and aren't we doing something illicit and exciting! It's in our nature. For some people, risk-taking is a big part of what motivates them."
Note, too, that fewer than 5 percent of our respondents said they've been caught--and none of them reported any serious consequences.
John, a bar manager who asked us not to use his last name, wound up with a woman in a greenside bunker at North Carolina's Ballantyne resort early one morning in the 2000s. "The grounds crew found us," says John, who was in his 30s then. "They were laughing. It was awkward, but I wasn't scared they were going to arrest us or anything. We just gathered all our stuff and left."
Around the same time, a young man we'll call Richard was working at a golf course in his native Ontario. He took a date out onto the course one night, and they spent some quality time on the second green. The next morning, he says, the general manager called Richard into his office. "So I heard somebody had fun out on No. 2 green last night," the GM said. "And I'm guessing by the look on your face it was you. If you're going to do that, at least keep it off the green."
Two-thirds of our respondents have had sex on the course multiple times. Twelve percent say they're in double-digits.
"Better than a parking lot, and cheaper than a hotel," says Bradley Williams, a Florida salesman who counts "at least a dozen" golf-course experiences. "I grew up working on a golf course," he says. "So I knew where to go and when to go there."
Tammy Gollihue, an Ohio paralegal, has done it only once on a golf course--while she and her husband, Jamey, played a deserted public course one evening last summer. But Tammy, 39, is game to give it another go, if the right opportunity presents itself. "It's fun and exciting," she says. "There's a course my husband is trying to get me to go to, with a heart-shape green, but I don't want to. I don't know the course and would be scared. I'm more comfortable at our home course."
INSERT JOKE ABOUT FLAGSTICKS HERE
The green is the most popular place for sex. Half our respondents said they'd done it there. Fairways (35 percent) and tee areas (30 percent) were next most common. The practice area, normally close to the clubhouse and thus a likely place to be noticed in flagrante delicto, is least popular--though 11 percent say they've done it there anyway.
Stan, who works in the entertainment industry, chose a very specific place at his country club: a spot on the 11th fairway where he consistently had trouble hitting an accurate approach shot. "I wanted to fix that," he says, so he convinced his wife to wander down there after a party at the club. Did it work? "Hell, yes, it did," he says. "You should see me hit from that spot now."
Hank, a college student from Connecticut, is a self-described "golf purist." So when he and his girlfriend ducked out of a party at his parents' club last summer, "there was no way we were going to mess up a green," he says. They considered a bunker, but then remembered an uncomfortable experience at the beach. "We ended up on the 16th tee box--the highest point on the course."
It wouldn't be the last time they got busy there. "My girlfriend wasn't a big fan at first, but she grew to like it," Hank says. "It's risky doing it outside, and that makes it more exciting for both of us."
MOST HAVE HAD SEX SOMEWHERE OUTSIDE AT LEAST ONCE
Eighty percent of our respondents say they have gotten it on in the great outdoors. Which should come as no surprise to Brooklyn songwriter Jonathan Coulton. One of his most popular songs is "First of May," whose chorus goes, "It's the First of May, First of May/outdoor f---ing starts today." Coulton says it's based on "some kind of very old rhyme--maybe Chaucer?" and he learned it from his grandfather.
"Every May 1 my Twitter feed is flooded with people complaining that the weather is too cold, wondering how long the outdoor f---ing lasts, letting me know that I got them laid, etc.," Coulton says by email. "It's a strange thing. I always remind them that the song isn't meant to be an instructional manual, and I ask them to please not mention my name if they're arrested."
MANY GOLFERS ARE JUST WAITING FOR THE CHANCE
If you told us you hadn't done the deed on a golf course, we asked why. Does it seem distasteful? Are you concerned about the legality, or being caught? More than 80 percent--far and away the biggest response--said the main reason was, "I've never had the opportunity."
Hey, it's summertime. Maybe this is their year.
Is it legal to have sex on a golf course? Probably not. Most states have laws making public sex a crime.
If you're caught in the act, you're likely to be charged with indecent exposure or commission of a lewd act, or both. Not to mention trespassing. These are typically misdemeanors and carry sentences of up to a year in prison and fines of up to $1,000.
The definition of lewd varies from state to state, but it's safe to say that having sex in a public place always qualifies.
The question is, what constitutes a "public place"? Courts in some states have ruled that couples were not in public if they were hidden from passers-by--in a parked car on a dark road, for example, says San Francisco lawyer Deborah England. So your defense might be that, in picking a spot on a secluded golf course in the middle of the night, you reasonably expected to go unnoticed. But other states take a tougher line. In Utah, for example, any public nudity is considered lewd, says Bob Morton, executive director of the Naturist Action Committee, an advocacy group.
This is serious stuff, England says. Depending on the state, you could even be charged with a sex crime. "No one wants to encounter a cop," she says, "and you definitely don't want to encounter one with your pants down."