Betting Analysis
Honda Classic picks 2023: Is it time for another breakthrough for Aaron Wise?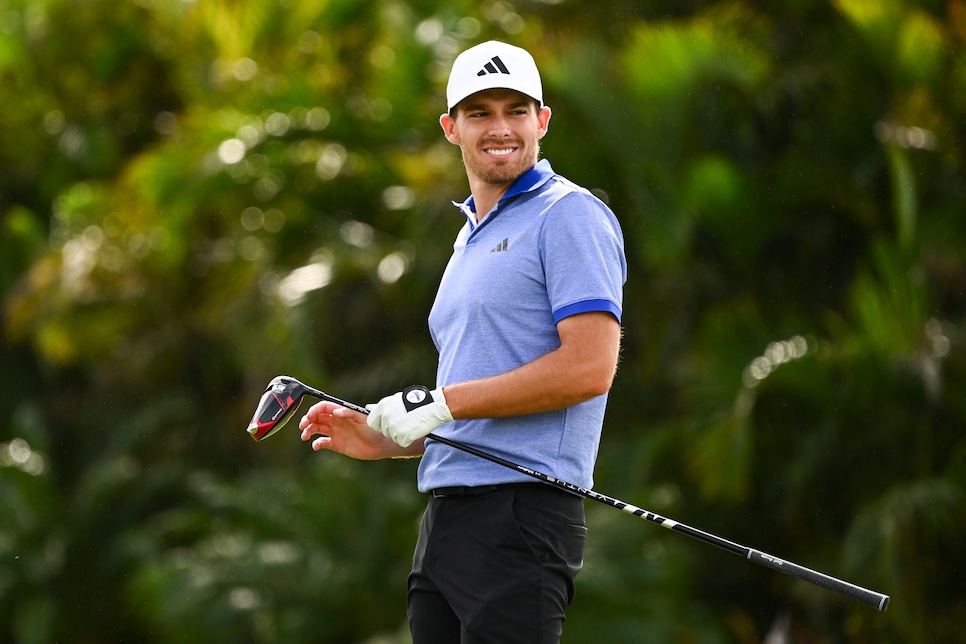 After a pair of marquee, or should we say, elevated weeks on the PGA Tour, things have gotten decidedly bleak as we kick off the Florida Swing. The Honda Classic, once an event that tracked tons of top pros including Tiger Woods, has its weakest field in recent memory, with not a single player inside the top 17 in the world rankings teeing it up at PGA National this week.
But hey, if you're here, you're a diehard sicko golf fan like us, and you can still find the beauty in a week like this one. Sungjae Im is still showing up like he always does, and guys like Aaron Wise, Shane Lowry and Denny McCarthy will be in Palm Beach looking for a signature win. There's still plenty to be excited about, most notably the golf course itself, which makes the top players in the world look like those of us who chop it around and shoot 86 on the weekends. Our job is to pick the guys who won't be made to look like fools at PGA National's Champion course this week.
Our betting panel—which consists of a caddie reporting anonymously from PGA National; Pat Mayo of DraftKings and FantasyNational.com; Rick Gehman of RickRunGood.com; Andy Lack of RRG and his Inside Golf Podcast; Gdula and your two authors—tends to run hot once one of us hits an outright. We've now cashed outright winners the past two weeks, so jump on board and scroll down to read our best bets for the 2023 Honda Classic.
Scroll down to see who we like this week at the 2023 Honda Classic.
Honda Classic picks 2023: Our Experts' Outright Predictions
Anonymous Caddie Picker of the week: Adam Svensson (33-1, BetMGM) — This week feels like it could be anyone's game in terms of holding the trophy on Sunday. I like Adam this week for numerous reasons. He is coming off a top-10 last week at Riv, which plays very similarly to here with the ball-strikers finishing on top. He got his first PGA Tour win five tournaments ago on a course with Bermuda greens as well. On top of that, he lives in West Palm Beach, so this is a home game for him. He also top-10'd here a year ago, so he is no stranger to this course.
Pat Mayo, DraftKings/Fantasy National, Mayo Media Network analyst: Jhonattan Vegas (35-1, DraftKings) — So far in 2023, Vegas has top-25 finishes at Farmers and Phoenix and made the cut at Riviera. Now, the Genesis result wasn't pretty, but a deeper dive into his numbers shows an excellent ball-striking week submarined by weak chipping and outright disastrous putting. The cold putter is nothing new, but he has experienced a modicum of success on the PGA National greens in his career. He's made each of his past six cuts at the Honda Classic and gained putting three of the past four years.
Brandon Gdula, FanDuel/numberFire managing editor: Aaron Wise (25-1, FanDuel) — Wise has the right profile for a pop-up win. He's a good tee-to-green golfer with the ability to pick up distance whenever possible, and the putter can get hot. The two straight missed cuts have his win odds longer than they should be.
Rick Gehman, data scientist and RickRunGood.com founder: Denny McCarthy (28-1, DraftKings) — McCarthy has missed just one cut (Phoenix) in his last nine starts and has threatened the top of the board in Bermuda (T-6), Pebble Beach (T-4) and Genesis (T-14). Dating back to the start of the 2021 season, he's the best putter on tour and Bermudagrass is his best surface. He gains 0.66 strokes putting on this surface each round, per the RickRunGood.com golf database – the best mark in the field. He finished T-3 at this event two years ago and now he's ready to seal the deal.
Stephen Hennessey, Golf Digest dep. managing editor: Denny McCarthy (28-1, DraftKings) — Denny's been playing some great golf—contending at Pebble Beach (fourth-place) and playing well last week at the Genesis (T-14)—and I think he's finally ready to break through for a victory. He finished fourth here in 2021, so this place fits his eye. The ball-striking has been really good lately, and he can scramble and putt as well as anyone here, which can be clutch given how difficult of a test this can be. My guy Joe Idone (@TourPicks on Twitter, go follow him if you don't already) is the king of the Honda Classic, and Denny is his guy … he's picking Denny Dirt to break through this week, and I'm completely on board.
Christopher Powers, Golf Digest staff writer: Chris Kirk (30-1, DraftKings) — Is this a number we want to bet Chris Kirk at, or think he can realistically win at? Probably not, but we're all going to have to hold our nose and swallow on a few bad numbers this week. May as well take another ride on the Kirk train, which will undoubtedly end like it always does—with him ball-striking his way into contention and then failing to make anything inside of 10 feet on Sunday when he needs to.
Andy Lack, RickRunGood.com and Inside Golf podcast: Aaron Wise (25-1, FanDuel) — While Aaron Wise was a popular breakout candidate pick at the start of the season, it's undeniable that he has not gotten off to the start that many were hoping for. I'm confident that changes this week in Palm Beach. Despite missing the cut in Phoenix, Wise still gained 0.3 strokes off-the-tee and one stroke on approach, improving in both ball-striking categories from another disappointing MC at the American Express. In my opinion, Wise is a top-five player in this field, behind only Sungjae Im, Shane Lowry and Billy Horschel, and we are catching him at a more than fair price due to his slow start to the season.
Past results: Golf Digest's betting panel caught fire at the end of the summer, correctly predicting the winner in five of the final six events of the season. We cooled off a bit during the Fall Swing, though we were able to still pick off one winner at the Houston Open, with Stephen Hennessey and Brandon Gdula each hitting on Tony Finau at 16-1. Now, we're finally catching fire again, with Gdula cashing another winner at the WM Phoenix Open (Scottie Scheffler, 13-1) and Rick Gehman correctly predicting Jon Rahm's Genesis Invitational victory at +750.
Honda Classic picks 2023: Sleepers/Dark Horses Who Could Win
Caddie: Davis Riley (80-1, BetMGM) — With so many options in terms of longshots, this is a shot in the dark. But as a caddie, I can see Davis playing well for one reason. He just split ways with his caddie that he has pretty much had since getting his PGA Tour card, and any caddie knows that a player will usually ball out the first week with a new caddie. He has not had a top-10 in 20 events, so this is clearly the "new caddie, new spark" feeling I got here.
Mayo: Aaron Rai (60-1, DraftKings) — Many have noted that PGA National has a track record of crossover with Open Championship and links success. Hello, Aaron Rai. Although the distance is non-existent, the Brit has been the most accurate driver in the field over the past 24 rounds per Fantasy National. He also sits second in GIR rate, especially important when the field is hovering around 60 percent in Palm Beach Gardens. Rai's results have gotten progressively better the past three weeks, and he was sitting T-5 after one round here last year in his debut. Scanning through his five career international wins between the DP World and Challenge Tours, they all come on a combination of short, links and/or wind-affected tracks with his best U.S. finishes all coming at more difficult than average courses: TPC Southwind, Torrey Pines, St. George's and The Concession.
Gdula: Brandon Wu (95-1, FanDuel) — Wu is pretty accurate with the driver and tends to gain strokes off-the-tee. Recently, we've seen the irons get hot at certain times, too. He's got three top-10s to his name on tour since July without great form surrounding them. He's a name to watch.
Gehman: Joseph Bramlett (50-1, DraftKings) — Bramlett enters the week having made seven straight cuts and earning a T-13 in La Jolla and T-7 in Pebble Beach over his last two. He's one of the longest hitters off-the-tee and is showing improvements both on and around the putting surfaces. I worry that he will be exposed on these Bermudagrass greens, but the recent form and price is too appealing to pass up.
Hennessey, Golf Digest: Will Gordon (66-1, BetMGM) — I'm surprised we're getting such a good number on Gordon, one of the most talented players in the field. He's third in SG/off the tee numbers in this field over the past 36 rounds (per RickRunGood.com), and though he's been struggling in his first few events of 2023, I'm banking on a Keith Mitchell 2019 type of a week, where Mitchell's results were bad coming in, but he caught fire here. Gordon's just as long as Mitchell (averages over 307 yards off the tee), so I think he's worth the flier.
Powers, Golf Digest: Byeong-Hun An (55-1, BetMGM) — Boy does it feel good to type Benny's name in this space again. We missed out on him last year while he was figuring out his game on the Korn Ferry Tour, but now he's back and he's having himself a nice little year, starting with a top-five finish back in the Fall at the Fortinet and adding a pair of top-17 finishes in 11 starts since. He's been in the green on approach in five of the last six, and that pesky putter has shown brief glimpses of brilliance at the Sony Open and the AT&T Pebble Beach Pro-Am. Now, he gets to tee it up against a beatable field at a course he's finished inside the top five at twice since 2018.
Lack: Lee Hodges (50-1, DraftKings) — Lee Hodges came through for me last week in a big way on DraftKings and the top-20 market, and I see no reason to hop off now that we are traveling to a course that he finished ninth at last year, gaining strokes in all four major categories. While he had been struggling to find form earlier in the year, the 27-year-old has proven his ball-striking upside by gaining 2.1 strokes on approach in a world-class field last week at Riviera. Now he enters a tournament where his iron play is the class of the field, ranking ninth in this field in SG/approach over his last 36 rounds. With a 16th-place finish at TPC Twin Cities and a 13th-place finish at the FedEx St. Jude Championship, it's clear that he does his best work on water-logged courses that place an emphasis on keeping the ball in play off the tee and middle-iron play, and I expect him to be firmly in the mix come Sunday afternoon at PGA National.
Honda Classic picks 2023: Players We're Fading
Caddie: Min Woo Lee (25-1, BetMGM) — As the fifth-highest odds this week, DK believes this guy has a chance to make some noise. There is no value in picking a guy who hasn't played a PGA Tour event since last summer and missed the cut. This guy seems to tear it up overseas on the DP World tour, but hasnt been able to catch his footing over here in the states. In fact, his last three tournaments in the states were on the Korn ferry Tour where he missed two cuts and didn't finish in the top 25 in the other. He has played nine non-major PGA Tour/KFT events in the last year and has made the cut in one of those. Maybe the stage is too big for him over here.
Mayo: Aaron Wise (22-1, DraftKings) — Maybe he's actually priced properly, but even with the weak field, I can't bet him at a shorter price than I laid with Homa last week.
Gdula: Harris English (34-1, FanDuel) — English's odds shortened up a lot after a T-12 at the Genesis, but almost all of that was from putting. The irons just aren't what they used to be for him.
Gehman: Aaron Wise (22-1, DraftKings) — I've probably spent more money on Aaron Wise than anyone on the planet and not even I can get there this week. He's stumbled from tee-to-green recently, losing strokes to the field in four of his last seven measured events. That's normally his bread and butter so to see him struggle there is raising massive red flags.
Hennessey, Golf Digest: Min Woo Lee (25-1, BetMGM) — Our caddie makes great points on Min Woo's form in the U.S. It'd be a great story to see him win, but it's a tough ask at these odds. A sneaky underrated reason to fade him: I hear he's an elite Call of Duty fan, and with the new game coming out, there's reason to believe he hasn't been practicing quite as much recently. There's analysis you won't find anywhere else.

Powers, Golf Digest: Matt Kuchar (30-1, DraftKings) — Really nice finish last week for Kuch, but let's pump the brakes here. Especially at this course, one he hasn't turned up at since 2011, likely for the same reasons as all the other big-time players - it's impossibly hard, there's water everywhere and it makes the world's best look like us.
Lack: Adam Svensson (33-1, BetMGM) — I had no problem with bettors grabbing the 60-1s on Adam Svensson on Monday morning, but I do believe he's over-valued at his current number. The RSM Classic winner is coming off a deceiving ninth-place finish at the Genesis Invitational, where he lost strokes in both ball-striking categories, while gaining a whopping 11 strokes putting and around the green. I would expect that to regress massively, especially on Bermudagrass, a surface that has historically been Svensson's worst over the years.
Honda Classic picks 2023: Matchups
Caddie: Ben Griffin (+130, Day 1 three-ball) over Dylan Frittelli and Sean O'Hair (DraftKings) — Griffin at +130 on Bermudagrass seems like a steal. Sure, he didn't play great on the west coast, which actually improves his value here. But that was on different grass. In his last seven starts on Bermudagrass, he has made every cut and is averaging a 29th-place finish. Combine that with Sean O'Hair and Fritelli being extremely inconsistent, this is my whale play of the week. Ben is an up-and-coming rookie who has played great this year including getting into contention a couple times. Meanwhile, the other two in the group haven't been able to find their footing multiple weeks in a row. Responsibly put your life savings on this matchup...responsibly.
Mayo: Adrian Meronk (+105) over Cameron Davis (Bet365) — Meronk is legit, just unknown. While Cam Davis appears like he's hurt or is terrible now based on his past few outings.
Gdula: Cameron Davis (-110) over Sepp Straka (FOXBet) — Davis holds a massive tee-to-green advantage over Straka, who goes as his putter goes.
Gehman: Min Woo Lee (-110) over Matt Kuchar (Bet365) — Golf is a global game and Min Woo Lee is crushing it right now. His last eight starts on the DP World Tour have all yielded top-13 finishes with five top-fours during that run. In the measured events on the circuit, he's been stout from tee-to-green and hasn't lost strokes putting since last summer. If his game travels at all this week, he should be a solid option in most formats.
Hennessey, Golf Digest: Denny McCarthy (-122) over Min Woo Lee (FanDuel) — My pick to win over my pick to fade … plain and simply.
Powers, Golf Digest: Ben Griffin (+100) over Cameron Davis (DraftKings) — Sneaky bullish this week on Ben Griffin, a North Carolina man through and through who does well on Bermuda and is a machine on approach. Up until the AT&T Pebble Beach Pro-Am, Griffin had made nine consecutive cuts with four top-30 finishes. Davis, on the other hand, has MC'd three straight times and seems to be a bit lost with every club but the driver right now.
Lack: JT Poston (-110) over Adam Svensson (DraftKings) — Svensson is coming off a ninth-place finish at the Genesis and JT Poston is coming off a MC on the number, but results can be deceiving. Poston actually struck the ball better than Svensson at Riviera, and he now returns to a course that should suit his game. To go along with four made cuts in five appearances at PGA National, Poston also possesses a strong resume on courses with lots of water that emphasize middle irons, with high finishes at TPC Twin Cities, TPC Sawgrass and TPC Southwind. I expect Poston to bounce back from a disappointing performance at Riviera and roll easily over Svensson.
Matchup Results from the Genesis Invitational: Caddie: 1 for 1 (Hovland (-130) over Im); Gdula: 1 for 1 (Hovland (-110) over Burns); Hennessey: 1 for 1 (Cantlay (-111) over Morikawa); Gehman: PUSH (Hovland (-120) over Young); Mayo: 0 for 1; Powers: 0 for 1; Lack: 0 for 1
Matchup Results from this season (Wins-Losses-Pushes): Hennessey: 11-5-0 (up 5.1 units); Gehman: 9-5-2 (up 3.01 units); Lack: 4-3-0 (up 0.7 units); Powers: 8-8-0 (down 0.37 units); Mayo: 7-8-0 (down 1.56 units); Caddie: 7-9-0 (down 2.46 units); Gdula: 5-10-1 (down 5.42 units)
Honda Classic picks 2023: Top 10s
Caddie: Lee Hodges (+450, DraftKings) — Lee is coming off a great performance at Riviera and like I mentioned earlier, these two courses are very similar in the ball-striking department. Being an Alabama alum, he is no stranger to golf in the south either. It feels like Lee has been on the verge of a breakout for a while and this week could be the opportunity for him. Not only did he top 10 here a year ago, this year's field has lost some of its star power compared to recent years, so look for Lee to be in the mix on Sunday.
Mayo: Eric Cole (+900, DraftKings) — A veteran of the Florida Minor League Golf system, Cole's gained on approach in six of his last seven starts, and now returns to familiar Bermudagrass on the greens. Cole ranks top five in the field in scrambling and sand saves for the year and has done his best work over his short PGA career on shorter courses.
Gdula: Jhonattan Vegas (+320, FanDuel) — Overall, Vegas has played well at PGA National, and we're seeing phenomenal ball-striking from him lately. He just can't find ways to make putts. If they fall, we're really looking at a high-ceiling week.
Gehman: Kevin Tway (+1000, DraftKings) — Tway's game is rounding into form right now. He's made five of his last six cuts and can boast two top 40s in the last two elevated events. When at his best, Tway drives it long so he'll be able to club down and hope for more precision around PGA National this week. He'll see a reprieve in this weaker field and he should be brimming with confidence.
Hennessey, Golf Digest: Chris Kirk (+330, DraftKings) — The former Georgia Bulldog drives it so dang straight, which is an absolute weapon at PGA National. He's been on a heater with back-to-back top-three finishes before the MC in Phoenix. He also has the third-highest salary on DraftKings, but his placement odds are more reasonable—so I think he's a smart top-10 or top-20 bet.
Powers, Golf Digest: Harris English (+400, DraftKings) — If this were 2021, there's a decent chance Harris English would be among the three or four favorites in this field. But since he's struggled in his return from injury we're getting a nice discount on the Ryder Cupper off a 12th-place finish at Riviera. Yes, he did gain an unsustainable amount of strokes with the putter, but he did make noticeable progress off-the-tee and on approach from WMPO to the Genesis. Perhaps he's close to putting it altogether at Honda, where he's finished 17th and 12th in his last two appearances.
Lack: Adam Long (+1100, DraftKings) — I'll take a chance this week and fire away on a long shot to pay off nicely for me in the top-10 market. The former American Express winner has a proven track record of delivering at water-intensive golf courses that place an emphasis on middle-iron play, with a runner-up and a 16th at TPC Twin Cities, a 22nd at TPC Sawgrass, a 24th at TPC Southwind, and a 27th here at PGA National. While I am dubious on the 35-year-old's chances to raise the trophy, I expect him to find his way into contention this week in Palm Beach Gardens.
Top-10 results from the Genesis Invitational: Mayo: 1 for 1 (Max Homa +220); Gdula: 1 for 1 (Patrick Cantlay +220); Lack: 1 for 1 (Patrick Cantlay +220); Powers: 1 for 1 (Collin Morikawa +210); Caddie: 0 for 1; Gehman: 0 for 1; Hennessey: 0 for 1
Top-10 results from this season: Gdula: 7 for 16 (up 18.6 units); Gehman: 5 for 16 (up 10.55 units); Lack: 3 for 7 (up 3.9 units); Mayo: 5 for 15 (up 3.1 units); Hennessey: 3 for 16 (down 0.45 units); Powers: 2 for 16 (down 7.9 units); Caddie: 2 for 16 (down 7.95 units)
Honda Classic picks 2023: One and Done
Gehman: Sungjae Im — This is seemingly a no-brainer. Im is the best player in the field and it's not particularly close. He's also not worth stashing for a bigger event down the road. His tee-to-green game has been elite and he supplements that with a stellar short-game. He missed the cut at the Honda Classic last year but finished T-8 in 2021 and won in 2020.
Previous weeks: Fortinet Championship: Emiliano Grillo. Sanderson Farms Championship: Sam Burns. Shriners: Taylor Montgomery. Zozo: Sungjae Im. CJ Cup: Matt Fitzpatrick. Bermuda: Denny McCarthy. Mayakoba: Viktor Hovland. Houston Open: Aaron Wise. RSM Classic: Brian Harman. Sentry TOC: Cameron Young. Sony Open: Hideki Matsuyama. American Express: Brian Harman. Farmers: Jason Day. AT&T Pebble Beach: Maverick McNealy. WMPO: Scottie Scheffler. Genesis: Justin Thomas.
Hennessey: Chris Kirk — As I mentioned above, I love Kirk as a top-10 bet this week—and though he might not have the winning equity you'd want in a One and Done bet, the consistency is reason to go with him here.
Previous weeks: Fortinet Championship: Cam Davis. Sanderson Farms Championship: Denny McCarthy. Shriners: Emiliano Grillo. Zozo: Hideki Matsuyama. CJ Cup: Sungjae Im. Bermuda: Mark Hubbard. Mayakoba: Viktor Hovland. Houston Open: Jason Day. RSM Classic: Brendon Todd. Sentry TOC: Patrick Cantlay. Sony Open: Matt Kuchar. American Express: Brian Harman. Farmers: Will Zalatoris. AT&T Pebble Beach: Seamus Power. WMPO: Collin Morikawa. Genesis: Justin Thomas.
Powers: Chris Kirk — The Florida Swing is when Chris Kirk eats and you'd have to think this would be his best chance to finally break his win drought against a weak field. He'll likely do well at Bay Hill, at the Players and at Harbour Town, but all of those will have stacked fields as elevated events and I'm not so sure Kirk can beat a field like that.
Previous weeks: Fortinet Championship: Sahith Theegala. Sanderson Farms Championship: J.T. Poston. Shriners: Sungjae Im. Zozo: Hideki Matsuyama. CJ Cup: Tyrrell Hatton. Bermuda: Russell Knox. Mayakoba: Thomas Detry. Houston Open: Sepp Straka. RSM Classic: Davis Riley. Sentry TOC: Xander Schauffele. Sony Open: Gary Woodland. American Express: Cameron Young. Farmers: Taylor Montgomery. AT&T Pebble Beach: Maverick McNealy. WMPO: Sungjae Im. Genesis: Collin Morikawa.
Pat Mayo is an award-winning video host and producer of long and short-form content, and the host of The Pat Mayo Experience daily talk show. Mayo helped create the golf stats and research website Fantasy National along with the Race for the Mayo Cup One and Done contest. Mayo won the 2022 Fantasy Sports Writing Association Daily Fantasy Writer of the Year and is a finalist for three FSWA Awards in 2023 (Best Podcast, Daily Fantasy Writer of the Year, Golf Writer of the Year). His 27 FSWA nominations lead all writers this decade and are second-most all-time. Follow him on Twitter: @ThePME.
Brandon Gdula, managing editor and analyst for NumberFire, a FanDuel daily-fantasy analysis company, recently won the 2018 FSWA Golf Writer of the Year. Gdula also co-hosts the DFS Heat Check podcast. Follow him on Twitter: @gdula13.
Rick Gehman is the founder of RickRunGood.com and the RickRunGood YouTube Channel, is one of the industry's leading experts on golf DFS and gambling. Gehman is co-host of the First Cut Podcast and appears regularly on the Pat Mayo Experience golf podcasts. Follow him on Twitter: @RickRunGood.
Andy Lack is a PGA Tour writer and podcaster from New York City who now resides in Los Angeles. He hosts Inside Golf, a twice weekly podcast focused on the PGA Tour, betting, daily fantasy, golf course architecture, and interviews, as part of the BlueWire podcast network. As well as contributing to Golf Digest, Andy is also a data analyst and writer for RickRunGood.com, where he covers PGA Tour betting and daily fantasy. He came to Golf Digest's betting panel after previously writing for Golf.com, the Score and GolfWRX. In his free time, Andy can likely be found on a golf course. Follow him on Twitter: @adplacksports