Monday qualifying
A 16-for-1 playoff to get into the Honda Classic was a lesson in controlled chaos—and inevitable pain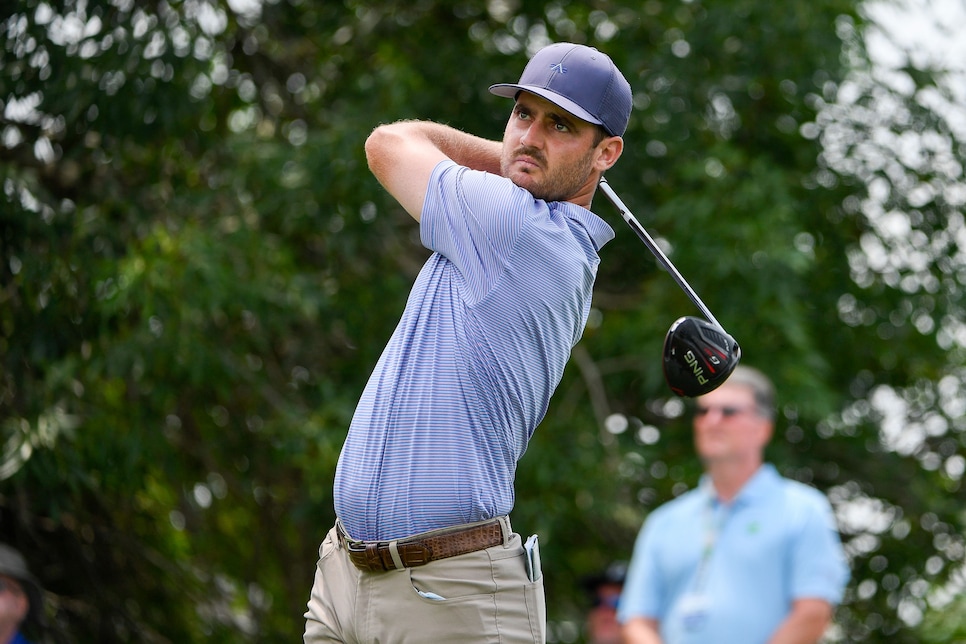 PALM BEACH GARDENS, Fla. — Standing on the 10th tee, framed by one of the large banyans that gives Banyan Cay Resort and Golf its name, Rick Lamb blistered a drive down the middle of the fairway. He followed that with a cut 4-iron against the wind from 203 yards, and then buried a 35-foot left-breaking downhill putt for eagle. None of the other 15 players teeing off on Tuesday morning could do better than birdie, and as far as the relevant action in the 16-for-1 playoff for the final qualifying spot into this week's Honda Classic, you have just read it all. For everyone but Lamb, it was a process of walking up to the tee, hitting a few shots, and then walking back to the parking lot with nothing tangible to show for it.
Monday qualifiers happen every week on the PGA Tour, and every week it's one of the most grueling tests, in which even a very good round often goes unrewarded. Patrick Reed is perhaps the most famous Monday warrior, making six tour events via one-day qualifying in 2012 as he fought his way to a tour card. For every Reed, though, there are a dozen stories of players who light up a course only to fall short because of the unbelievably high bar. The degree of difficulty is even higher this week, due to the sheer number of players who live near Palm Beach Gardens and would love the chance to play in a PGA Tour event in their backyard. (Lamb is one of them—he's from South Bend, Ind., played college golf at Tennessee and moved to Florida last fall.)
Monday at Banyan Cay, 130 players showed up for four spots into the Honda. Three of those were secured on Monday, when Sam Stevens shot 65, and Fabian Gomez and Martin Contini each shot 66. That left one more place available in the field at PGA National, and an insane number of folks in the running for it.
Indeed, though qualifiers on tour, for the U.S. Open, and elsewhere are constantly ending in crowded playoffs for just a few spots, the Monday qualifier for Honda was another level of absurd. It's not clear if a 16-for-1 playoff is unprecedented, but it's rare and jaw-dropping enough that it began to generate excitement on golf Twitter in a way that Monday qualifiers rarely manage. Why won't this be televised? some wondered. Well, the action on the ground argued both sides.
The playoff wound up lasting about a half hour—the 10th hole is a reachable par 5, and the wise choice to start there made it extremely likely that a small group would make eagle and eliminate the majority—and that would be quite a production investment for the Golf Channel to make on a Tuesday morning. And, truthfully, it was anticlimactic beyond Lamb's putt; it wasn't easy to tell whether the small group of spectators were glad they came.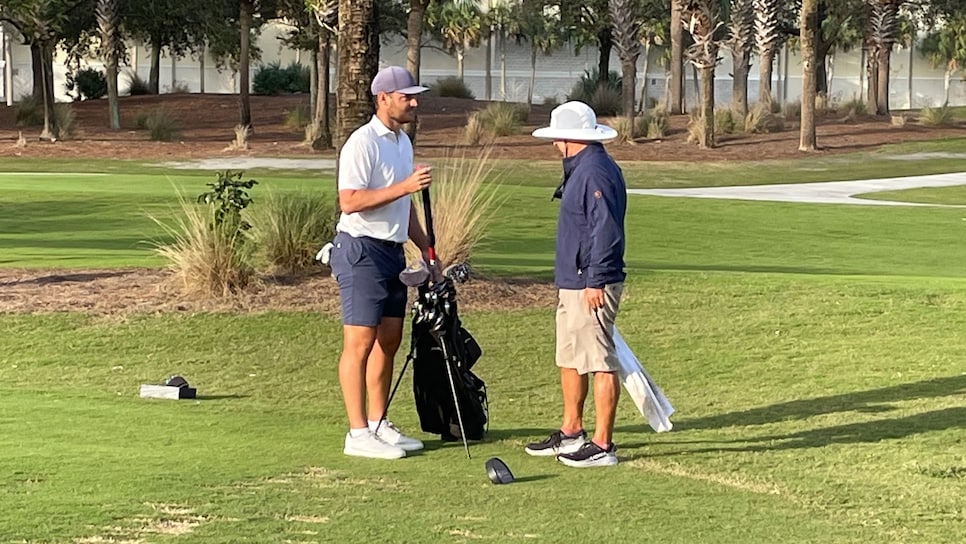 Lamb, waiting with his caddie, to see if his eagle on the first playoff hole might hold up to earn him his spot into the Honda field.
And yet, the sheer absurdity of the situation, and the negligible odds of "winning," comes with its own inherent drama. For Lamb, who was once in a 9-for-2 playoff, the goal coming into the morning was to make eagle. Somebody was going to do it, the 31-year-old who played the PGA Tour in 2017 and 2018 reasoned, so it might as well be him. Of course, this is just the start.
"I played in a Korn Ferry playoff," Lamb said, referencing his 2016 win at the LECOM Health Challenge in a four-man playoff. "That one was a little better because they gave you a check at the end of it. This is a great opportunity, and it's cool to get in, but the hard work hasn't even started yet."
D.J. Trahan, 41, a two-time PGA Tour winner, was one of the 15 whose morning ended in disappointment. In the final group—a six-some (!)—he came up short of the green with his second, asked an official if anyone had made an eagle, and when they told him yes, he put some extra juice on his chip. It missed, but as he made his way to the parking lot, he seemed more upbeat than the others.
"I've been doing this for a long time," Trahan said, "and that gives me some perspective. A lot of these kids are trying to figure out how to get their careers started. And this is not an easy way to do it. This is not an ideal way to do anything, ever.
"It's like being the guy who goes door-to-door trying to sell something," he continued. "Every time someone opens the door, you've got what chance of success? Monday qualifiers are even worse; they're like trying to sell ice to Eskimos. But you do it, because maybe there's an Eskimo that needs a block of ice."
Once in a while, it works out—there are four players who will have a chance to change their professional lives this week at PGA National—but too often, even great golf lands in a near-miss. Trahan tried qualifying in Las Vegas, too, and shot eight under on that Monday, only to miss out by a stroke at the last moment.
One of the young guys Trahan spoke about is 23-year-old Turk Pettit, another of the "Tuesday 16" who like Trahan was a Clemson alum. Pettit's the reigning NCAA Division 1 champion and has already won on the Mackenzie Tour, but here, he's still in the wilderness, trying to get Korn Ferry starts when he can and making the occasional PGA Tour Monday qualifier.
"A five-under round will do you a lot of good in a tournament," he said, while he waited for a Lyft to pick him up at the clubhouse. "Out here, it doesn't do anything."