Hold the whine on sponsor exemptions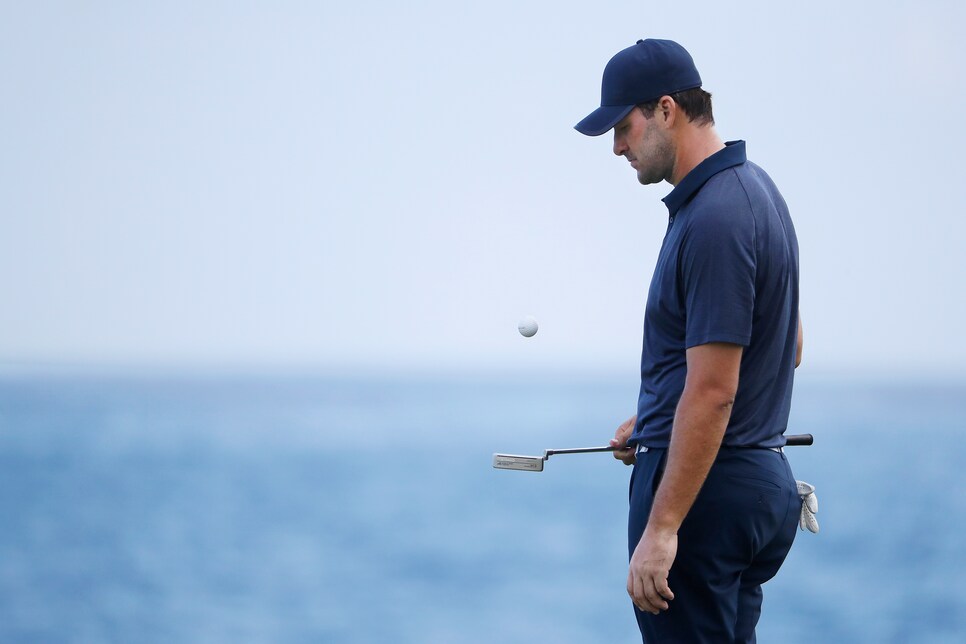 I played the PGA Tour event in the Dominican Republic this season. Down there, I met Tony Romo, who was in the field on a sponsor's exemption. Earlier in the week in the locker room, I'd heard some pros talk about how good he was, how far he hit the ball. There was this feeling that the former Dallas Cowboys quarterback might actually make the cut. The Puntacana course is long and forgiving, so presumably the best setup for a physically strong amateur. Of course, Romo shot 79-80, last place, save the withdrawals and one unestablished pro who blew up.
I didn't get into the field at Dallas. I was surprised, considering it was the week before the PGA Championship and linksy Trinity Forest plays nothing like Bethpage Black. I figured more guys would skip it to rest and prepare. But with my current status in the shuffle, I've learned to regularly handle such disappointments. Was I bitter that Romo played again that week and I didn't? Heck, no.
In my younger years, I would've whined. How does throwing a football earn a person the privilege to compete at the highest level of golf? Basketball star Steph Curry or musician Jake Owen playing in Web.com events—OK, maybe—but the PGA Tour is for the best in the game. Further, the Byron Nelson in Dallas isn't even an off-field event opposite a major or World Golf Championship. If you did an anonymous poll of players today, I bet three-quarters or so would confide that they think guys like Tony Romo playing in their tournaments is ridiculous. Obscene, even. But this is wrong thinking.
What took me some years to realize is that a tournament sponsor has the right to invite whomever it wants. An event typically gets four "unrestricted" slots to fill. These can go to bona fide tour pros who have a connection to the tournament or region, but they also go to college and mini-tour players, and very often to local club pros. These sweater-folders have no real shot of competing, and at best they draw their immediate family and a handful of their students to the gallery. A guy like Tony Romo is bringing in hundreds if not a couple thousand fans. So what if these people are coming just to see the celebrity, not necessarily to see the celebrity play golf. They're buying tickets and concessions and supporting our show.
The unrestricted sponsor exemption isn't taking the spot of the next PGA Tour pro in line. It's a separate and small category of its own with a long tradition. More important, if you're first or second alternate and complaining about Tony Romo, there's a simple solution: Play better. Low scores have a way of curing most bellyaches out here. Until then, chances are you're not generating any more excitement for the tournament than the local club pro.
That said, when I was sitting at home in Florida, was I checking on Romo's score? Heck, no. He's a good amateur—and a great television announcer, for that matter—but I have no interest in following a story with a foregone conclusion. His ability to compete is akin to the NFL calling me up, supposing I'm the star of my flag-football league, and saying, "Hey, let's see what you can do." My head's going to get knocked off. Romo's finished near the bottom of the field every chance he's had, so I think the experiment is over. Even if someday the stars align and he chips in five times and makes the cut, it's not going to change his life. At least when the unrestricted sponsor's exemption is given to a standout local high school or college golfer, the kid will learn from the experience.
Let's look to give the opportunity to other celebrities. The pool isn't overly deep, I know, but a solid scratch can break 80 on a PGA Tour setup. And if that's all the tournament sponsor wants, I'm cool with it. As long as I get paid. —with max adler