The Loop
His wrist in a wrap, McIlroy shows up for work
JOHNS CREEK, Ga. -- Taped from his fingertips to his elbow, Rory McIlroy walked onto the practice range at Atlanta Athletic Club this morning at 8:07. That answered the first question: Would he play after spraining a tendon in his right arm early in Thursday's round?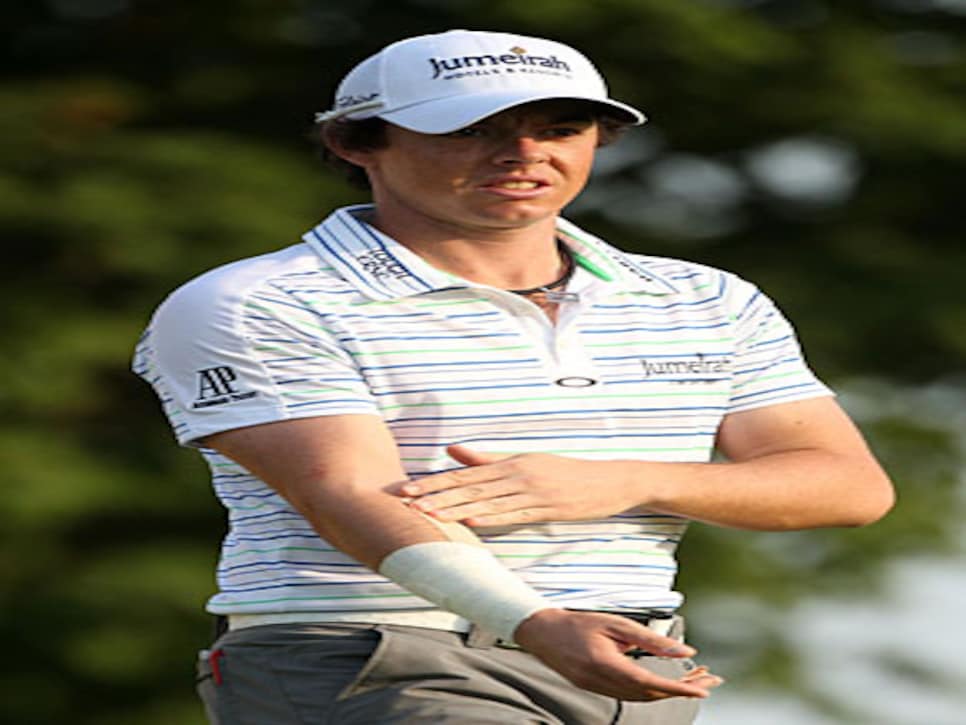 The second question -- how well could he play? - would be answered much later. But for now, with five television cameras trained on him, with a couple dozen reporters making notes of every move, McIlroy warmed up for 15 minutes, working his way from the wedge through a 7-iron, 5-wood, and driver.
Only once in the process, on a 7-iron swing, did he let his right hand fall off the club as if to say, "THAT one hurt." For his caddie, McIlroy mimed a rotating motion with his right arm, perhaps indicating a slight alteration in his move through the ball. He hit only three drivers, the last a strong draw that satisfied him he could play.
He shared a smile with Northern Ireland countryman, Graeme McDowell, and headed for the putting green. Five minutes of little putts and he left for the first tee and his 8:35 start. En route, McIlroy stopped briefly to talk to his trainer.
A piece of tape was coming undone, part of the flesh-colored tape that covered his palm and stretched to the middle fingertips of his right hand. That tape also was visible at his elbow -- all of it beneath tightly-wrapped white adhesive encasing his forearm, likely there to contain the swelling produced when McIlroy, to his regret, took a full swing at a ball resting against a tree root. His trainer pulled scissors from a pocket and nipped the unraveling thread.
When announced on the tee, McIlroy received a loud round of applause in acknowledgment of his circumstance. His tee shot? A power fade to a fairway turning right. Only perfect.