Amateurs
High schoolers Gianna Clemente and Avery Zweig rally to win U.S. Women's Amateur Four-Ball Championship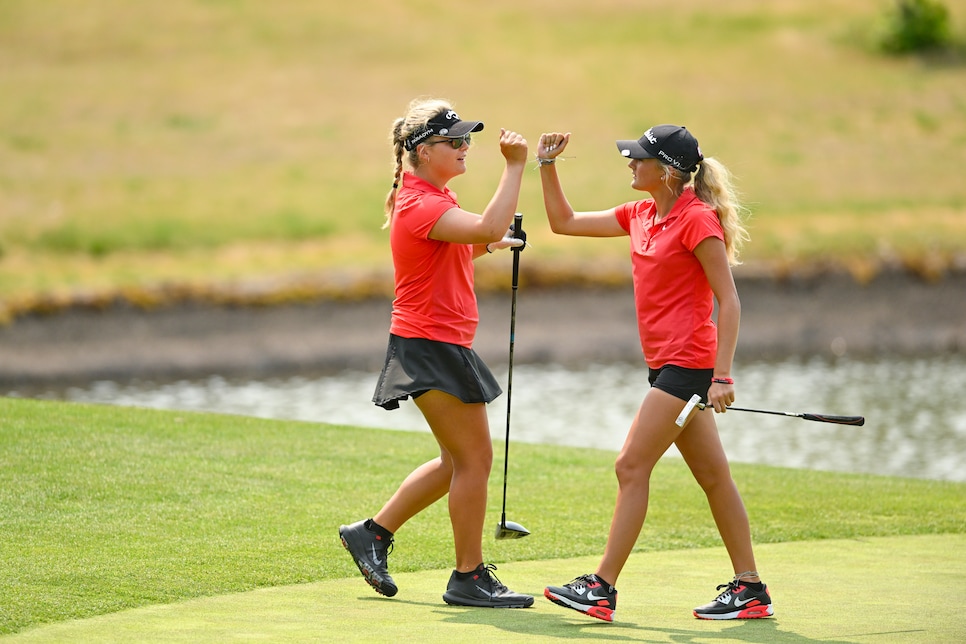 These kids these days, they are precocious and fearless, even with a national championship at stake, even facing a deficit halfway through the final of the U.S Women's Amateur Four-Ball Championship, as the high school duo of Gianna Clemente and Avery Zweig showcased on Wednesday.
Clemente, 15, No. 1 in the American Junior Golf Association ranking, and Zweig, 16, pulled even at 12 on the Home Course in Dupont, Wash., then won the 14th and 15th holes and with another birdie on 17 defeated a pair of college golfers, Tiffany Le (UC Riverside) and Kate Villegas (UCLA), 3 and 1.
"It means the world," Zweig said. "The USGA intentionally makes their championships and titles very difficult, and I think as a player, if someone has won a USGA championship of any kind that's a very large feat.
"This week we really didn't have any expectations. We didn't talk about winning or match play once. Just stayed present and keep it casual, and I'm just really proud of this whole team."
Earlier in the day, Clemente and Zweig defeated Leigh Chlen and Anna Huang, 4 and 3, in their semifinal match, while Le and Villegas were 2-up winners over Angela Zhang and Alice Ziyi Zhao in the other semifinal.
Clemente, from Estero, Fla., might qualify as the headliner of the final, given her already impressive résumé that includes a runner-up finish in the 2022 U.S. Girls' Junior and, only 14, Monday qualified for three straight LPGA tournaments last summer.
But Zweig has her own gilded credentials, including having been the youngest in history to qualify for a U.S. women's championship, 10 when she qualified for the Women's Four-Ball Championship in 2017.
But they fell behind on the first hole, when Le and Villegas carded a birdie, and were two down through eight holes when they began to start a comeback that included Zweig chipping in for birdie at 14 to pull ahead.
"It's been such a long and grueling week with a lot of really tense moments and a lot of really fun ones in there, too," Clemente said. "This has been some of the best weeks of my life, and to spend it with somebody that I'm so close with, it's been amazing."