News
High schoolers Cole Hammer and Garrett Barber dominate the U.S. Amateur Four-Ball from start to finish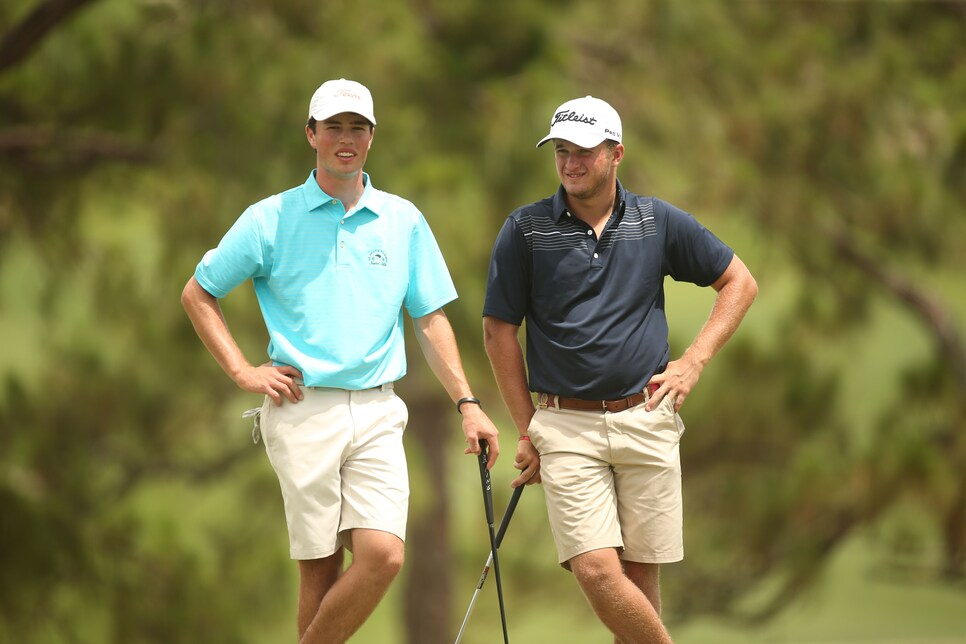 Copyright USGA/Darren Carroll
You know that saying, "It was just my day"? For Cole Hammer and Garrett Barber, it turned out to be "just their week" at Jupiter Hills Club in Tequesta, Fla. The 18-year-old high school seniors made for an unstoppable combo at the U.S. Amateur Four-Ball as they cruised through the match-play bracket to claim the title in the fourth year of the championship.
Just how dominant were Hammer, set to play college golf at Texas next fall, and Barber, off to LSU? After earning the No. 3 seed in stroke-play qualifying (shooting a nine-under 131), the duo played five matches en route to their title. In those five matches, they trailed for just two holes. Yep, total. Their "stumble" came in the quarterfinals on Tuesday afternoon, losing the first hole against Zach Atkinson and Brad Gibson before getting back to all square on No. 3 and eventually cruising to a 3-and-2 victory.
With their "close call" behind them, Hammer and Barber showed no signs of letting up on Wednesday, defeating Carson Barry and Sam Tidd, 5 and 4, in the morning semifinal match before dispatching Marc Dull and Chip Brooke in the afternoon finals, 4 and 3.
To hear Hammer and Barber tell it, all they did was follow the strategy they discussed before the start of match play: Get up on their opponents early and never give them a glimmer of hope. In their Round of 32 match, they won four of the first five holes, and in the Round of 16 they won three of the first six, including Barber holing a 50-foot eagle after driving the par-4 sixth hole. For the week, they won 31 holes and lost just eight.
Cut throat? Yes. But effective—as they never had to play either the 17th or 18th holes at Jupiter Hills once getting into match play.
It was the same story in the final against Dull, a 32-year-old caddie at Streamsong Resort who a week ago won the Florida Mid-Amateur after his opponent had to withdraw because he alleged that Dull's caddie assaulted him during a rain delay, and Brooke, 42. Hammer and Barber won the first hole, lost the second, but won the third and never looked back. They then won the eighth and 10th holes to take a commanding 3-up lead before winning the par-5 13th with an eagle to essentially seal the victory.
At times during the week it appeared Hammer and Barber were actually playing one another rather than their opponents. TCPalm.com reported that during their Round of 16 match, Hammer had made a par putt to halve a hole. Barber also had a par try from 10 feet, and could have simply picked up his ball. But he putted it out instead, the ball falling in the cup.
"You guys playing a match against each other?" asked one of their opponents. Hammer and Barber both nodded yes, Barber saying: "We're competitive guys and it keeps us aggressive."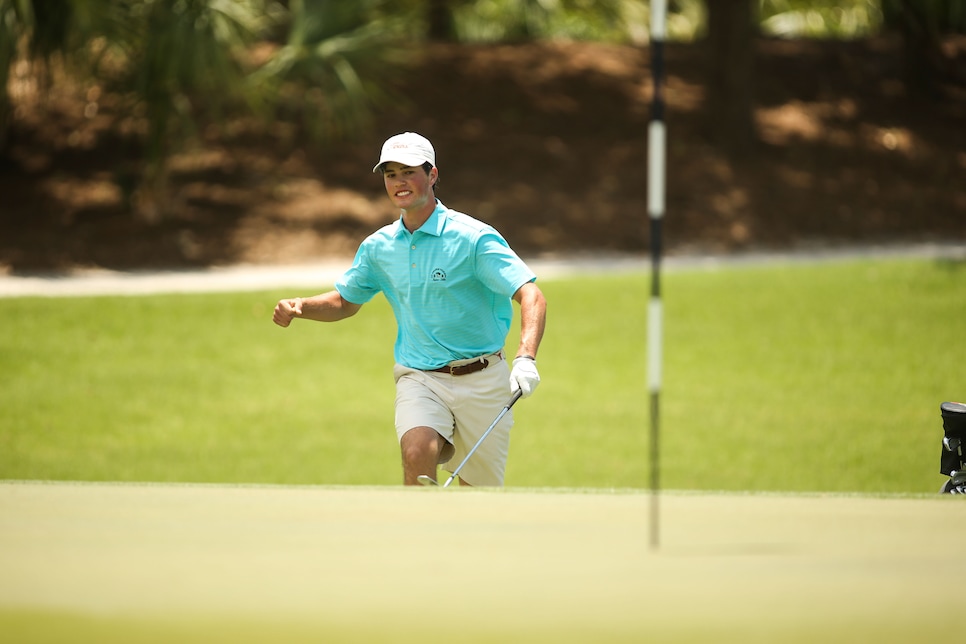 Copyright USGA/Darren Carroll
Hammer is a bit of a known commodity. As a 15-year-old, the Houston, Texas, native qualified for the U.S. Open at Chambers Bay. There, he played a practice round with Jordan Spieth, with whom he shares a swing coach, Cameron McCormick. The connection he has developed with Spieth helped solidify his intent to play for the Longhorns.
"Jordan worked with Cam and went to Texas, and I'm about to start that journey this fall," Hammer said. "It's been good. He's been really nice to me every time I've seen him. It's just fun to see what he does. It's an inspiration thing for me."
Barber's bona fides include a victory at the Jones Cup in February, defeating a field of top collegians and mid-amateurs. Living in Stuart, Fla., just 25 minutes from Jupiter Hills, made this week a home game.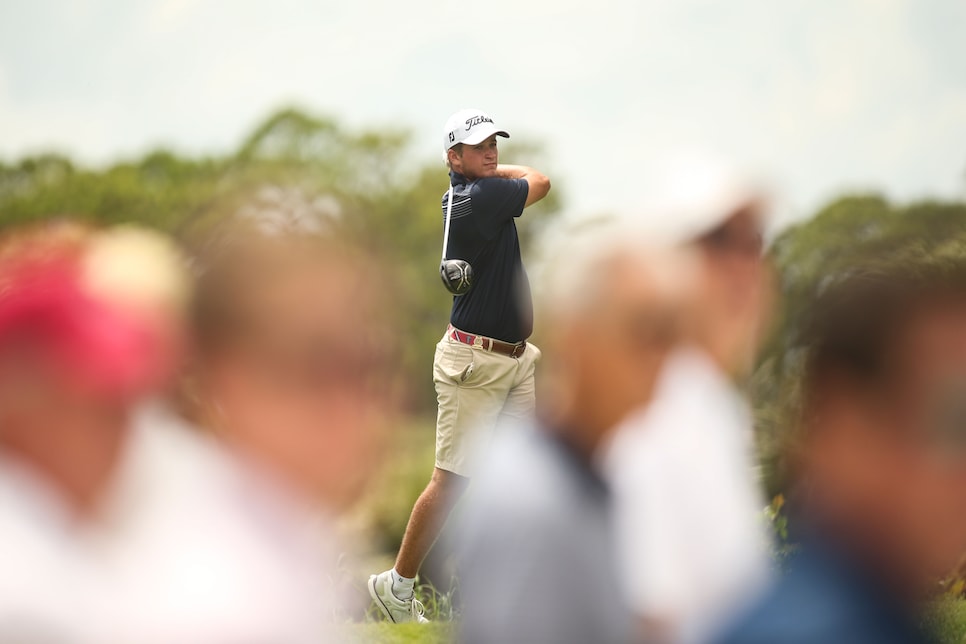 Copyright USGA/Darren Carroll
The USGA has been running championships for more than 120 years, but they don't have aggregated data for how collectively dominant a player or team has been in match play for any one championship. Seemingly, the most dominant performance in a USGA championship is Tiger Woods' 15-shot win at the 2000 U.S. Open in Pebble Beach. Comparing match play to stroke play is the old problem of apples and oranges, not to mention trying to compare an amateur field against a professional one. We'll concede, then, Tiger's triumph as the leader in the clubhouse for most dominant performances in USGA championship history. As for amateur events, Bobby Jones won the 36-hole championship match in his five U.S. Amateur victories by margins of 9 and 8, 8 and 7, 8 and 7, 10 and 9 and 8 and 7. We're guessing one of these years would probably hold up nicely against Hammer and Barber, if not out do them.
However, you get the point. You can go searching the USGA archives for a while, and you'd be hard pressed to count on two hands the number of weeks that would outshine the baby bashers at Jupiter Hills.