News
Junior standout Cole Hammer is getting older, wiser and anxious
The blue-chip high-school senior, set to sign with the University of Texas, is ready to follow in the footsteps of Jordan Spieth and Beau Hossler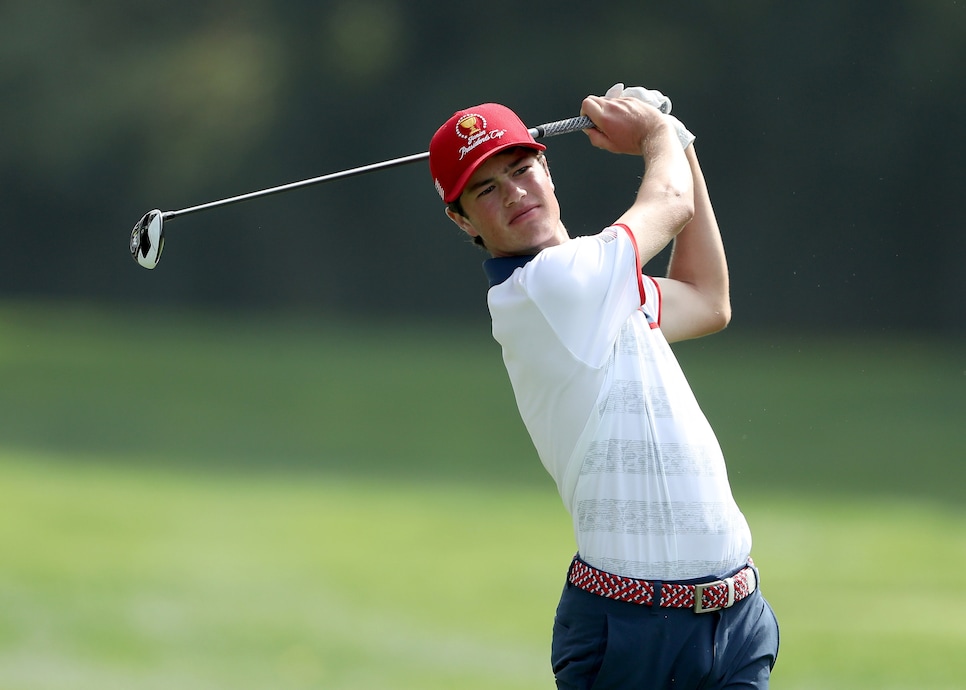 Photo By: David Cannon/Getty Images
Cole Hammer's voice is deeper, and at 6 feet he's almost tall enough to look Jordan Spieth in the eye. "It's just a different me now," he says on the phone this week in relation to when we last saw him in the golf spotlight—as a 15-year-old who was the third youngest player in history to qualify for the U.S. Open. Pre growth spurt, at Chambers Bay in 2015, the sophomore from Houston's Kincaid High School was barely 5-foot-7, 125 pounds. "A little taller than Jose Altuve," says his father, Gregg, referencing the Astros' World Series hero.
With his high-school graduation set for 2018, and his signature coming Nov. 8 on a National Letter of Intent to the University of Texas, the 150-pound Hammer finds himself in the footsteps of Jordan Spieth and Beau Hossler as the most recent blue-chip prospects joining the long tradition of Longhorn golf.
Those are two class acts Hammer hopes to follow. "Anybody who has gone on this path I'm hoping to go on is someone I look up to," Hammer says. "They did great things. That's what I'm hoping to do."
The respect goes both ways. Spieth noticeably took some extra time with Hammer when members of the Presidents Cup team met members of the Junior Presidents Cup team late last month at Plainfield Country Club in New Jersey. With much in common, they talked UT, shared stories of some mutual friends from the Longhorn Nation, told a few jokes, interacted with Cam McCormick (the swing coach they share) and came away feeling good about it.
"I'm sure it gave Cole a real boost having one of the best players in the world pick you out and spend a little more time talking to you," McCormick told me last week.
It wasn't like Hammer was in awe, or that their greeting was just for the cameras. To back up the depth of their relationship, Hammer told me recently, "It wasn't small talk. We just wanted to see how everybody was doing and [talk about] each other's lives. It was good to catch up with him."
Hammer has plenty of catching up to do career wise, but he has certainly grown up since meeting Spieth for the first time on the Monday before the Open at Chambers Bay. Spieth's former Longhorn teammate, Cody Gribble, set up a practice round with the then 21-year-old Masters champion and Hammer, who worked his way through local and sectional qualifying to earn his Open spot. Cole already looked up to Jordan the way Spieth and players of his generation looked up to Tiger Woods.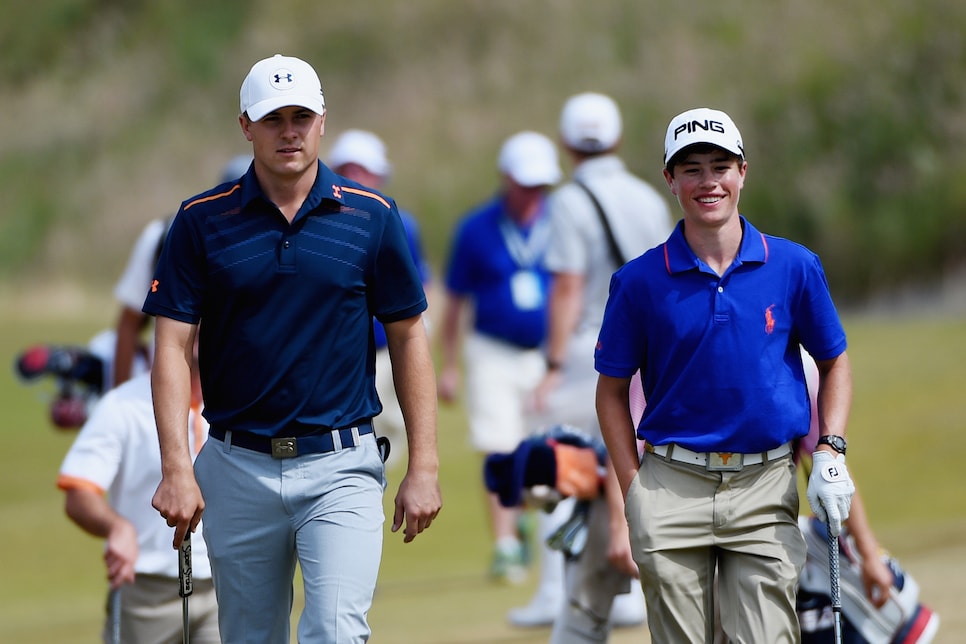 Ross Kinnaird/Getty Images
"I remember when I first started playing junior golf," Hammer said. "I would look at this ranking system called Junior Golf Scoreboard, and I remember when Jordan was a senior, his 2011 class. I saw his name at the very top [of the ranking] and I was like Wow, this kid is doing something right. I want to figure out what that is so I can be there one day."
Spieth told reporters at Chambers Bay that Hammer was getting better experience than he had at Cole's age, that he was the living image of the game's growth. Some of that experience Spieth alluded to was the image of Hammer hitting balls next to Rory McIlroy and chipping alongside Woods.
Hammer made his verbal commitment to Texas as an eighth grader in 2012. That was the same year Spieth led the Longhorns to the NCAA title and Hossler, a 17-year-old high schooler at the time, led the U.S. Open on Friday at the Olympic Club, the summer before he enrolled at UT.
Hammer first met Hossler and had a chance to hang out during Cole's unofficial visits to Austin. This year they played a practice round at his home club, River Oaks, to prepare for local U.S. Open qualifying—which they both made through.
"I had so many expectations on myself that I was getting really nervous to the point where it was just unnecessary." —Cole Hammer
Spieth and Hossler both had All-American careers at Texas before leaving early to turn pro. Will that be Hammer someday? That will depend on how much he grows into the big-boy shoes of his mentors and the coaching staff at Texas, John Fields and Jean-Paul Hebert. Hammer figures to improve by working with Fields and Hebert in the team environment, while also making trips to see McCormack at his learning center where he hits from the same bays Spieth uses when he's practicing at Trinity Forest. Hammer has been making visits since Thanksgiving two years ago.
Asked to describe what makes Hammer a talent, McCormick doesn't hesitate before saying, "An over-riding self belief." That's one way he's like Spieth although they play two different games. What does Hammer do best?
"He's straight," McCormick says. "He just hits it really straight."
The scouting report according to McCormick is that Hammer has improved around the greens but is still not in Spieth's league. (Of course, who is?) When it comes to distance off the tee, Hammer's ball speed is 158-160 miles per hour, which gives him the ability to fly it 260-270 yards. Never mind relative to Spieth; relative to the longest players Hammer faced in junior golf and will in college, he's 8-13 mph shy of U.S. Junior champion Noah Goodwin and Trent Phillips, a Rolex AJGA All-America in the Class of 2018 who has verbally committed to the University of Georgia.
Still, not being able to play a power game doesn't seem to bother Hammer. "I'm not disappointed in how far I hit it," he says confidently. "I hit it straighter than most guys I play with. It would be great to hit it a little farther. I'm working on it this offseason."
What's held back Hammer from hammering the ball farther was the elbow surgery that took him out of a strength-training environment for four frustrating months in 2016. At River Oaks, where his parents are multiple club champs, the members talk about Cole's dedication, especially during rehab from shoulder surgery when he'd out on the putting green, working on his stroke with one arm for hours, awaiting clearance from his orthopedic surgeon, who works with the Houston Astros.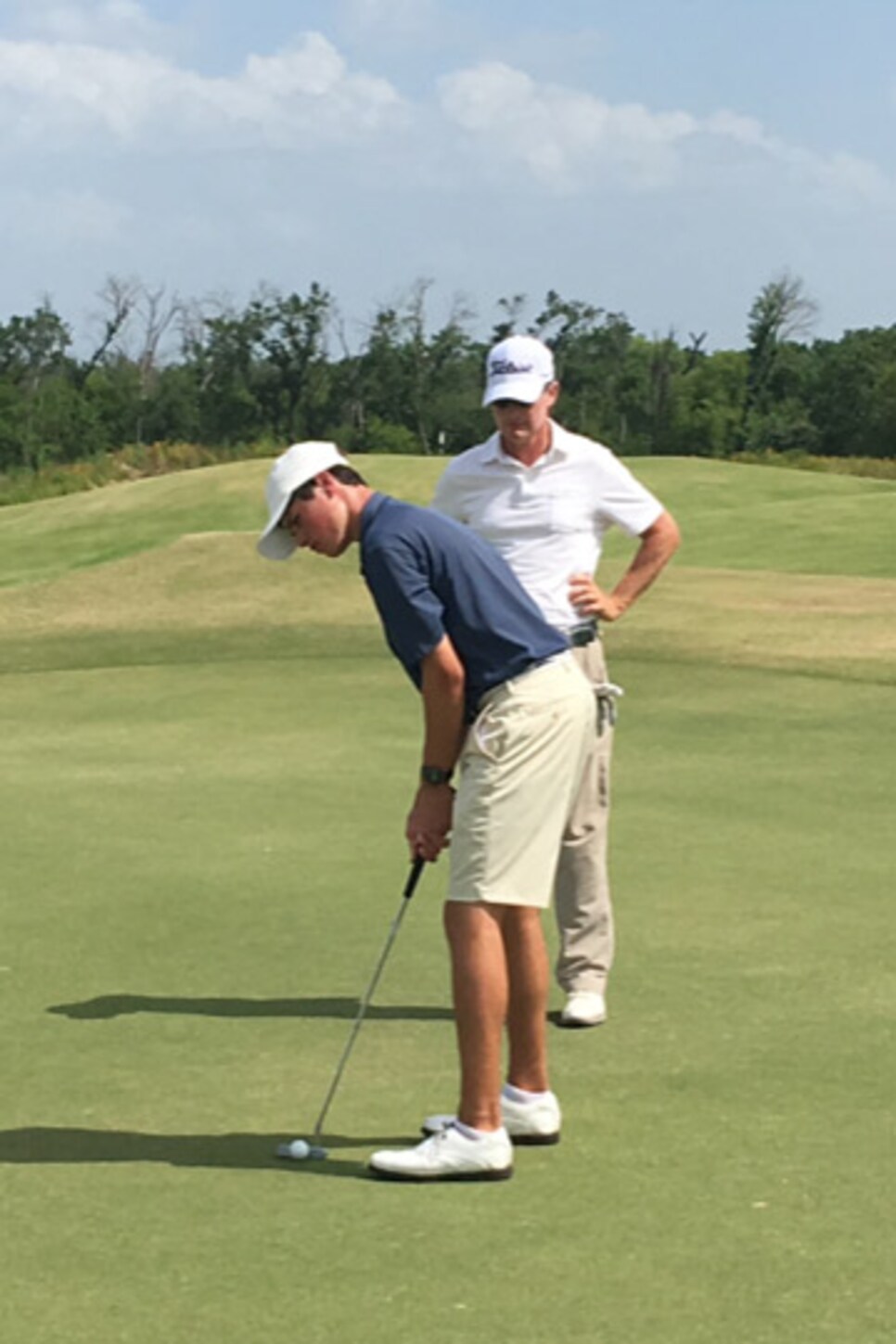 Courtesy of Cameron McCormick
Gregg Hammer, a financial planner with a plus-one handicap who caddied for his son at Chambers Bay, and Cole's mom, Allison, who plays off 5, could see the anxiousness. Cole had to get out of the house just to see a ball move across the green and to smell the golf course. "But you're right," Gregg says. "He was anxious to get through that process. He was pretty mature about it, very careful about what he did, following doctor's orders. For a kid I thought he was pretty mature in the way he handled it."
Besides the injury, Hammer was also feeling the pressure of being in a completely different world that required fulfilling media requests at every major amateur event on the calendar and dealing with his expectations he created for himself that come with qualifying for the Open at 15.
For a while, Hammer was in the conversation to make this year's Walker Cup squad based on top-10s at the Azalea Amateur, the Northeast Amateur and a second in the Junior Players Championship in 2016. His best result this year was a third-place finish at the Jones Cup in his return to competition this past February.
"He didn't have the summer he wanted that would have gotten him more serious [Walker Cup] consideration," Gregg says. Now ranked 70th in the World Amateur Golf Ranking, the goal is to make it get into the top 50 by the spring, which would exempt him into sectional qualifying for the U.S. Open in June and into the U.S. Amateur at Pebble Beach in August. Next up is the South Beach Amateur in December, and when the calendar flips, he'll play again in the Jones Cup, Sunnehanna, the Northeast Am, Pacific Coast Am, U.S. Junior, Western Am and, hopefully, the U.S. Am before enrolling at Texas in late August.
"I had so many expectations on myself that I was getting really nervous to the point where it was just unnecessary," Hammer admits. "I think I learned that now, and I'm looking forward to the next few years. I feel like without a ton of expectations and being a little removed from the U.S. Open, I'll have a little more ability to figure it out by myself, and get the results I want without expecting them."
At 18, he's matured from the kid we saw at Chambers Bay. But he's also young enough to be ranked 11th in the same Junior Golf Scoreboard, the benchmark that provided so much motivation not so long ago when he was watching Spieth embark on his time in Austin. Now, well, it's Hammer time.