The Loop
Here's where some of college football's top coaches play their golf
No news here: College football is like a religion in many parts of the United States. And thus, coaches are de-facto gods.
College football coaches have been compared to CEOs of Fortune 500 companies or national politicians. And just like corporate executives, many major Division I college coaches receive country club memberships and other golf opportunities included in their compensation.
For legendary football coach Steve Spurrier, that meant heading to Augusta National Golf Club as part of being the University of South Carolina football coach. No wonder why Spurrier loved USC, where he just retired from last year. Lou Holtz, another former South Carolina football coach, is also a member.
With college football season now underway, we decided to look at 10 of the country's top teams and where their coaches get to play golf. Turns out, these top college-football jobs come with some pretty sweet golf perks.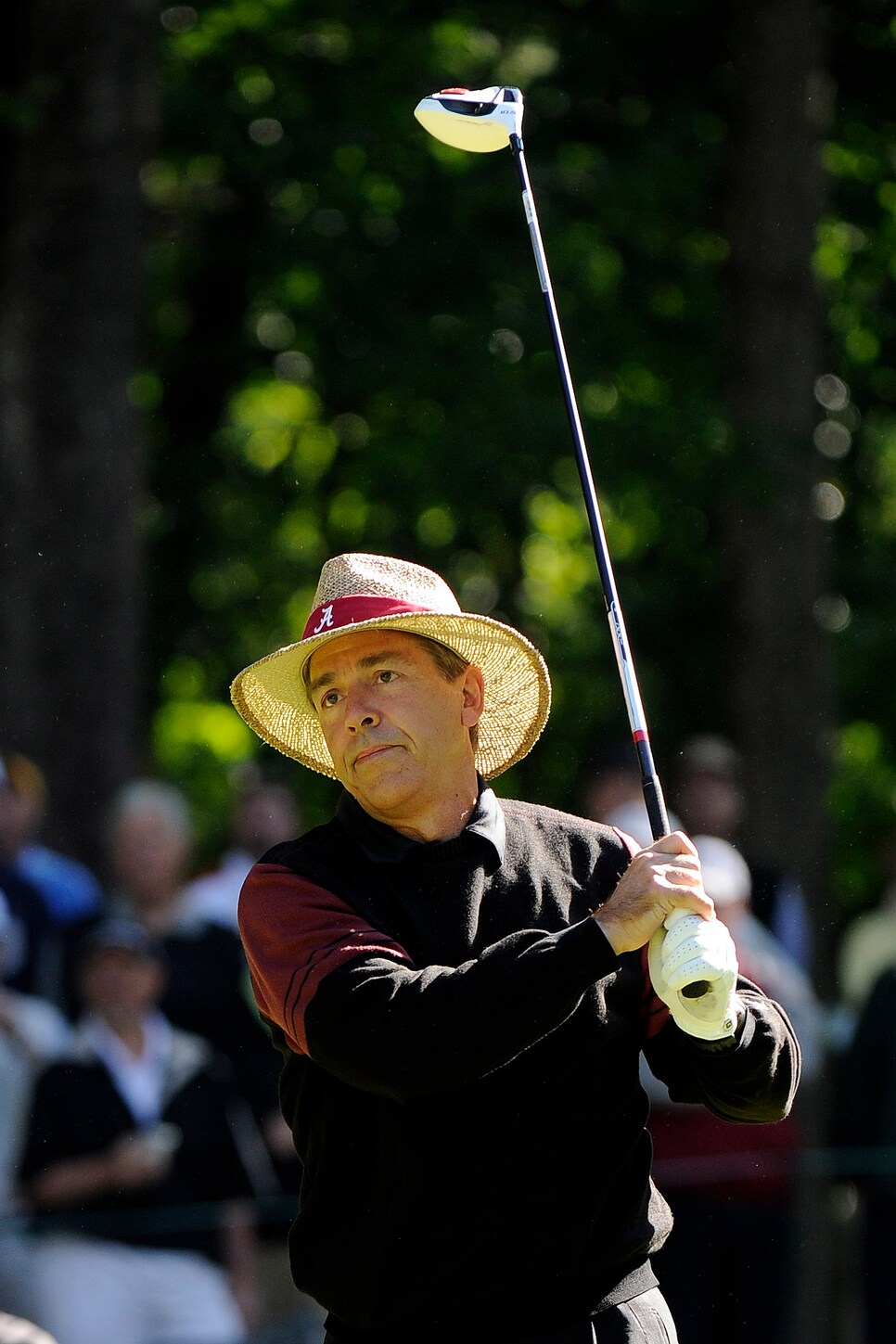 In addition to being one of the biggest names in football, Saban is a big golfer himself.
The Crimson Tide football coach has golf written into his contract, which states that the university will cover his country club- membership dues at a club within Tuscaloosa County. He is also a member at Georgia's Waterfall Club.
Saban lists himself as a 10.2 at Waterfall, but hasn't posted a score in four years. C'mon, Coach! You gotta stop working so hard. His swing, on display at the Regions Tradition, still looks pretty stout:
Just like Saban, whose Crimson Tide defeated Swinney's Clemson Tigers in the national championship last winter, Swinney is a big golfer.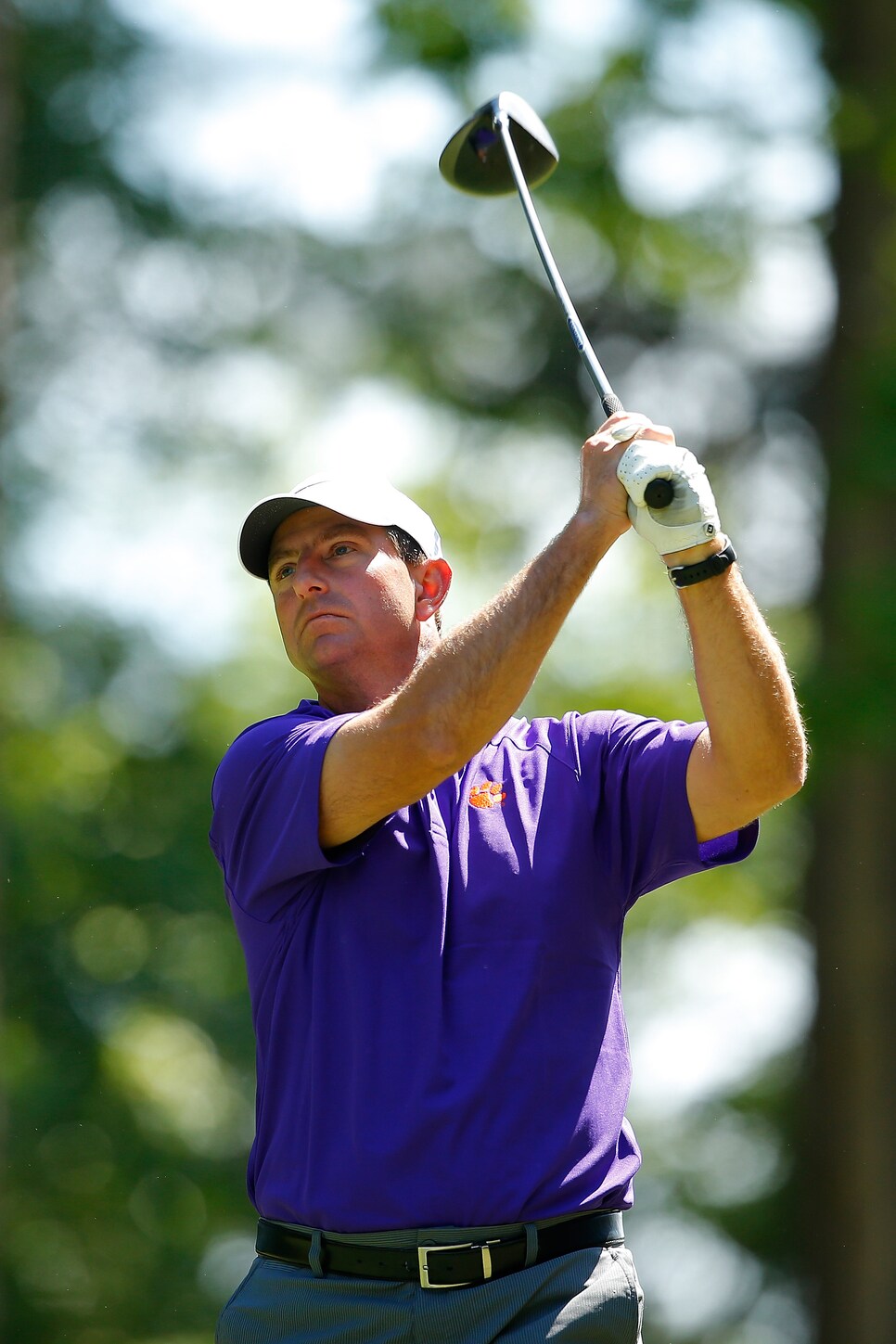 Chick-fil-A Peach Bowl/Abell Images/Todd Kirkland
Included in the coach's contract is a membership at The Reserve at Lake Keowee, ranked No. 19 on Golf Digest's Best in State in South Carolina. The club has embraced its ties to Clemson, too, turning its field into a mini football field as an ode to Clemson and its national championship run last season.
The Clemson coach says he plays the site of the Masters once a year.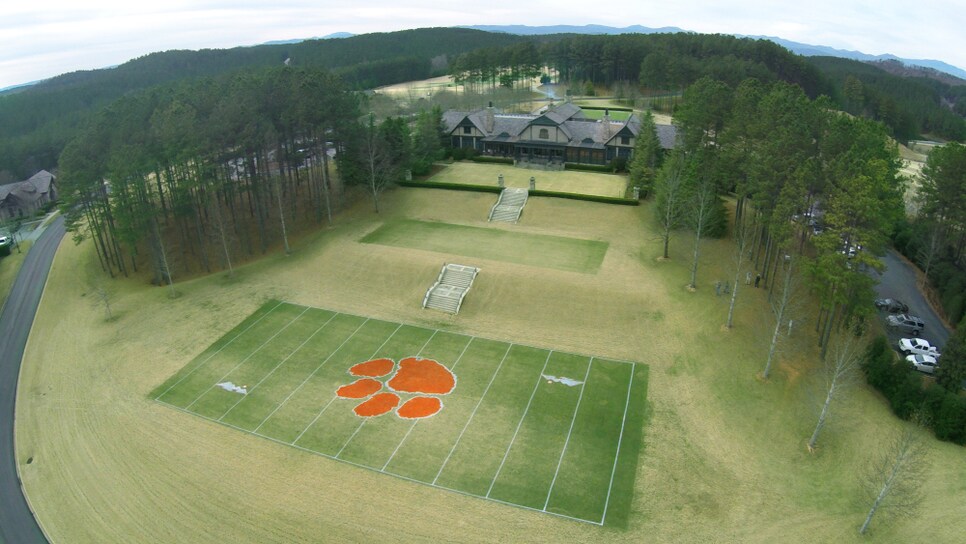 Florida State: Jimbo Fisher
There's not an explicit golf or country club perk as a part of Fisher's contract, but the Florida State coach lives at Golden Eagle Golf & Country Club in Tallahassee.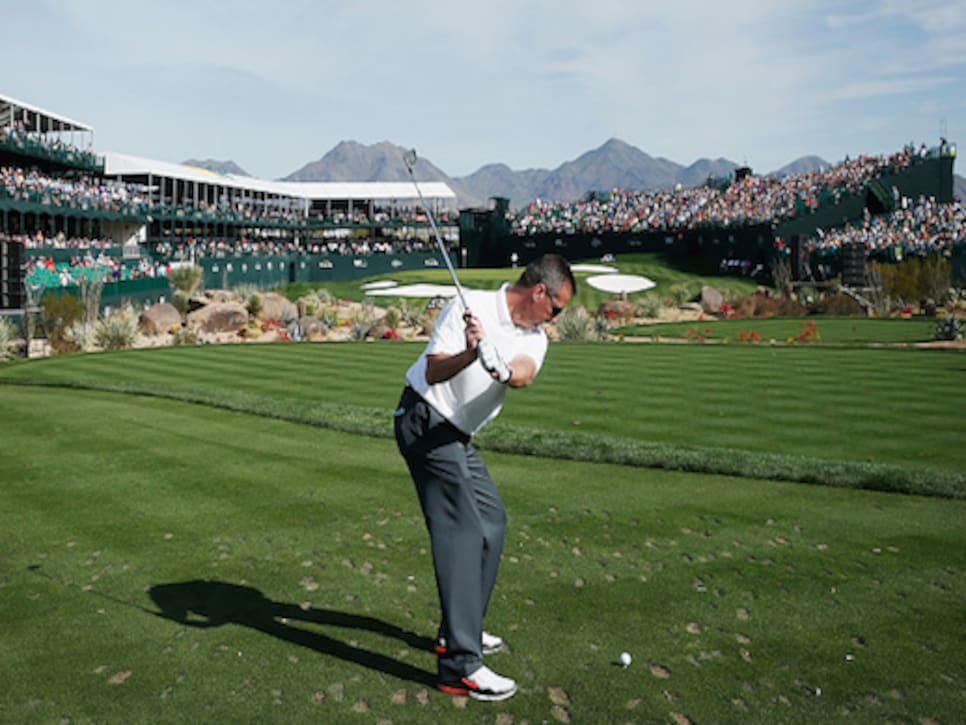 Coach Meyer is royalty in Ohio. And so it's only fitting he lives on a golf course designed by another legendary Ohioan, Jack Nicklaus.
Here's Urban at Muirfield during the Presidents Cup in 2013 with Jack. That's big company!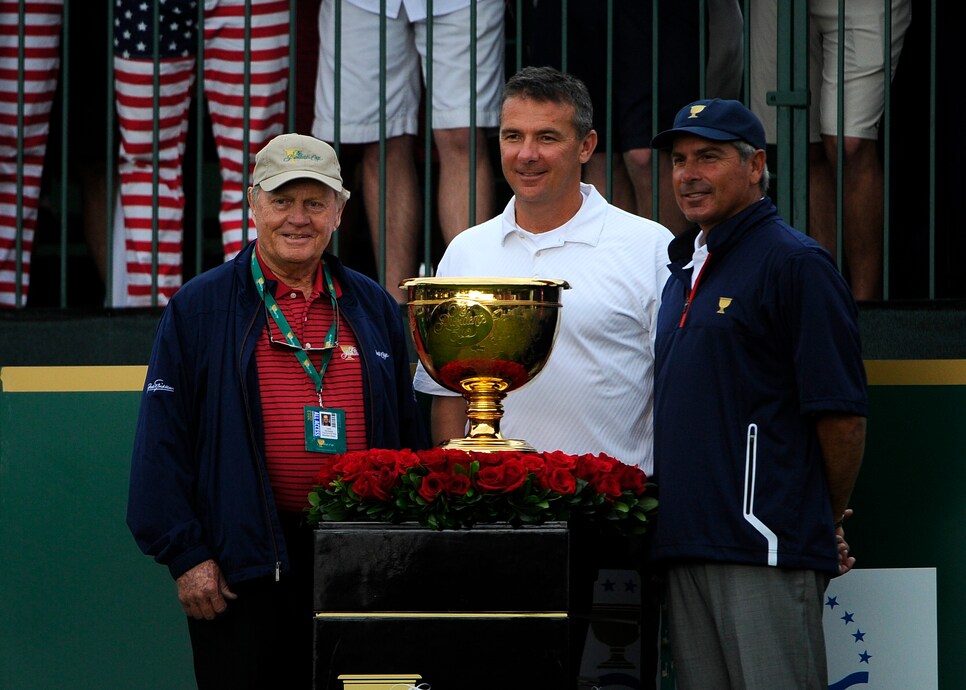 Urban maintains a 7.9 Handicap Index at Jack's course, where he lives in the community at Muirfield Village, No. 19 on Golf Digest's 100 Greatest courses.
The Michigan Wolverines coach, known for his love of khaki pants and short answers in press conferences, has teed it up in the Pebble Beach AT&T Pro-Am a couple times recently.
Is this Hideki Matsuyama or Jim Harbaugh? We can't tell. Look at that smooth swing.
He doesn't have an explicit golf or country-club perk, but Harbaugh knows the merits of golf. The Michigan coach hosted a a golf event to get a new scoreboard.
The coach of the upstart Houston Cougars hosts a charity golf outing every year. Word is that Herman plays a fair amount in the off-season, but stays off the course once the season starts.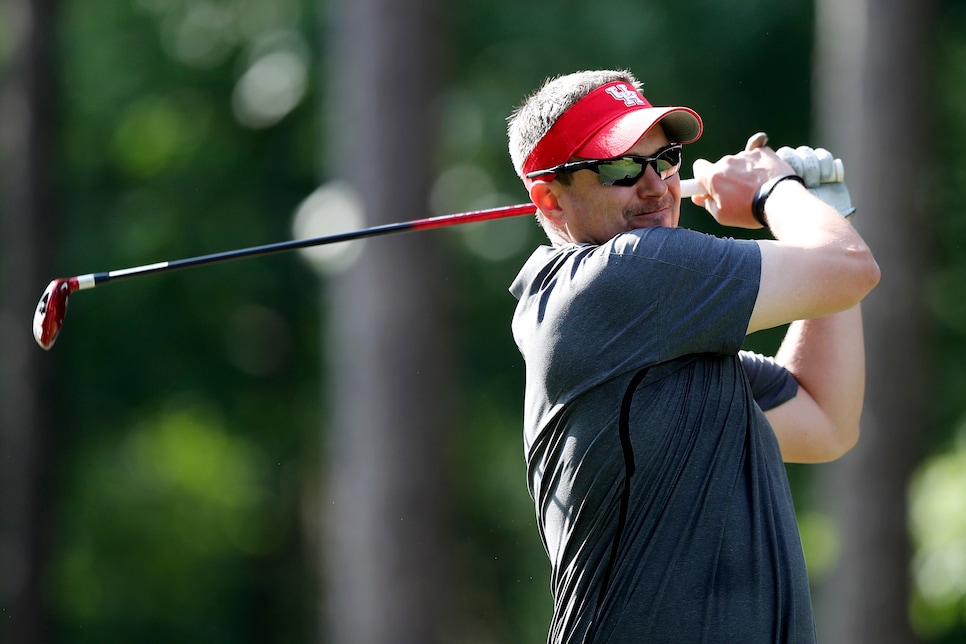 To start the season, Houston beat No. 3-ranked Oklahoma, which is coached by avid golfer Bob Stoops.
Apparently the Stanford Cardinal coach doesn't play golf. As someone close to him said, "only if it's Augusta." The 44-year-old coach sets a high bar!
Washington: Chris Petersen
No evidence of the former Boise State coach being a golf enthusiast. What's with these guys?!
No explicit golf or country club perk for Smart, but there is a $3,600 annual apparel allowance. You could buy a lot of golf shirts with that.
Former Wisconsin coach Bret Bielema had a country club membership in his contact, but Chryst says he's not much of a golfer. Chryst opted not to play in Wisconsin's booster club outing this summer. Instead he rode in a cart as his associate head coach Joe Rudolph played.
Coach Stoops is another high-profile college football coach who loves golf. He has played in the AT&T Pebble Beach Pro-Am and plays a lot in the offseason, carrying about a 4 handicap at Belmar Golf Club and the Jimmy Austin OU Course.
The Sooners coach also made a hole-in-one before last season started.
Another big-name coach who plays in the AT&T Pebble Beach Pro-Am, Kelly tees it up regularly with his wife.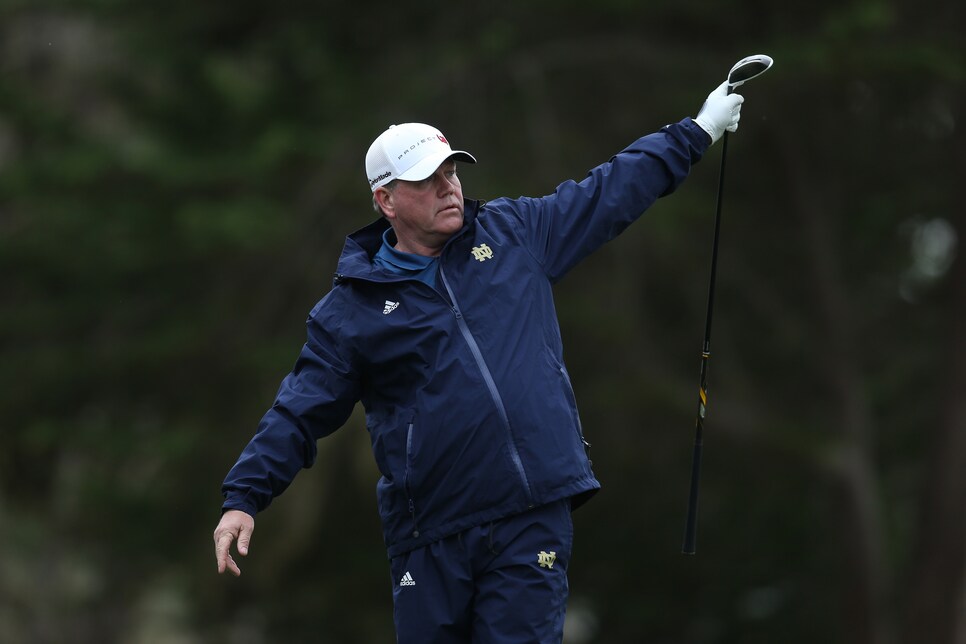 Kansas State: Bill Snyder
The long-time Kansas State coach gets a membership at Manhattan Country Club.