The Loop
Here's how you can score those sweet free tacos Kevin Durant just won everybody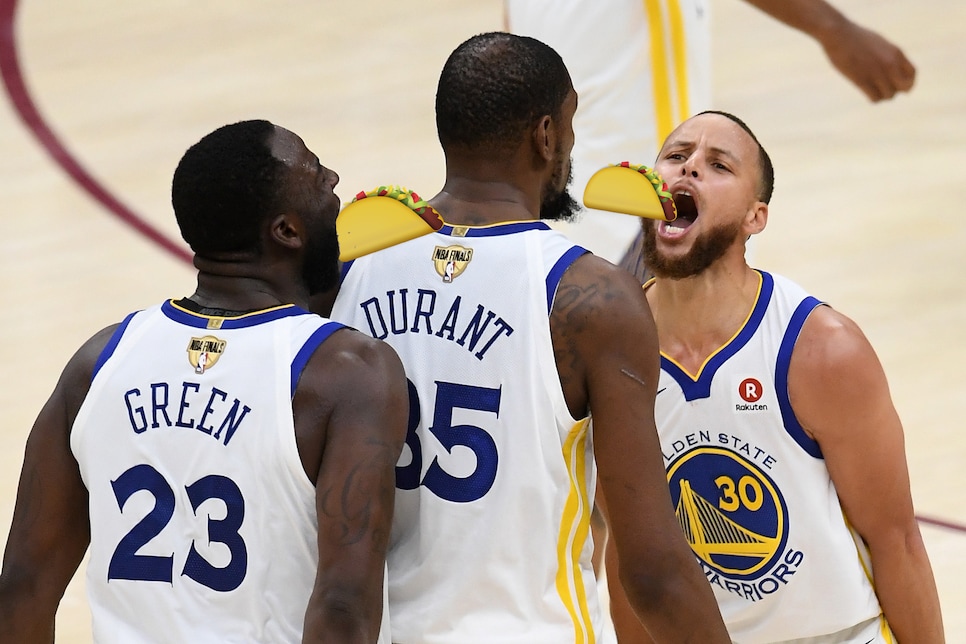 Kevin Durant had a strange Wednesday night in Cleveland. Between putting up 43 points in a pivotal Game 3 victory and getting triggered by a heckler who literally just yelled "UT's butt", KD also won free Taco Bell for all of America by almost single-handedly willing the Warriors to an NBA Finals road win:
Per Taco Bell's "Steal A Game, Steal A Taco" promotion (which you may remember the Warriors cashing in last year as well), now every single taco-loving soul in the great US of A is entitled to some gratis ground "beef" in the form a single Doritos Locos Taco. To claim your food poisoning prize, all you have to do head down to your local Taco Bell on Wednesday, June 13th between 2 and 6pm.
Just be prepared for a scene from The Day After Tomorrow 2, however, because America loves nothing more than free crap, no matter how crappy. Just ask the millions (seemingly) of pizza idiots who lined up outside Little Caesars around the midwest for a free Hot N'Ready after the 16-seed UMBC Retrievers took down the 1-seed Virginia Cavaliers back in March:
But don't worry, the fun doesn't stop there. You may even get the chance to this in line for hours for a second free taco on June 20th if Golden State wins game four on Friday night and sweeps the series, which they almost definitely will.