Payday at Galgorm
Here's the prize money payout for each golfer at the 2023 ISPS Handa World Invitational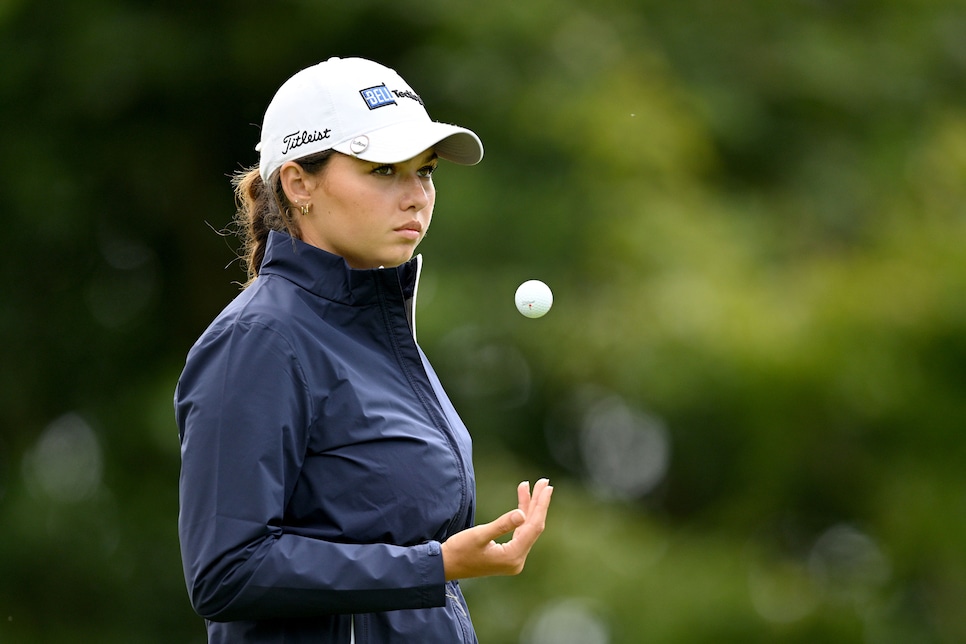 Alexa Pano gave herself a heck of a 19th birthday present, rallying on Sunday to win her first LPGA title at the ISPS Handa World Invitational.
Octavio Passos
The Florida native arrived in Northern Ireland this week with no clubs and no clothes (got to love airline travel) and just one top-20 finishes so far in 11 starts as a rookie on the LPGA Tour. And when Pano shot a disappointing six-over 76 in Thursday's opening round at Galgorm Castle, it looked like this wouldn't be her week either. But the former junior phenom who first gained noteriety as a 9-year-old in the documentary "The Short Game" shinned over the last 54 holes, shooting rounds of 70-69-66, including birdies on her final two holes, to get to eight under total and find herself in a three-way playoff with England's Gabriella Cowley and Germany's Esther Henseleit. Then with a birdie on the third playoff hole, Pano grabbed the win, joining Daniel Brown, who claimed DP World Tour title being run in the concurrent men's event on the course.
Pano was fortunate to get to the third playoff hole. After missing the fairway on the par 5, she scrambled to make a par, then watched Cowley, the overnight leader, miss a four-foot birdie try that would have given her the victory.
Pano is the second 19-year-old to win an LPGA this season, joining Rose Zhang, and the eighth first-time LPGA winner. With the victory, she grabbed the first-place prize money payout of $225,000 from the overall purse of $1.5 million (she had only made $33,548 in her LPGA career before the win). Pano also jumped to 38th in the Race to the CME Globe Tour Championship points standings from 132nd.
Here's the prize money payout for each golfer who made the cut at Galgorm Castle in Northern Ireland. We'll update this list shortly after the end of the tournament with individual names and payouts.
1: Alexa Pano, -8, $225,000
T-2: Esther Henseleit, -8, $122,794
T-2: Gabriella Cowley, -8, $122,794
4: Ryann O'Toole, -7, $79,875
5: Olivia Cowan, -6, $64,291
T-6: Azahara Munoz, -5, $48,315
T-6: Diksha Dagar, -5, $48,315
8: Peiyun Chien, -4, $38,575
9: Kim Metraux, -3, $34,678
T10: Wichanee Meechai, -2, $29,352
T-10: Noora Komulainen, -2, $29,352
T-10: Chloe Williams, -2, $29,352
T-13: Emma Spitz, -1, $24,053
T-13: Dani Holmqvist, -1, $24,053
T-13: Jasmine Suwannapura, -1, $24,053
T-16: Dewi Weber, E, $18,769
T-16: Sophie Witt, E, $18,769
T-16: Leona Maguire, E, $18,769
T16: Georgia Hall, E, $18,769
T16: Casandra Alexander, E, $18,769
T16: Soo Bin Joo, E, $18,769
T-16: Albane Valenzuela, E, $18,769
T-23: Nastasia Nadaud, +1, $15,177
T-23: Ana Pelaez Trivino, +1, $15,177
T-23: Arpichaya Yubol, +1, $15,177
T-23: Marissa Steen, +1, $15,177
T-27: Emily Kristine Pedersen, +2, $13,247
T-27: Muni He, +2, $13,247
T-27: Stephanie Meadow, +2, $13,247
T-30: Hannah Burke, +3, $11,533
T-30: Ruixin Liu, +3, $11,533
T-30: Trichat Cheenglab, +3, $11,533
T-30: Bronte Law, +3, $11,533
T-34: Weiwei Zhang, +4, $9,975
T-34: Karis Davidson, +4, $9,975
37: Meghan MacLaren, +6, $9,196
38: Hayley Davis, +7, $8,806
The following players did not make the 54-hole cut but did receive prize money:
Yuna Nishimura, +5, $7,949
Anne-Charlotte Mora, +5, $7,949
Jennifer Chang, +5, $7,949
Louise Ridderstrom, +6, $6,639
Mariajo Uribe, +6, $6,639
Nicole Broch Estrup, +6, $6,639
Lauren Hartlage, +7, $5,416
Daniela Darquea, +7, $5,416
Lily May Humphreys, +7, $5,416
Ellinor Sudow, +7, $5,416
Aline Krauter, +8, $4,598
Alessandra Fanali, +8, $4,598
Chanettee Wannasaen, +8, $4,598
Sarah Jane Smith, +9, $4,208
Linnea Johansson, +10, $3,975:
Riley Rennell, +10, $3,975
Sara Kjellker, +12, $3,741
Madelene Stavnar, +12, $3,741
Allison Emrey, +12, $3,741