Payday in Canada
Here's the prize money payout for each golfer at the 2023 LPGA CPKC Women's Open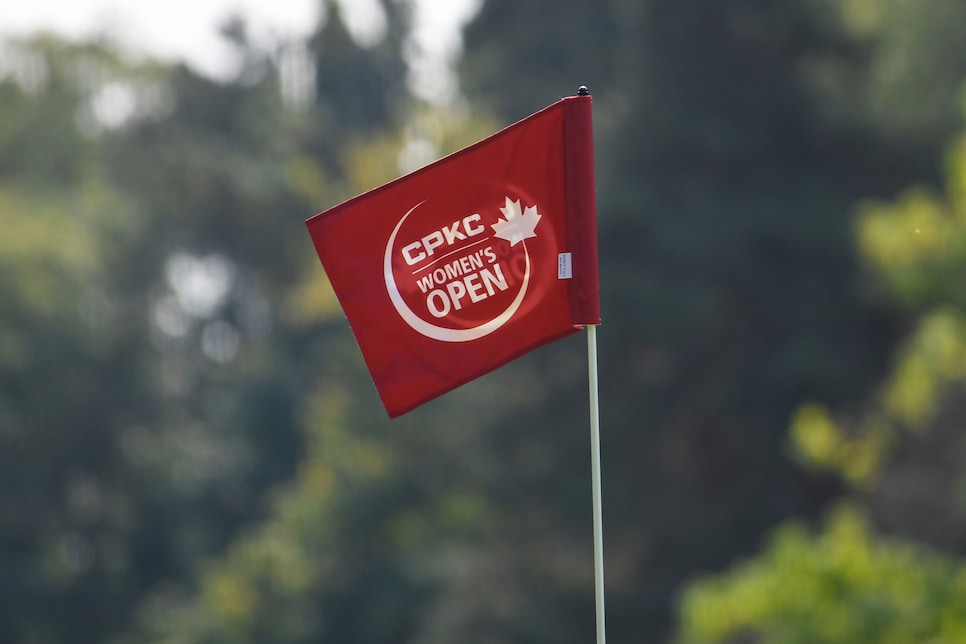 CPKC Women's Open champion Megan Khang will never forget her first LPGA win, even if it invovled a Sunday slog.
Squandering the three-shot lead she took into the final round at Shaughnessy Golf & Country Club in Vancouver, British Columbia, the 25-year-old Massachusetts native shot a closing two-over 74. But it came with a clutch six-foot birdie putt on the 18th hole that allowed her to force a playoff with Jin Young Ko at nine-under 279.
When Ko pulled her drive on the first extra hole (the par-4 18th once more) into some bushes, leading to her taking an unplayable lie, Khang seized the moment with a perfect drive and an approach that left her with an 18-footer for another birdie. She came up short, but the par was still good enough to capture a maiden title in her eighth season on tour and 191st career start.
With the win, Khang claimed a first-place prize money payout of $375,000 from an overall purse of $2.5 million. Here's the prize money payout for each golfer who made the cut this week in Canada.
Win: Megan Khang, -9, $375,000
P-2: Jin Young Ko, -9, $232,029
3: Ruoning Yin, -7, $168,321
T-4: Hannah Green, -6, $117,507
T-4: Sei Young Kim, -6, $117,507
T-6: Lauren Coughlin, -5, $78,761
T-6: Linn Grant, -5, $78,761
T8: In Gee Chun, -4, $56,954
T8: Jodi Ewart Shadoff, -4, $56,954
T8: Yuka Saso, -4, $56,954
T-11: Jeongeun Lee5, -3, $46,049
T-11: Georgia Hall, -3, $46,049
T-13: Nasa Hataoka, -2, $38,110
T-13: Brooke M. Henderson, -2, $38,110
T-13: Andrea Lee, -2, $38,110
T-13: Mi Hyang Lee, -2, $38,110
T-17: Allisen Corpuz, -1, $32,267
T-17: Arpichaya Yubol, -1, $32,267
T-19: Lucy Li, E, $29,218
T-19: Gabriela Ruffels, E, $29,218
T-19: Linnea Strom, E, $29,218
T-22: Lauren Stephenson, +1, $23,006
T-22: Ally Ewing, +1, $23,006
T-22: Alexa Pano, +1, $23,006
T-22: Minjee Lee, +1, $23,006
T-22: Celine Boutier, +1, $23,006
T-22: Lilia Vu, +1, $23,006
T-22: Patty Tavatanakit, +1, $23,006
T-22: Karis Davidson, +1, $23,006
T-22: Hye-Jin Choi, +1, $23,006: : : : : :
T-22: Jeongeun Lee6, +1, $23,006
T-32: Nanna Koerstz Madsen, +2, $17,308
T-32: Xiyu Lin, +2, $17,308
T-32: Bianca Pagdanganan, +2, $17,308
T-32: Nelly Korda, +2, $17,308
T-36: Alena Sharp, +3, $14,380
T-36: Wichanee Meechai, +3, $14,380
T-36: Ayaka Furue, +3, $14,380
T-36: Hyo Joo Kim, +3, $14,380
T-36: Jennifer Kupcho, +3, $14,380
T-41: Hae Ran Ryu, +4, $10,882
T-41: Rose Zhang, +4, $10,882
T-41: Lauren Hartlage, +4, $10,882
T-41: Alison Lee, +4, $10,882
T-41: Cheyenne Knight, +4, $10,882
T-41: Ariya Jutanugarn, +4, $10,882
T-41: Carlota Ciganda, +4, $10,882
T-41: Angel Yin, +4, $10,882
T-41: Maja Stark, +4, $10,882
T-50: Hinako Shibuno, +5, $8,765
T-50: Pauline Roussin, +5, $8,765
T-52: Jaravee Boonchant, +6, $8,003
T-52: Yealimi Noh, +6, $8,003
T-52: Ruixin Liu, +6, $8,003
T-52: Pavarisa Yoktuan, +6, $8,003
T-56: Jennifer Chang, +7, $7,114
T-56: Bailey Tardy, +7, $7,114
T-59: Danielle Kang, +8, $6,183
T-59: Weiwei Zhang, +8, $6,183
T-59: Celine Borge, +8, $6,183
T-59: Amanda Doherty, +8, $6,183
T-59: Christina Kim, +8, $6,183
T-59: Gabriella Then, +8, $6,183
T-65: Jing Yan, +9, $5,653
T-65: Perrine Delacour, +9, $5,653
67: Pernilla Lindberg, +11, $5,463
T-68: Min Lee, +12, $5,208
T-68: Jasmine Suwannapura, +12, $5,208
T-68: Brianna Do, +12, $5,208
71: Lydia Ko, +13, $5,019