Payday at Pelican
Here's the prize money payout for each golfer at the 2023 Annika driven by Gainbridge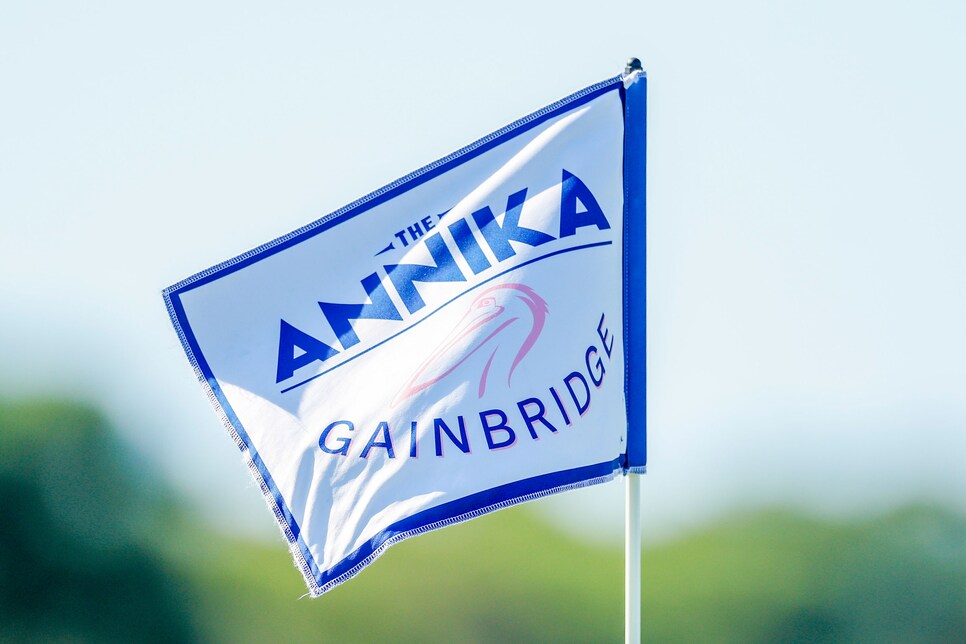 Vu started the day three shots back of Emily Kristine Pedersen, then posted a four-under 66. With Kristine Pedersen struggling to a 74, Vu quickly climbed the leaderboard, eventually posting a 19-under 261 total. She is now the second player with four wins on the season, joining Celine Boutier. But Vu jumped past Boutier in the Rolex Player of the Year points standings with her victory on Sunday, taking a commanding 196-169 lead with just next week's LPGA finale, the CME Group Tour Championship, to play.
With the win, Vu earned a first-place prize money payout of $487,500 from an overall purse of $3.25 million. Vu has made $3,252,303 this season, her fourth on tour, which is 77.8 percent of her career earnings ($4.175 million)
Here are the prize money payouts for everybody that made the cut at The Annika.
1: Lilia Vu, -19, $487,500
T-2: Alison Lee, -16, $262,260
T-2: Azahara Munoz, -16, $262,260
4: Amy Yang, -15, $170,594
T-5: Stephanie Kyriacou, -14, $124,827
T-5: Emily Kristine Pedersen, -14, $124,827
T-7: Ariya Jutanugarn, -13, $76,061
T-7: Lexi Thompson, -13, $76,061
T-7: Ruoning Yin, -13, $76,061
T-7: Megan Khang, -13, $76,061
T-7: Minami Katsu, -13, $76,061
T-12: Hae Ran Ryu, -12, $54,700
T-12: Wei-Ling Hsu, -12, $54,700
T-12: Gaby Lopez, -12, $54,700
T-15: Linn Grant, -11, $45,714
T-15: Rachel Kuehn (a), -11, Amateur
T-15: Amanda Doherty, -11, $45,714
T-15: Patty Tavatanakit, -11, $45,714
T-19: In Gee Chun, -10, $39,029
T-19: Bianca Pagdanganan, -10, $39,029
T-19: Brooke M. Henderson, -10, $39,029
T-19: Wichanee Meechai, -10, $39,029
T-23: Grace Kim, -9, $34,952
T-23: Sarah Schmelzel, -9, $34,952
T-25: Charley Hull, -8, $30,042
T-25: Allisen Corpuz, -8, $30,042
T-25: Cydney Clanton, -8, $30,042
T-25: Jasmine Suwannapura, -8, $30,042
T-25: Chanettee Wannasaen, -8, $30,042
T-25: Nelly Korda, -8, $30,042
T-31: Atthaya Thitikul, -7, $23,205
T-31: Jeongeun Lee5, -7, $23,205
T-31: Pornanong Phatlum, -7, $23,205
T-31: Jin Young Ko, -7, $23,205
T-31: Ally Ewing, -7, $23,205
T-31: Lydia Ko, -7, $23,205
T-31: Lindy Duncan, -7, $23,205
T-38: Leona Maguire, -6, $17,726
T-38: Gabriela Ruffels, -6, $17,726
T-38: Jodi Ewart Shadoff, -6, $17,726
T-38: Dewi Weber, -6, $17,726
T-38: Matilda Castren, -6, $17,726
T-38: Gina Kim, -6, $17,726
T-44: Maria Fassi, -5, $14,979
T-44: Soo Bin Joo, -5, $14,979
T-46: Nicole Broch Estrup, -4, $13,398
T-46: Caroline Inglis, -4, $13,398
T-46: Georgia Hall, -4, $13,398
T-46: Louise Rydqvist (a), -4, Amateur
T-46: Jaravee Boonchant, -4, $13,398
T-51: Pernilla Lindberg, -3, $11,179
T-51: Hye-Jin Choi, -3, $11,179
T-51: Yuna Nishimura, -3, $11,179
T-51: Carlota Ciganda, -3, $11,179
T-51: Jeongeun Lee6, -3, $11,179
T-51: Muni He, -3, $11,179
T-57: Sarah Kemp, -2, $9,653
T-57: Ruixin Liu, -2, $9,653
T-57: Perrine Delacour, -2, $9,653
60: Elizabeth Szokol, -1, $8,987
T-61: Polly Mack, E, $8,100
T-61: Ashleigh Buhai, E, $8,100
T-61: Olivia Cowan, E, $8,100
T-61: Eun-Hee Ji, E, $8,100
T-61: Hinako Shibuno, E, $8,100
T-61: Aline Krauter, E, $8,100
T-67: Gemma Dryburgh, +1, $7,406
T-67: Anna Nordqvist, +1, $7,406
69: Frida Kinhult,+ 5, $7,158