Payday in Singapore
Here's the prize money payout for each golfer at the 2023 HSBC Women's World Championship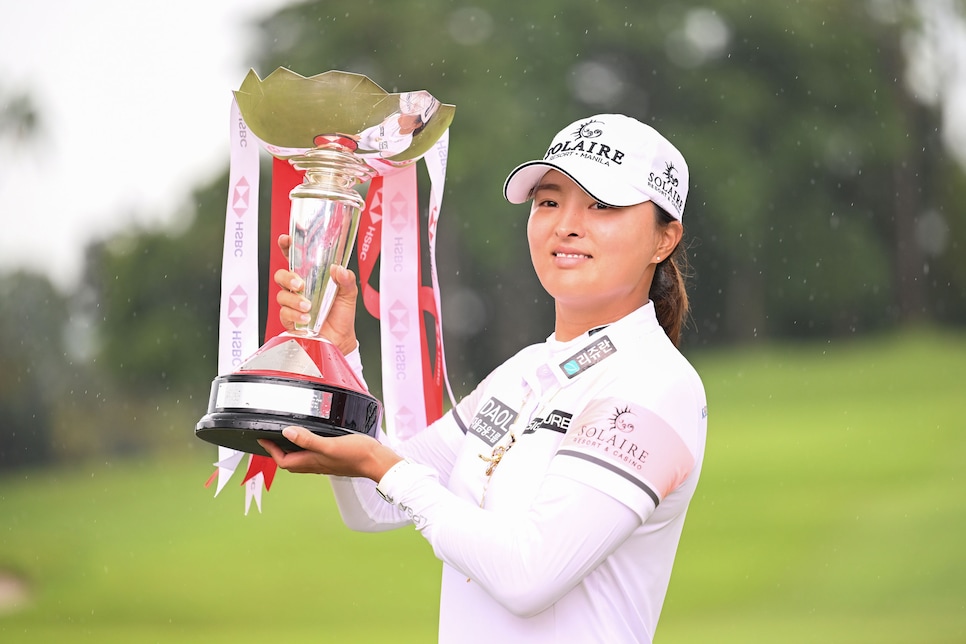 At this point in Jin Yonug Ko's career winning isn't about the money she collects, but rather the legacy she continues to leave behind. In picking up her 14th career LPGA title with a two-shot win at the HSBC Women's World Championship, the 27-year-old Ko can put a close on the longest stretch of poor play in her still young career and refocus a chase to some day get into the LPGA Hall of Fame (she had 19 points, with 27 needed to qualify).
That said, Ko's win at Sentosa Golf Club in Singapore was a lucrative won as she claimed a $270,000 first-place prize money payout from the $1.8 million purse. The check bumps Ko up two spots to 22nd on the all-time career money list with $10,680,535, passing Yani Tseng and Ariya Jutanugarn.
Here's the prize money payouts for everybody in the field in Singapore.
Win: Jin Young Ko, -17, $270,000
2: Nelly Korda, -15, $169,299
T-3: Ayaka Furue, -14, $98,097
T-3: Danielle Kang, -14, $98,097
T-3: Allisen Corpuz, -14, $98,097
6: Yuka Saso, -13, $62,566
7: Ashleigh Buhai, -12, $52,370
T-8: Hyo Joo Kim, -11, $43,565
T-8: Elizabeth Szokol, -11, $43,565
10: Atthaya Thitikul, -10, $37,539
T-11: Eun-Hee Ji, -9, $32,533
T-11: Nasa Hataoka, -9, $32,533
T-11: Celine Boutier, -9, $32,533
T-14: Georgia Hall, -8, $24,995
T-14: A Lim Kim, -8, $24,995
T-14: Madelene Sagstrom, -8, $24,995
T-14: Ariya Jutanugarn, -8, $24,995
T-14: Lilia Vu, -8, $24,995
T-14: Linn Grant, -8, $24,995
T-20: Hye-Jin Choi, -7, $20,207
T-20: Narin An, -7, $20,207
T-20: Hannah Green, -7, $20,207
T-20: Leona Maguire, -7, $20,207
T-24: In Gee Chun, -6, $16,419
T-24: Nanna Koerstz Madsen, -6, $16,419
T-24: Amy Yang, -6, $16,419
T-24: Jodi Ewart Shadoff, -6, $16,419
T-24: Sophia Schubert, -6, $16,419
T-24: Carlota Ciganda, -6, $16,419
T-24: Jenny Shin, -6, $16,419
T-31: Mina Harigae, -5, $13,718
T-31: Lydia Ko, -5, $13,718
T-33: Megan Khang, -4, $11,648
T-33: Hinako Shibuno, -4, $11,648
T-33: Anna Nordqvist, -4, $11,648
T-33: Yu Liu, -4, $11,648
T-33: Moriya Jutanugarn, -4, $11,648
T-33: Sei Young Kim, -4, $11,648
T-39: Xiyu Lin, -3, $9,454
T-39: Chella Choi, -3, $9,454
T-39: Alison Lee, -3, $9,454
T-39: Stacy Lewis, -3, $9,454
T-43: Yuting Shi, -2, $8,041
T-43: Jeongeun Lee6, -2, $8,041
T-43: Jennifer Kupcho, -2, $8,041
T-43: Cheyenne Knight, -2, $8,041
47: Gemma Dryburgh, -1, $7,322
T-48: Matilda Castren, E, $6,905
T-48: Brooke M. Henderson, E, $6,905
50: Pornanong Phatlum, +1, $6,488
51: Lizette Salas, +2, $6,304
T-52: Minjee Lee, +3, $5,839
T-52: Patty Tavatanakit, +3, $5,839
T-52: Gaby Lopez, +3, $5,839
T-52: Maja Stark, +3, $5,839
T-56: Andrea Lee, +4, $5,098
T-56: Pajaree Anannarukarn, +4, $5,098
T-56: Marina Alex, +4, $5,098
T-56: Ryann O'Toole, +4, $5,098
60: Maria Fassi, +6, $4,635
61: Tiffany Chan, +7, $4,543
62: Amanda Tan, +8, $4,449
63: Sarah Schmelzel, +9, $4,356
64: Paula Reto, +10, $4,264
65: Mao Saigo, +16, $4,170
66: Jessica Korda, +17, $4,078