Payday at Lake Nona
Here's the prize money payout for each golfer at the 2023 LPGA Hilton Grand Vacations Tournament of Champions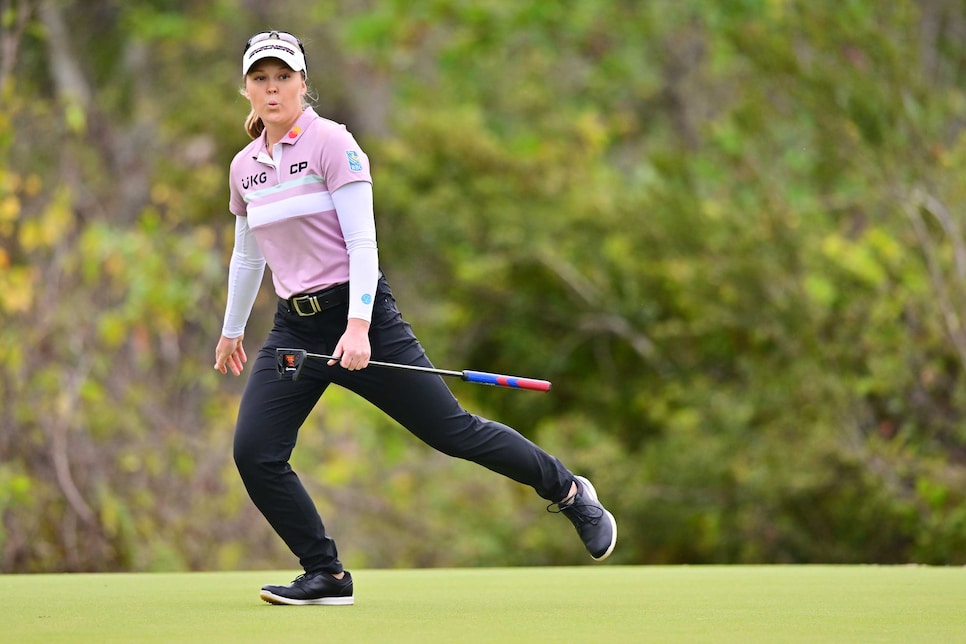 Brooke Henderson went wire-to-wire to win by four shots at Lake Nona and collect her 13th career LPGA title.
Julio Aguilar
This week at Lake Nona Country Club in Orlando, Fla., the 29 pros in the field were competing for $1.5 million, with the runaway winner, Brooke Henderson, banking $225,000 for her wire-to-wire victory.
At the start of the final round, the 25-year-old Canadian held a three-stroke edge over Nasa Hataoka and Nelly Korda. Instead of nerves, Henderson showed nothing but resolve on Sunday en route to her 13th career victory. Henderson made three birdies to a lone bogey for a closing 70 that gave her a 16-under 262 total, and a four-shot triumph over Maja Stark and Charley Hull when Hataoka shot a two-over 74 and Korda an even-par 72.
"It's so exciting," Henderson said after the final round. "I always try to win a couple times each year. So to get one right away, right out of the gate, takes a little bit of pressure off. I just love playing out here on the LPGA Tour every week. It's exciting to be in contention and even more exciting to hoist trophies."
The off-season was a bit busier than usual for Henderson. She had her wisdom teeth removed and put in a lot of work exploring her options with her equipment, having signed a new deal with TaylorMade that became official this week.
"Yeah a lot of big changes, but it couldn't have worked out any better," she said.
Below is the prize money payouts for every player in the field. Come back shortly after the tournament for an updated list of names and individual paydays.
1: Brooke M. Henderson, -16, $225,000
T-2: Maja Stark, -12, $152,898
T-2: Charley Hull, -12, $152,898
4: Nelly Korda, -11, $99,457
5: Nasa Hataoka, -9, $80,052
T-6: Gaby Lopez, -8, $56,117
T-6: Paula Reto, -8, $56,117
T-6: Yuka Saso, -8, $56,117
T-9: Leona Maguire, -6, $41,239
T-9: Ashleigh Buhai, -6, $41,239
11: Moriya Jutanugarn, -5, $36,386
T-12: Ryann O'Toole, -4, $31,890
T-12: Anna Nordqvist, -4, $31,890
T-12: Danielle Kang, -4, $31,890
15: Wei-Ling Hsu, -3, $28,139
T-16: Jennifer Kupcho, -2, $25,907
T-16: Gemma Dryburgh, -2, $25,907
T-18: Pajaree Anannarukarn, -1, $23,158
T-18: Ayaka Furue, -1, $23,158
T-18: Jodi Ewart Shadoff, -1, $23,158
T-21: Lizette Salas, E, $20,377
T-21: Nanna Koerstz Madsen, E, $20,377
T-21: Marina Alex, E, $20,377
T-21: Matilda Castren, E, $20,377
25: Ally Ewing, +1, $18,533
26: Celine Boutier,+ 2, $17,855
27: Andrea Lee, +3, $17,174
28: Patty Tavatanakit, +14, $16,495
29: Ariya Jutanugarn, +21, $15,816