Payday in Scotland
Here's the prize money payout for each golfer at the 2023 Freed Group Women's Scottish Open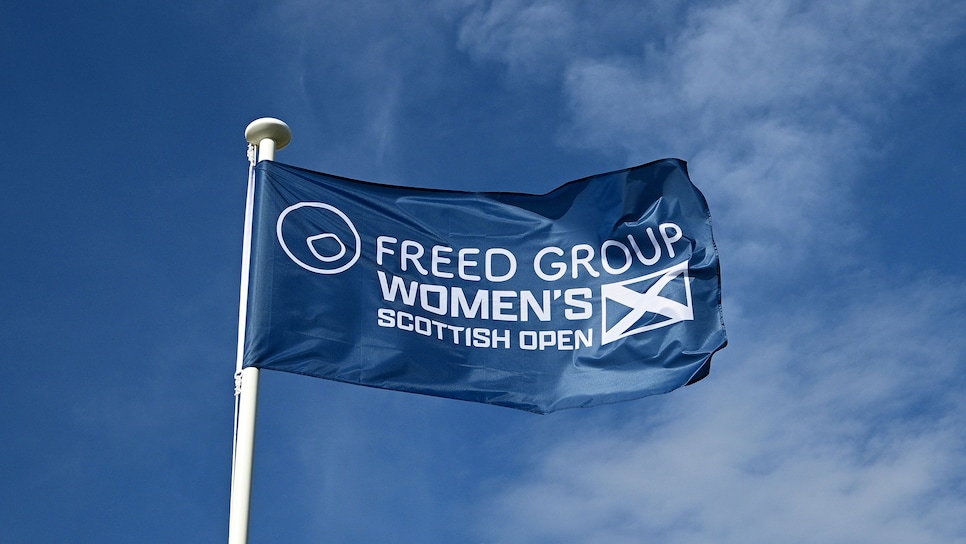 A week after saying that "nothing else matters" upon winning the Amundi Evian Championship in her home country of France ("I'm really good for the rest of the year"), Celine Boutier proceeded to win yet again, cruising to a two-shot victory at the Freed Group Women's Scottish Open after a final-round 70 at Dundonald Links in North Ayrshire, Scotland. In the process, the 29-year-old became the first Evian champ to win the next week since the event became a major in 2013.
To call it a career year for Boutier, 29, would be an understatement. In addition to her three victories—most of any player on the LPGA Tour in 2023—Boutier has three other top-10 finishes on the season. The $300,000 first-place prize money payout puts her past the $2 million mark in earnings for the year. She also now leads the CME Group points list.
Here's the prize money payout for everyone who made the cut this week in the tournament co-sanctioned by the LPGA and LET.
Win: Celine Boutier, -15, $300,000
2: Hyo Joo Kim, -13, $167,294
3: Ruoning Yin, -12, $111,529
T-4: A Lim Kim, -11, $75,282
T-4: Maja Stark, -11, $75,282
T-6: Nicole Broch Estrup, -10, $52,047
T-6: Patty Tavatanakit, -10, $52,047
T-6: Caroline Hedwall, -10, $52,047
T-9: Madelene Sagstrom, -9, $41,824
T-9: Sarah Kemp, -9, $41,824
T-9: Andrea Lee, -9, $41,824
T-9: Ally Ewing, -9, $41,824
T-13: Stephanie Kyriacou, -8, $35,318
T-13: Arpichaya Yubol, -8, $35,318
T-13: Minjee Lee, -8, $35,318
T-16: Jennifer Kupcho, -7, $31,135
T-16: Hinako Shibuno, -7, $31,135
T-16: Xiyu Janet Lin, -7, $31,135
T-16: Jenny Shin, -7, $31,135
T-20: Linn Grant, -6, $27,185
T-20: Esther Henseleit, -6, $27,185
T-20: Yu Liu, -6, $27,185
T-20: Yuna Nishimura, -6, $27,185
T-24: Linnea Strom, -4, $22,771
T-24: Nasa Hataoka, -4, $22,771
T-24: Sarah Schmelzel, -4, $22,771
T-24: Mi Hyang Lee, -4, $22,771
T-28: Jeongeun Lee6, -3, $17,324
T-28: Minami Katsu, -3, $17,324
T-28: Eleanor Givens, -3, $17,324
T-28: Megan Khang, -3, $17,324
T-28: Angel Yin, -3, $17,324
T-33: Celine Herbin, -2, $14,127
T-33: Eun Hee Ji, -2, $14,127
T-35: Frida Kinhult, -1, $10,575
T-35: Ana Peláez Triviño, -1, $10,575
T-35: Cara Gainer, -1, $10,575
T-35: Charley Hull, -1, $10,575
T-35: Gaby Lopez, -1, $10,575
T-35: Lee-Anne Pace, -1, $10,575
T-35: In Gee Chun, -1, $10,575
T-35: Lilia Vu, -1, $10,575
T-35: Maddie Szeryk, -1, $10,575
T-44: Gemma Dryburgh, E, $8,736
T-44: Na Rin An, E, $8,736
T-44: Soo Bin Joo, E, $8,736
T-47: Elin Arvidsson, +1, $7,714
T-47: Agathe Sauzon, +1, $7,714
T-47: Kim Metraux, +1, $7,714
T-47: Ayaka Furue, +1, $7,714
T-47: Amanda Doherty, +1, $7,714
T-47: Casandra Alexander, +1, $7,714
T-47: Annie Park, +1, $7,714
T-47: Perrine Delacour, + 1, $7,714
T-55: Aditi Ashok, +3, $6,413
T-55: Lauren Coughlin, +3, $6,413
T-55: Lydia Hall, +3, $6,413
T-55: Jasmine Suwannapura, +3, $6,413
T-55: Paula Reto, +3, $6,413
T-55: Emily Kristine Pedersen, +3, $6,413
T-61: Louise Duncan, +4, $5,669
T-61: Pernilla Lindberg, + 4, $5,669
T-63: Caroline Inglis, +5, $5,298
T-63: Ginnie Ding, +5, Amateur
T-63: Mel Reid, +5, $5,298
T-66: Alice Hewson, +6, $4,647
T-66: Bronte Law, +6, $4,647
T-66: Alison Lee, +6, $4,647
T-66: Marissa Steen, 6+, $4,647
T-66: Bailey Tardy, +6, $4,647
71: Leonie Harm, +8, $4,089
T-72: Magdalena Simmermacher, +12, $3,811
T-72: Emma Grechi, +12, $3,811
74: Klara Davidson Spilkova, +16, $3,532