Payday in Phoenix
Here's the prize money payout for each golfer at the 2023 Charles Schwab Cup Championship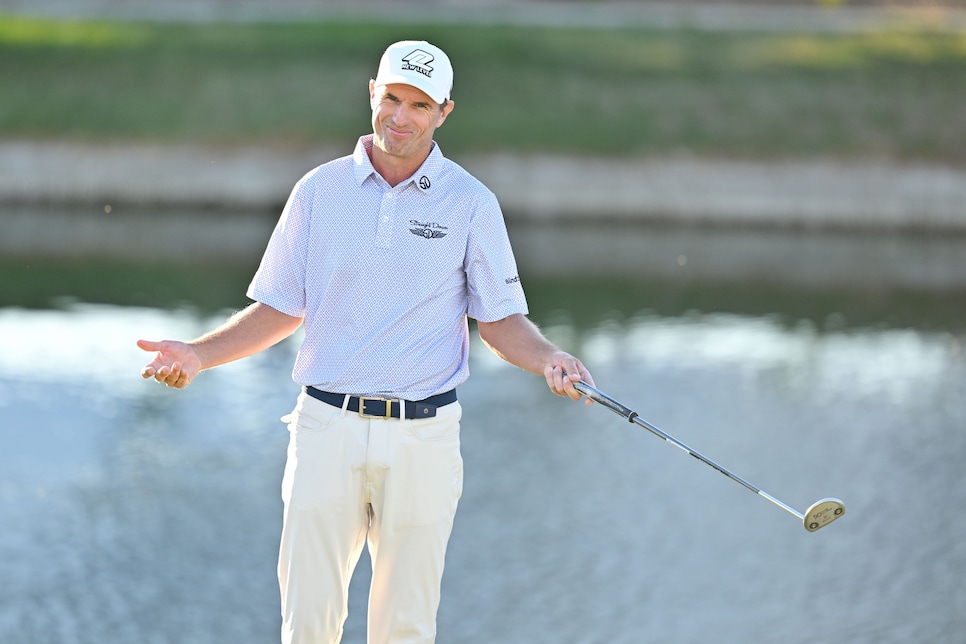 Steven Alker enjoyed a million-dollar afternoon on Sunday at Phoenix Country Club. The 52-year-old New Zealander was the last man standing at the Charles Schwab Cup Championship, the finale of the 2023 season on the PGA Tour Champions, when he held off Stephen Ames and Ernie Els by a shot with a final-round 70 for an 18-under 266 total.
The victory, Alker's second of the year and seventh for his career on the senior circuit, earned him a first-place prize money payout of $528,000. It also allowed Alker to jump into second place on the season-long Charles Schwab Cup points list, which was worth another $500K in bonus money.
Nice work if you can get it.
Also winning $1 million on Sunday was Steve Stricker, despite the fact he wasn't in the field this week. Stricker had an excused absence with his father being admitted—and thankfully released—from the hospital during the week. And while his peers were sending their best wishes to the Stricker family, not having to deal with the man who won six times and finished second an additional five times in 16 senior starts made things a bit easier in the Arizona desert.
Here's how the season-long bonus money shook out.
1: Steve Stricker, $1 million
2: Steven Alker, $500,000
4: Padraig Harrington, $200,000
5: Bernhard Langer, $100,000
And below is the prize money payout for each golfer who competing this week at Phoenix C.C.
Win: Steven Alker, 266/-18, $528,000
T-2: Stephen Ames, 267/-17, $276,000
T-2: Ernie Els, 267/-17, $276,000
T-4: Richard Green, 270/-14, $165,375
T-4: Padraig Harrington, 270/-14, $165,375
T-4: Thongchai Jaidee, 270/-14, $165,375
T-4: Vijay Singh, 270/-14, $165,375
T-8: Alex Cejka, 271/-13, $87,000
T-8: K.J. Choi, 271/-13, $87,000
T-8: Jerry Kelly, 271/-13, $87,000
T-8: Bernhard Langer, 271/-13, $87,000
T-12: Retief Goosen, 272/-12, $70,500
T-12: Y.E. Yang, 272/-12, $70,500
14: Miguel Angel Jiménez, 274/-10, $66,000
T-15: Harrison Frazar, 275/-9, $61,500
T-15: David Toms, 275/-9, $61,500
17: Dicky Pride, 276/-8, $57,000
T-18: Billy Andrade, 277/-7, $51,000
T-18: Joe Durant, 277/-7, $51,000
T-20: Marco Dawson, 278/-6, $39,000
T-20: Colin Montgomerie, 278/-6, $39,000
T-22: Paul Broadhurst, 280/-4, $31,500
T-22: Paul Stankowski, 280/-4, $31,500
T-24: Steve Flesch, 281/-3, $27,750
T-24: Justin Leonard, 281/-3, $27,750
26: Charlie Wi, 282/-2, $25,500
T-27: Darren Clarke, 283/-1, $23,250
T-27: Ken Duke, 283/-1, $23,250
29: Rob Labritz, 284/E, $21,750
T-30: Mark Hensby, 285/+1, $19,875
T-30: Robert Karlsson, 285/+1, $19,875
T-30: Brett Quigley, 285/+1, $19,875
T-30: Ken Tanigawa, 285/+1, $19,875
34: Mike Weir, 286/+2, $18,000
35: Rod Pampling, 292/+8, $17,250