Payday in Puerto Rico
Here's the prize money payout for each golfer at the 2023 Puerto Rico Open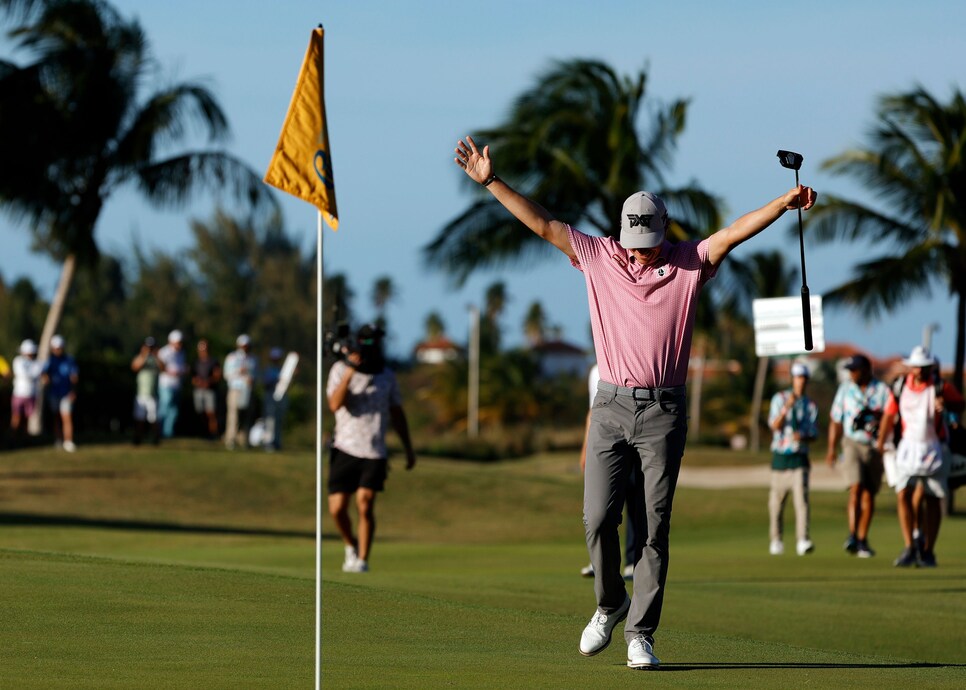 Nico Echavarria gestures to the crowd as he walks toward the green on the 18th hole at Gran Reserve Golf Club moments before winning the Puerto Rico Open for his first career PGA Tour title.
Carmen Mandato
A bumpy rookie season on the PGA Tour changed drastically on Sunday for Colombia's Nico Echavarria. After missing the cut in eight of his first 10 starts in the 2022-23 season, the 28-year-old Korn Ferry Tour graduate shot a closing 68 at Grand Reserve Golf Club for a 21-under 267 total to win the Puerto Rico Open by two shot over fellow rookie Akshay Bhatia.
With the win, Echavarria earned a spot into next week's Players Championship as well as securing his PGA Tour card for two years. Not bad for a golfer who was 144th in the FedEx Cup points standings starting the week.
A two-time winner on the PGA Tour Latinoamerica in 2018, Echavarria had made a mere $195,458 on the season, a $138,908 check for his T-12 at the Sony Open in January his biggest payday. But that changed in Puerto Rico, where he earned the $684,000 first-place prize money payout from the $3.8 million purse.
Here's the prize money payout for each golfer who made the cut this week in Puerto Rico.
Win: Nico Echavarria, 267/-21, $684,000
2: Akshay Bhatia, 269/-19, $414,200
T-3: Nate Lashley, 272/-16, $224,200
T-3: Carson Young, 272/-16, $224,200
5: Michael Kim, 273/-15, $155,800
6: Wesley Bryan, 274/-14, $137,750
T-7: Cody Gribble, 275/-13, $115,425
T-7: Harry Hall, 275/-13, $115,425
T-7: Harry Higgs, 275/-13, $115,425
T-7: John VanDerLaan, 275/-13, $115,425
T-11: Ryan Gerard, 276/-12, $84,550
T-11: Tano Goya, 276/-12, $84,550
T-11: Bill Haas, 276/-12, $84,550
T-11: Geoff Ogilvy, 276/-12, $84,550
T-15: Kevin Chappell, 277/-11, $59,850
T-15: Grayson Murray, 277/-11, $59,850
T-15: Henrik Norlander, 277/-11, $59,850
T-15: Augusto Núñez, 277/-11, $59,850
T-15: Sam Stevens, 277/-11, $59,850
T-15: Chris Stroud, 277/-11, $59,850
T-21: Anders Albertson, 278/-10, $35,957.50
T-21: Derek Ernst, 278/-10, $35,957.50
T-21: Paul Haley II, 278/-10, $35,957.50
T-21: Derek Lamely, 278/-10, $35,957.50
T-21: Hank Lebioda, 278/-10, $35,957.50
T-21: Vincent Norrman, 278/-10, $35,957.50
T-21: Scott Piercy, 278/-10, $35,957.50
T-21: Richy Werenski, 278/-10, $35,957.50
T-29: Scott Harrington, 279/-9, $26,030
T-29: S.Y. Noh, 279/-9, $26,030
T-29: Josh Teater, 279/-9, $26,030
32: Erik van Rooyen, 280/-8, $23,750
T-33: Ricky Barnes, 281/-7, $19,841.43
T-33: Scott Brown, 281/-7, $19,841.43
T-33: Greg Chalmers, 281/-7, $19,841.43
T-33: Noah Goodwin, 281/-7, $19,841.43
T-33: Max McGreevy, 281/-7, $19,841.43
T-33: Kevin Roy, 281/-7, $19,841.43
T-33: Matti Schmid, 281/-7, $19,841.42
T-40: Brent Grant, 282/-6, $15,390
T-40: Andrew Landry, 282/-6, $15,390
T-40: Brandon Matthews, 282/-6, $15,390
T-40: Trevor Werbylo, 282/-6, $15,390
T-44: Jason Dufner, 283/-5, $12,350
T-44: Jim Herman, 283/-5, $12,350
T-44: Andrew Novak, 283/-5, $12,350
T-44: D.J. Trahan, 283/-5, $12,350
T-48: Ryan Blaum, 284/-4, $9,740.67
T-48: Jonathan Byrd, 284/-4, $9,740.67
T-48: Rafael Campos, 284/-4, $9,740.67
T-48: Camilo Villegas, 284/-4, $9,740.67
T-48: Brice Garnett, 284/-4, $9,740.66
T-48: Dylan Wu, 284/-4, $9,740.66
T-54: Kevin Stadler, 285/-3, $8,968
T-54: Kyle Stanley, 285/-3, $8,968
T-54: Jiri Zuska, 285/-3, Amateur
T-57: William McGirt, 286/-2, $8,816
T-57: Nick Watney, 286/-2, $8,816
T-59: Brandon Harkins, 287/-1, $8,664
T-59: Ted Potter, Jr., 287/-1, $8,664
T-61: Ryan Armour, 288/E, $8,474
T-61: George McNeill, 288/E, $8,474
T-61: Sean O'Hair, 288/E, $8,474
T-64: Jonas Blixt, 289/+1, $8,208
T-64: MJ Daffue, 289/+1, $8,208
T-64: Richard S. Johnson, 289/+1, $8,208
T-64: Martin Trainer, 289/+1, $8,208
68: Ben Crane, 290/+2, $8,018
69: Sung Kang, 291/+3, $7,942
70: Trevor Cone, 294/+6, $7,866