Payday in Scotland
Here's the prize money payout for each golfer at the 2022 Trust Golf Women's Scottish Open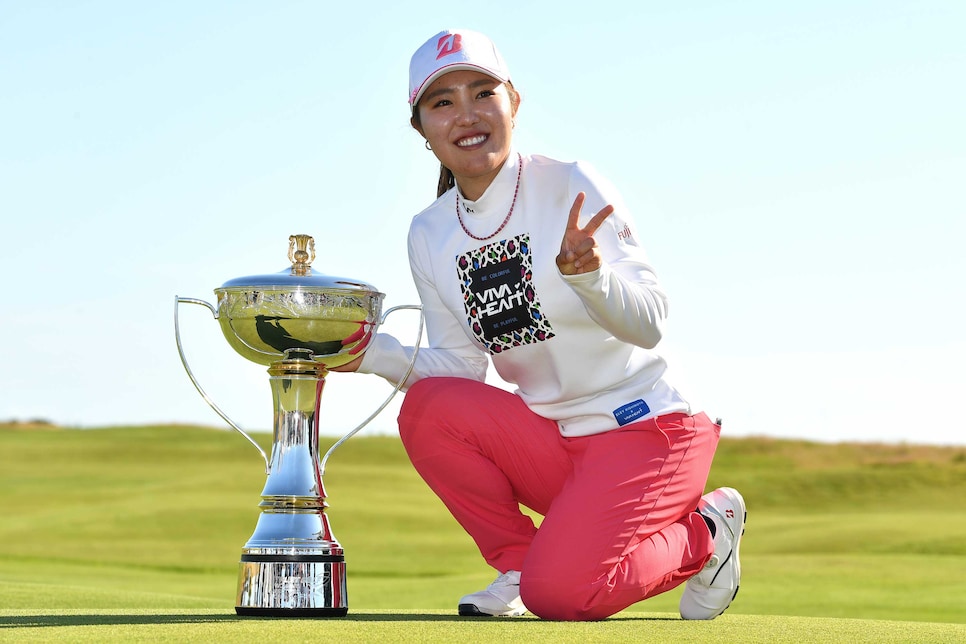 Ayaka Furue of Japan poses at the 18th green with the trophy after winning the Trust Golf Women's Scottish Open with a final-round 62.
Mark Runnacles
Japan's Ayaka Furue came into the 2022 LPGA season with some lofty expectations. The 22-year-old had won seven times previously on the pro circuit in her home country and finished seventh in LPGA Q Series to earn qualify for her rookie season in the U.S. While finishing second at the Bank of Hope LPGA Match Play, and making 13 cuts in 14 stroke-play starts, her best showing to date, however, was only a T-17.
That changed Sunday when Furue shot a blistering 10-under 62 at the Dundonald Links. It pushed her past Lydia Ko and Celine Boutier to claim the title at the Trust Golf Women's Scottish Open. With the victory, Furue won the first-place prize money payout of $300,000 from an overall purse of $2 million. That almost doubled her season/career earnings ($377,285).
Furue joins Atthaya Thitikul as the only other rookie to win on tour in 2022 and the fifth first-time winner, joining Jennifer Kupcho, Nana Koerstz Madsen and Leona Maguire.
Here's the prize money payout for each golfer who made the cut in the tournament.
Win: Ayaka Furue, -21, $300,000
2: Celine Boutier, -18, $167,294
T-3: Hyo Joo Kim, -17, $97,588
T-3: Cheyenne Knight, -17, $97,588
T-5: Alison Lee, -16, $62,271
T-5: Lydia Ko, -16, $62,271
7: Nasa Hataoka, -15, $52,047
T-8: Wichanee Meechai , -14, $44,612
T-8: Lilia Vu, -14, $44,612
T-8: Maude-Aimee Leblanc, -14, $44,612
T-11: In Gee Chun, -13, $39,035
T-11: Hye-Jin Choi, -13, $39,035
T-11: Narin An, -13, $39,035
14: Madelene Sagstrom, -12, $35,318
T-15: Ryann O'Toole, -11, $32,529
T-15: Xiyu Janet Lin, -11, $32,529
T-15: Leonie Harm, -11, $32,529
T-18: Minjee Lee, -10, $27,665
T-18: Charley Hull, -10, $27,665
T-18: Gaby Lopez, -10, $27,665
T-18: Bronte Law, -10, $27,665
T-18: Georgia Hall, -10, $27,665
T-18: Eun-Hee Ji, -10, $27,665
T-24: Yuka Saso, -9, $21,005
T-24: Moriya Jutanugarn, -9, $21,005
T-24: Megan Khang, -9, $21,005
T-24: Sei Young Kim, -9, $21,005
T-24: Chanettee Wannasaen , -9, $21,005
T-29: Chella Choi, -8, $17,101
T-29: Patty Tavatanakit, -8, $17,101
T-31: Ally Ewing, -7, $14,685
T-31: Amy Yang, -7, $14,685
T-31: Jasmine Suwannapura, -7, $14,685
T-34: Jennifer Kupcho, -6, $12,082
T-34: Perrine Delacour, -6, $12,082
T-34: Hannah Green, -6, $12,082
T-34: Gemma Dryburgh, -6, $12,082
T-38: Stephanie Meadow, -5, $10,224
T-38: Anna Nordqvist, -5, $10,224
T-38: Lauren Stephenson, -5, $10,224
T-41: Lindsey Weaver-Wright, -4, $9,268
T-41: Carmen Alonso, -4, $9,268
T-41: Esther Henseleit, -4, $9,268
T-41: Mina Harigae, -4, $9,268
T-41: Sanna Nuutinen, -4, $9,268
T-41: Andrea Lee, -4, $9,268
T-41: A Lim Kim, -4, $9,268
T-48: Pia Babnik, -3, $7,714
T-48: Johanna Gustavsson, -3, $7,714
T-48: Tiia Koivisto, -3, $7,714
T-48: Sarah Schober, -3, $7,714
T-48: Pannarat Thanapolboonyaras , -3, $7,714
T-48: Haeji Kang, -3, $7,714
T-48: Jeongeun Lee6, -3, $7,714
T-48: Pauline Roussin, -3, $7,714
T-56: Sophia Popov, -2, $6,413
T-56: Marina Alex, -2, $6,413
T-56: Allisen Corpuz, -2, $6,413
T-56: Jennifer Chang, -2, $6,413
T-56: Emma Grechi, -2, $6,413
T-56: Anne van Dam, -2, $6,413
T-62: Ariya Jutanugarn, -1, $5,576
T-62: Becky Brewerton, -1, $5,576
T-62: Wei-Ling Hsu, -1, $5,576
T-65: Emily Kristine Pedersen, E, $4,926
T-65: Pornanong Phatlum , E, $4,926
T-65: Ana Pelaez Trivino, E, $4,926
T-65: Jessica Karlsson, E, $4,926
T-69: Kylie Henry, +1, $4,368
T-69: Kelly Tan, +1, $4,368
T-71: Morgane Metraux, +3, $3,996
T-71: Jin Young Ko, +3, $3,996
73: Maria Hernandez, +6, $3,718
T-74: Arpichaya Yubol , +7, $3,439
T-74: Chloe Williams, +7, $3,439