Payday in Ohio
Here's the prize money payout for each golfer at the 2022 Dana Open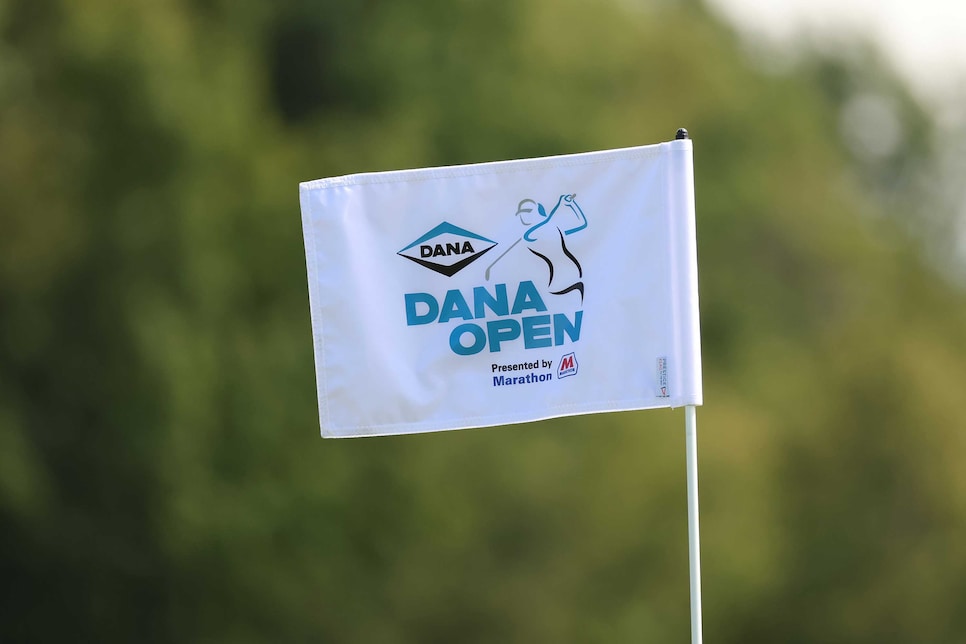 Gaby Lopez birdied her final three holes on Saturday at the LPGA's Dana Open to give herself some momentum heading into the final round. And then she did it again on Sunday to seal her one-shot victory at Highland Meadows Golf Club in Sylvania, Ohio.
In between, she made a lot of birdies, too. The 28-year-old from Mexico shot a final-round eight-under 63 to charge from four shots off the lead and claim her second career LPGA title with a 18-under 288.
While Lopez took advantage of the soft conditions created by intermittent rain, as did runner-up Megan Khang, who shot a closing 64, Lucy Li couldn't. The third-round leader shot a final-round 70 as the 19-year-old former amateur phenom tried to grab her first LPGA title to finish T-4.
Similarly, Lexi Thompson, who was one off the lead at the start of Sunday's play, couldn't find her way as she tried to claim a 12th LPGA title but her first since 2019. She finished with a two-over 73 to fall into a tie for 16th.
With the victory, Lopez claimed the first-place prize money payout of $262,500 from an overall purse of $1.75 million. Here's the prize money payouts for each golfer who made the cut this week. Come back after the tournament and we'll update the list with individual names and paydays.
Win: Gaby Lopez, -18, $262,500
2: Megan Khang, -17, $160,837
3: Caroline Masson, -16, $116,676
T-4: Sarah Schmelzel, -15, $74,115
T-4: Lucy Li, -15, $74,115
T-4: Ruoning Yin, -15, $74,115
T-7: Frida Kinhult, -14, $44,176
T-7: Xiyu Lin, -14, $44,176
T-7: Nasa Hataoka, -14, $44,176
T-10: Carlota Ciganda, -13, $33,167
T-10: Hannah Green, -13, $33,167
T-10: Leona Maguire, -13, $33,167
T-13: Hyo Joo Kim, -13, $27,180
T-13: Brooke Henderson, -13, $27,180
T-13: Sei Young Kim, -13, $27,180
T-16: Jodi Ewart Shadoff, -11, $20,825
T-16: Ashleigh Buhai, -11, $20,825
T-16: Lilia Vu, -11, $20,825
T-16: Ariya Jutanugarn, -11, $20,825
T-16: Wei-Ling Hsu, -11, $20,825
T-16: Madelene Sagstrom, -11, $20,825
T-16: Lydia Ko, -11, $20,825
T-16: Lexi Thompson, -11, $20,825
T-24: Wichanee Meechai, -10, $16,203
T-24: Celine Herbin, -10, $16,203
T-24: Hye-Jin Choi, -10, $16,203
T-24: Mina Harigae, -10, $16,203
T-24: Moriya Jutanugarn, -10, $16,203
T-29: Atthaya Thitikul, -9, $12,299
T-29: Amy Yang, -9, $12,299
T-29: Amanda Doherty, -9, $12,299
T-29: A Lim Kim, -9, $12,299
T-29: So Yeon Ryu, -9, $12,299
T-29: Lauren Stephenson, -9, $12,299
T-29: Mi Hyang Lee, -9, $12,299
T-29: Ayaka Furue, -9, $12,299
T-29: Aline Krauter, -9, $12,299
T-38: Andrea Lee, -8, $8,818
T-38: Azahara Munoz, -8, $8,818
T-38: Yuka Saso, -8, $8,818
T-38: Pajaree Anannarukarn, -8, $8,818
T-38: Emma Talley, -8, $8,818
T-38: Jennifer Chang, -8, $8,818
T-38: Peiyun Chien, -8, $8,818
T-45: Elizabeth Szokol, -7, $7,088
T-45: Stephanie Kyriacou, -7, $7,088
T-45: Morgane Metraux, -7, $7,088
T-45: Marina Alex, -7, $7,088
T-49: Danielle Kang, -6, $5,914
T-49: Albane Valenzuela, -6, $5,914
T-49: Natasha Andrea Oon, -6, $5,914
T-49: Minjee Lee, -6, $5,914
T-49: Brittany Altomare, -6, $5,914
T-55: Gerina Mendoza, -5, $4,931
T-55: Cydney Clanton, -5, $4,931
T-55: Yu-Sang Hou, -5, $4,931
T-55: Chella Choi, -5, $4,931
T-55: Jeongeun Lee5, -5, $4,931
T-60: Pornanong Phatlum, -4, $4,227
T-60: Jeongeun Lee6, -4, $4,227
T-60: Emily Kristine Pedersen, -4, $4,227
T-60: Lauren Coughlin, -4, $4,227
T-60: Haeji Kang, -4, $4,227
T-65: Maude-Aimee Leblanc, -2, $3,875
T-65: Ana Belac, -2, $3,875
T-65: Mariah Stackhouse, -2, $3,875
T-68: Angel Yin, -1, $3,577
T-68: Christina Kim, -1, $3,577
T-68: Bronte Law, -1, $3,577
T-68: Amy Olson, -1, $3,577
72: Maddie Szeryk, +1, $3,434
T-73: In Kyung Kim, +2, $3,368
T-73: Maria Fassi, +2, $3,368
75: Jennifer Song, +4, $3,306